Tours & Specialty Dinners
Visit Yuma is featuring a new specialty dinner this year, to give visitors a deeper look into how our history has shaped us. Learn about our history while dining in the Sanguinetti House Museum and Gardens. Another way to learn about Yuma's most unique crop, the Medjool Date, would be to join one of the several tours available from one of our local date farms.
Pick 'em quick! Tickets for Visit Yuma dining experiences tend to sell out fast.
Learn about other events and tours available throughout Yuma, with the VisitYuma.com calendar or It's Happening weekly e-news to find out when ticket sales begin. When tickets go on sale, they can be purchased here, or at the Visitor Information Center, 264 S. Main St., 928.783.0071 or 800.293.0071.
Check back for more information on History and Date Night Dinners!
History Under the Stars
History under the stars dinner, set at the Sanguinetti House Museum and Gardens. Each dinner will feature a different menu and focus on a different aspect of Yuma's rich history, from the story of E.F. Sanguinetti, the development of downtown, the history of irrigation and agriculture, and the history of the military's presence here. Get a taste of the history that makes Yuma unique. 
Get tickets or for additional information, call 928.783.0071.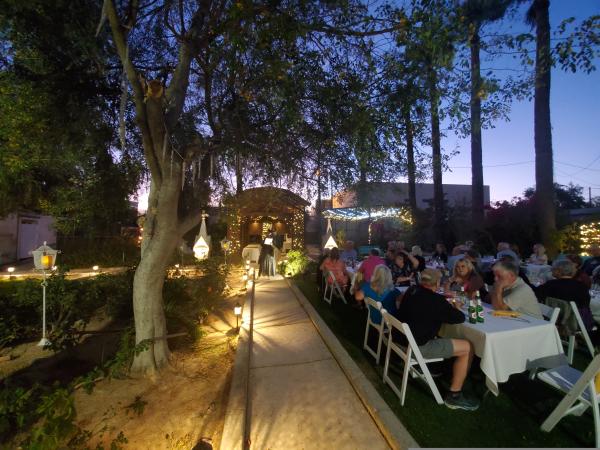 Save the Date
Did you know that the Yuma and Bard area helped save the Middle East's Medjool date palms? When disease broke out in Morocco in 1927, palm shoots were brought to this area and cultivated. Some years later, new trees grown here were repatriated to Morocco to help them replenish their date groves. Now local date growers are among the top producers worldwide, even exporting our dates to the Middle East. Each year, up to 15 million pounds of premium Yuma dates are grown, harvested, and then shipped around the world. More date info and recipes can be found at NaturalDelights.com. Dates and date products may be purchased at these local establishments:

--Brocket Farms homegrown dates, eggs, local honey, specialty gifts, and more. 102 E. Third St., 928.257.1440

--Imperial Date Gardens gift packs, nuts, candies, and date shakes, call about free tours at 10:30 a.m. Wednesdays or by advance arrangements. 1517 York Road., Bard, Calif., ImperialDateGardens.com, 800.301.9349

--Martha's Gardens Date Farm dates, local honey, sandwiches, soup, date shakes and ice cream, pleasant landscaped patio for a bite, call about farm tours aboard a tram, $10 per person, call for reservations. 9747 Avenue 9 ¾ E, MarthasGardens.com, 928.726.8831

--Naked Dates Organic Medjools, date shakes, handmade soaps, date beer, and fresh eggs, call about walking tours. $10 per person, call in advance. 13589 S. Avenue 25E, Wellton, HealthyNakedDates.com, 888.374.2037

--Peanut Patch date shakes, homemade fudge, nuts, dried fruits, candy, and gifts, plus free kitchen tours November through March on selected days, call for info. 4322 E County 13 St., ThePeanutPatch.com, 928.726.6292
Yuma farm tours are a great way to find out where your food comes from. If you're eating a salad during the winter, chances are that it was grown in Yuma. Agriculture is Yuma's number one business; it's a more than $4 billion industry each year. More than 91% of the leafy greens...
Read More