Education & Training
Yuma is home to many different school districts for primary and secondary education. Yuma and South County provide five school districts for elementary and high school students. Additionally, East County provides four school districts, with three elementary schools and one high school. When a Yuman graduates high school, they can continue to higher education right here in Yuma. Arizona Western College is Yuma's community college and offers a range of degrees and course work. AWC also provides a joint program to students interested in completing their Bachelors degree by transferring to one of Arizona universities. Northern Arizona University, Arizona State University, and University of Arizona are all available to attend with extended campuses throughout the city. If you are hoping to continue to higher education or placing your child at the right school, Yuma has many different schools and educational paths to choose from.
PRIMARY AND SECONDARY EDUCATION
Arizona has a high regard for local control in public education, which has resulted in separate administration of elementary and high school districts. Other educational alternatives include public charter schools and a variety of private and parochial schools, or parents may home school their children in accordance with state law. For more information, contact the Yuma County School Superintendent at 928-373-1006.
Yuma and south county
Students from the Yuma metro area school districts, Crane Elementary School District and Yuma School District One, and south county students from Somerton Elementary School District and Gadsden Elementary School District all attend Yuma Union High School District schools after eighth grade.
East county schools
The Antelope Union High School District covers the remainder of Yuma County, from the Gila Mountains east to the county line. Students from the Hyder, Mohawk Valley and Wellton elementary school districts attend Antelope High School after eighth grade.
Higher Education
Yuma offers a variety of opportunities for higher education within the local community, including a public two-year community college, a university branch campus and other programs.
ARIZONA WESTERN COLLEGE (928-317-6000 or 888-293-0392) Arizona Western College shares a campus and other resources with Northern Arizona University-Yuma in the peaceful setting of the Gila Valley. With 391 full-time faculty and staff guiding an enrollment of 12,000, AWC is a public two-year community college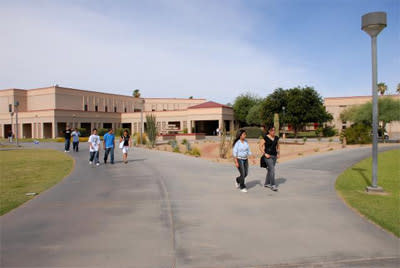 accredited by the North Central Association of Colleges and Secondary Schools. AWC offers course work for 29 transfer programs, 32 occupational degree programs, one general studies degree (11 areas), three Arizona general education curriculum certificates, 57 occupational certificates, and a variety of life-long learning opportunities. Beginning in 2015, AWC is partnering with Arizona State University to offer several new degree programs in Yuma.
      
NORTHERN ARIZONA UNIVERSITY YUMA (928-317-6450) The NAU Yuma Branch Campus, in partnership with AWC, serves the third largest metropolitan area in Arizona. Located on AWC, NAU Yuma is a thriving center for education with a 31-year history in the Yuma community.  NAU Yuma provides an affordable, quality college education offering undergraduate and graduate programs, including 54 bachelors, 33 masters, and 21 certificate programs. There are 106 fully online and ten traditional classroom undergrad/graduate programs offered to students in Yuma. Its branch campus designation permits Yuma campus administration and faculty the opportunity to create additional degree programs to meet the needs of the local community as well as the growing demands of the regional job market.  NAU Yuma Branch Campus is a Hispanic Serving Institution.  
ARIZONA STATE UNIVERSITY (855-278-5080) Arizona State University offers bachelor's degree programs to the Yuma community through ASU@Yuma, a partnership with Arizona Western College.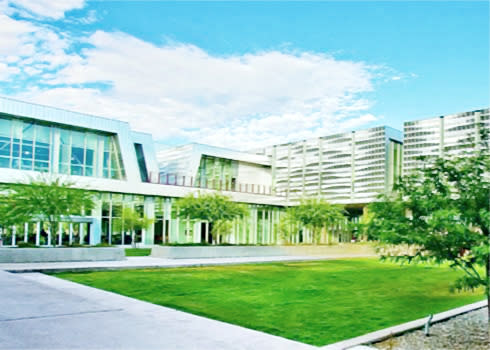 Students will be able to complete their community college course work and then transfer to ASU to complete their degrees without having to relocate. Those attending ASU@Yuma will have the opportunity attend with a reduced ASU tuition rate. In addition to this partnership, Yuma residents can explore further educational options at ASU without relocating through ASU Online, which enables students to complete over 100 degree programs entirely online.

UNIVERSITY OF ARIZONA YUMA (Tanya Hodges: 928-271-9560 or Alberto Urbieta: 928-210-7202)
The University of Arizona Yuma is a regional campus for the University of Arizona, serving Yuma County, La Paz County, and Imperial County. As part of Arizona's first university, UA Yuma serves our diverse regional community with student-centered teaching and learning experiences that inspire life-long learning and empower students to achieve their educational, professional, and personal goals. UA Yuma is committed to providing educational pathways and community partnerships that ensure mutual success and enhance the academic, economic, and cultural vitality across our diverse regional community.
Enjoy the benefits of a UA experience without leaving your hometown!
UA Yuma is a University of Arizona campus serving La Paz and all of Yuma County. We offer tailored programs to meet the needs of our local community, and also those of working students of all ages.
At the undergraduate level, UA Yuma serves as a partner with 2 institutions, including Arizona Western College and Imperial Valley College, to transition students into a bachelors degree program with the University of Arizona.
At the graduate studies level, UA Yuma offers full and comprehensive programs at the local UA Yuma campus to help students achieve their master's degree.
UA Yuma offers over 16 transfer degree pathways in a 2+2 format, allowing students in the Yuma area to complete the first two years of their Bachelor's degree at local community colleges, then transfer to UA Yuma for the second two years, completing an Associate's degree along the way! Innovative teaching technologies and local faculty members allow you to earn high quality, respected UA degree program without having to travel to Tucson. For more information regarding degrees and programs go to uayuma.arizona.edu or call 928-782-1945
Getting to Yuma by passenger vehicle, train or by air is a pretty straight shot, whichever direction you're coming from. It's on Interstate 8, at the southern end of U.S. Highway 95. It's just a two-and-a-half-hour drive from San Diego, a three-hour drive from Phoenix, and Yuma is...
Read More