Getting Here & Maps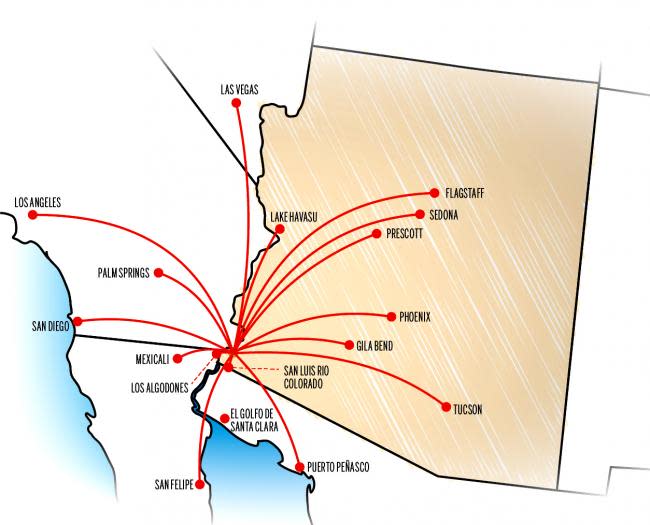 Getting to Yuma by passenger vehicle, train or by air is a pretty straight shot, whichever direction you're coming from. It's on Interstate 8, at the southern end of U.S. Highway 95. It's just a two-and-a-half-hour drive from San Diego, a three-hour drive from Phoenix, and Yuma is five hours south of Las Vegas by car. Yuma International Airport has multiple daily flights by American Airlines. Yuma is also served by Amtrak's Sunset Limited and Texas Eagle lines.
The Visitor Information Center is located in the heart of downtown Yuma—make this your first stop! Talk to our friendly and knowledgeable Visitor Information Center staff to plan your stay in Yuma. Stop in for maps, brochures and everything you need to make your stay special. Let our staff be your local experts to put you on your path to adventure. Browse the souvenir gift shop, enjoy the complimentary Wi-Fi, and use the Visit Yuma App's large-screen kiosk to map your itineraries and save them to your mobile device. There are also clean restrooms.
Come see us at 264 S. Main Street, 928.783.0071, 800.293.0071, info@VisitYuma.com. The Visitor Information Center (VIC) is open from 9 a.m. to 5 p.m. Tuesday-Saturday, except for major holidays. There is plenty of free parking on Main Street or in the large lot behind the VIC. There's easy access from I-8 at the Giss Parkway exit, then go south to Main Street.
Do you like to figure it all out ahead of time? Make plans before you make tracks. 
--Download our Visit Yuma, AZ App in the App Store or Play Store
--Check out our Trip Ideas!
--Find us and follow us on Instagram, Twitter, Facebook, YouTube, TikTok, and LinkedIn!
--Blog posts of what to do and how to do it around Yuma
--Subscribe to free monthly Explore Like a Local or weekly It's Happening e-newsletters 
--Request a free Official Visitors Magazine.
Getting to and around Yuma is easier than you may think. With many ways to get around town, and a variety of ways to get into town, the available transportation options for visitors are convenient.
Read More