Business Relocation
If your company is in the agricultural, aerospace and defense, manufacturing, or transportation industry, Yuma is the newest, booming city ideal for growing businesses. Known as the Lettuce Capital of the World, Yuma offers an ideal climate for the agricultural industry with much of the land dedicated solely to farming and cropping. Similar to agriculture, the aerospace and defense industry demands secluded, wide open land. Yuma is already home to the U.S. Marine Corps Air Station and the U.S. Army Yuma Proving Ground and has a surplus of desert landscape for the Department of Defense to continue to grow and utilize. Yuma has also proven to be the perfect location to establish a manufacturing facility with being home to many Fortune 500 companies, such as Shaw Carpets and International Paper. With neighboring Mexico, the transportation industry thrives in Yuma with over 52 million consumers hauling through I-8 or US Highway 95 within a day. As Yuma continues to grow and become a hub for growing businesses, it is worth a visit to see how your company might take advantage of the Sunniest City on Earth.
For more information about business relocation and business resources, please visit:
YUMA COUNTY CHAMBER OF COMMERCE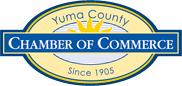 180 W. 1st St., Suite A
Yuma Arizona 85364
Phone: (928) 782-2567
Fax: (928) 343-0038
www.yumachamber.org/
---
GREATER YUMA ECONOMIC DEVELOPMENT CORPORATION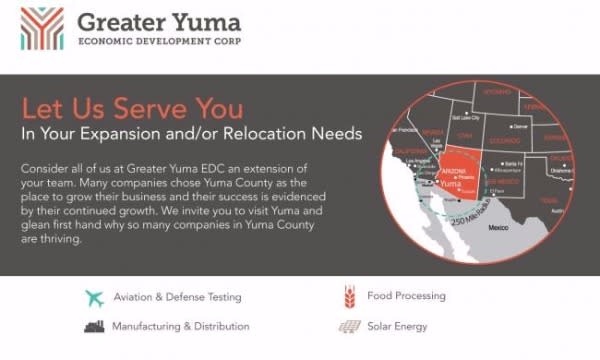 899 E. Plaza Circle, Suite 2, Yuma AZ 85365
928-782-7774, 800-308-9332, GreaterYuma.org
Yuma is a continually growing city with so much to offer to local citizens and out-of-town visitors. From local community organizations that take pride in continually bettering the city, to dreamy and relaxing day spas to indulge in after a long day of hiking Telegraph Pass, Yuma has resources for...
Read More