Colorado River State Historic Park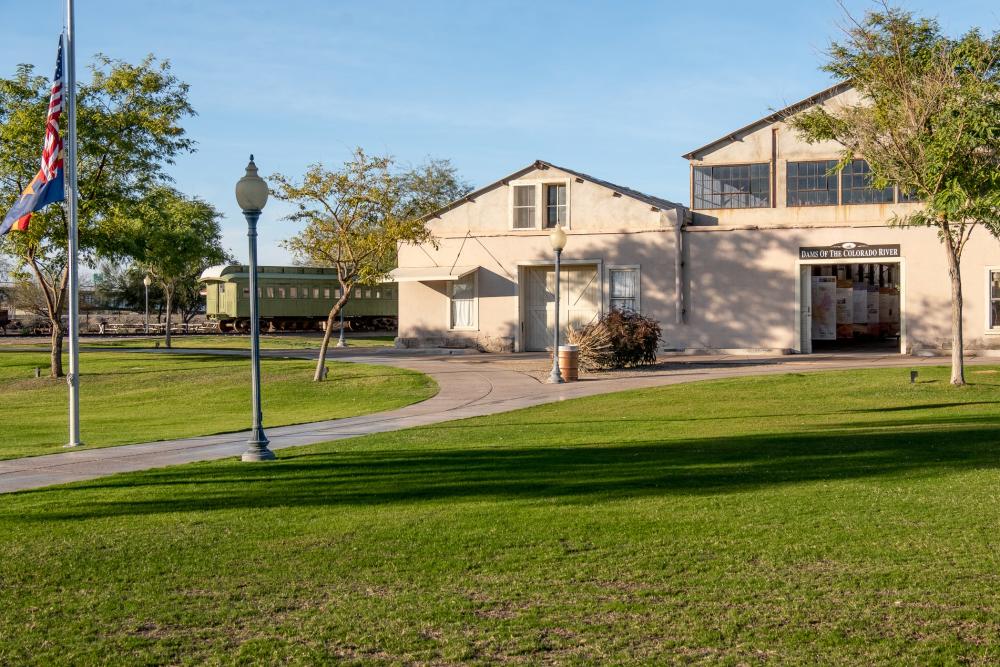 2023 Summer Hours
Open Thursday - Sunday 9:00 am - 4:30 pm
Closed Monday- Wednesday
Adult (14+): $10.00
Youth (7–13): $5.00
Child (0–6): FREE
For nearly 20 years beginning in 1864, all the military posts in the Southwest traced their lifelines to the Yuma Quartermaster Depot.
Here on the high ground above the Colorado River, the U.S. Army's warehouses held a six-month supply of clothing, food, ammunition and other goods for forts in Arizona, Nevada, Utah, New Mexico and Texas - and were surrounded by as many as 900 mules and their teamsters.
Ocean vessels brought goods to the Gulf of California, where they were loaded onto steamboats for the trip upriver to Yuma. Supplies were shipped farther upriver or overland in wagons pulled by the 20-mule teams of Western lore.
With the coming of the railroad in 1877, the Depot's supply role faded and the Army closed it in 1883. But the site lived on as a telegraph and weather station and customs office - and then as the first home of the Bureau of Reclamation (U.S. Reclamation Service) and the Yuma County Water Users Association. Engineering pioneers worked from here to tame the river, building dams to prevent floods, generate power and ensure a source of water.
Don't miss the exhibit on the Yuma Siphon - a massive tunnel under the Colorado River that first delivered irrigation water to the Yuma Valley in 1912, and still operates today, right next to the park. 
What's the future of the Colorado River, the lifeblood of the whole Southwest? Park exhibits also explore that issue, from a wall-sized graphic detailing where the river's water goes, to displays about water rights and realities.  A Colorado River research library may be used by appointment.
This beautiful 10-acre park includes five buildings dating back to the Depot's earliest days - among the oldest and best-preserved buildings in the state of Arizona. For a preview, download the Colorado River State Historic Park walking tour map.

The park is operated through an intergovernmental agreement with the City of Yuma and managed by the Yuma Crossing National Heritage Area.
 Please check https://azstateparks.com/colorado-river/ for updated pricing. Other pricing may apply during special events.
Download CRSHP Guided Tour Maps here.
This summer enjoy a BOGO! When you purchase admission into the Colorado River State Historic Park get 50% off entry into the Yuma Territorial Prison State Park!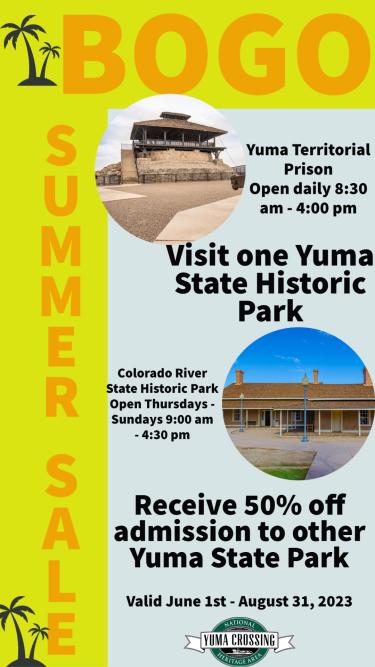 Just a handful of Arizona towns can boast a location on one of the most mighty rivers in the U.S., the Colorado River! The River provides year-round recreation and enjoyment, from wild to mild. From high-speed boating and jet-skiing to silent sports like kayaking and paddleboarding, to finding your...
Read More