No other southwestern city offers sunny adventures with a warm welcoming community year-round. Yuma's Sunny & Warm depicts the exhilarating activities to be had outdoors and the inviting community presented to visitors and locals alike. Plan for Sunny & Warm when you are ready to experience Yuma, Arizona.
Sunshine Year-Round to Enjoy
More than a desert oasis, Yuma, Arizona promises a place to explore the great outdoors, through hiking one of the many National Refuges, to soaking up the sun at the Colorado River. Named by the Guinness World Records as the Sunniest City on Earth, every month of the year can be enjoyed outside appreciating all that Yuma has to offer. Whether walking along the scenic Wetlands park, or jet-skiing at one of the many surrounding lakes, Yuma, Arizona offers every outdoor enthusiast a way to enjoy the fresh air.
Big City Vibe with a Small Town Spirit
The warm hospitality is what keeps visitors coming back and locals living in Yuma. From local restaurants and shops to the inviting faces at our lodging properties and RV parks, Yuma offers big city vibes with a small town spirit. Walking down Main Street in Historic Downtown, you are sure to be welcomed by store owners and local passerbys. You will leave Yuma feeling as though you have lived here for some time, and will have grown a genuine bond to the city.
Yuma is a city everyone needs to experience. There aren't many places you can go and enjoy the outdoors and it's people year-round.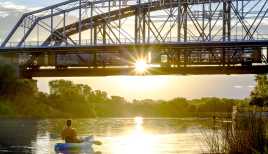 Plan to Explore Sunny & Warm