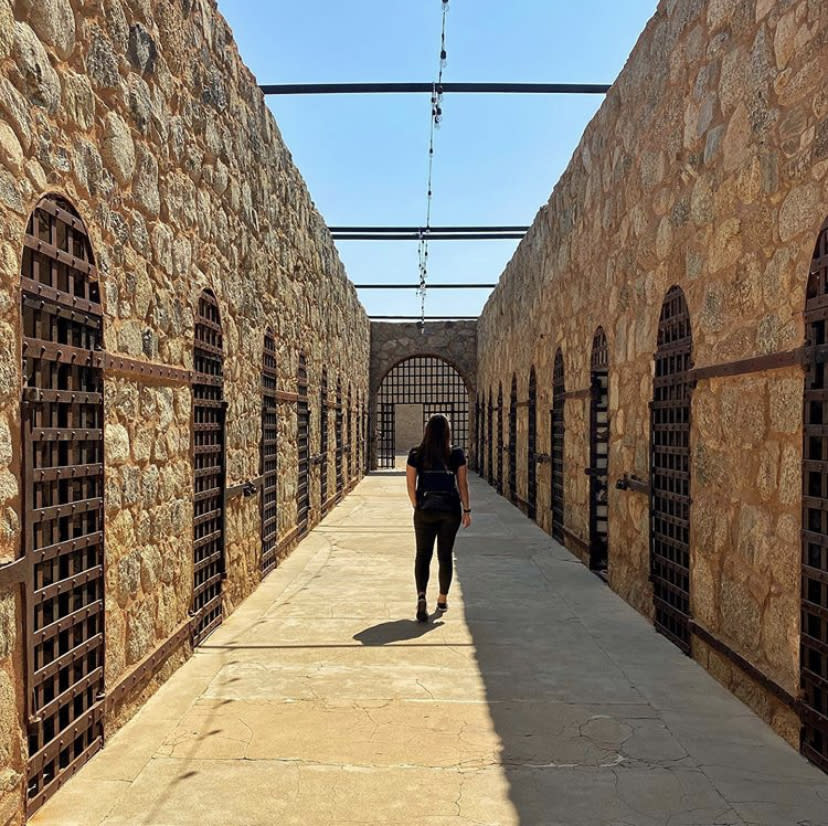 Photo Credit: @whereisnicolerenee
"By day, Yuma is the sunniest place on earth. By night, Yuma has the darkest stories." Perhaps, that statement is the best way to describe Yuma's haunted history. The historic downtown area is a place experts have described as a "paranormal amusement park." Believe it or not, people from all different walks of life have had "experiences" at these eight well-known locations.  
Sanguinetti House Museum and Gardens
"Following a hosted tour at the museum, a visitor held the storyteller's arm and asked, "How old was the little girl in the dining room when she died? I saw her sitting at the table. She was crying," explains Yanna Kruse, Vice President of Guest Experience at the Sanguinetti House Museum and Gardens. The charming 19th-century adobe E. F. Sanguinetti (1867-1945) home, in the heart of historic Yuma, stands as a testament to the "Merchant Prince of Yuma's" remarkable legacy. 
Yuma Territorial Prison 
Yuma's infamous prison is a target for paranormal experts worldwide because sightings are very common here. Legend has it that the spirits of inmates on death row roam within the prison walls. Visitors have said they can hear and have seen glimpses of a moaning woman wandering the bank of the Colorado River, looking for her daughter who drowned. Other visitors and staff have reported a little girl in a red dress who pinches passersby then runs away. The prison was in operation for 33 years dating back to 1876. The park is now open to the public Thursday through Monday from 8 a.m. to 4 p.m. and is closed Tuesdays and Wednesdays. However, it will be open from 9 a.m. to 9 p.m. on Halloween. Yuma's Territorial Prison was named the country's "Most Haunted Destination" by USA Today's 10 Best Readers' Choice Awards in 2019."
Gandolfo Building
The Gandolfo Theater was built in 1917. It showed plays and movies and was also a meeting place for Elks and Freemasons until the third floor burned down.   The North End Coffee House is now located on the first floor. An employee says, "we were working together one day and no one was in the coffeehouse at the time. It was just us, but we heard a "hello" coming from the counter where the register was. I went to check, downstairs too, but there was no one there. Still just us."  
La Casa Gutierrez
The home on Orange Avenue has been in the Gutierrez family since the 40's.  Family member, Andrea Huff says, "There is a location in the home that has a very eerie feel, people don't like standing there." La Casa is currently used as a kitchen for the family restaurants - Mr. G's and Chili Pepper. The home was built in 1895 by the assistant warden of the Yuma Territorial Prison. Guiterrez family members say he built it for his wife so that she would move to Yuma from Texas.  He kept adding to the home and his wife never came. In the early 1900's he slipped and broke his neck in the bathtub and died. It is believed that his spirit remains at the house.
Mary Elizabeth Post School
The building located on 5th Street is named after Yuma's pioneer of education. Post came to Yuma in 1872. Historians say she didn't approve of the lawlessness of the Wild West. "She sent her students home during hangings next to the schoolhouse instead of having them watch." It's believed she continues to watch over the community. Students claimed to see her ghost in hallways. The building is now an auditorium and offices. Her photo still hangs in the school and it has been said that her eyes move back and forth, following people.  
Historic Theatre Yuma 
Located on Main Street in the City of Yuma's central business district, the Yuma Theatre building was constructed in 1912 and originally functioned as a vaudeville and movie house. A former employee says, "I always got random cold chills in the Historic Yuma Theater Projection Room. It was always a lot colder than that area should have been." And then one night the theatre got even stranger. "One night when shutting down, one of our techs was walking up the stairs to close a door and turn off a light. When he got halfway up the stairs, the light turned off and the door closed." The Historic Yuma Theatre is currently managed by the City of Yuma and events are held there year-round.  
Lyric Theatre next to Lute's Casino
"The Lyric can be described as a paranormal amusement park. There have been so many different types of paranormal events inside, including shadows of people, audible voices, poltergeists, object manipulation (moving things), visible orbs, apparitions, walk in possessions, lost time, scratches on the skin and more," explains local paranormal expert Dennis Quesenberry. The Lyric Theater dates back to December 20, 1909. The theater on 211 Main Street in downtown Yuma was recently featured on the Travel Channel's Ghost Adventures. Host Zak Baggans classified the building as a "level 10."
Hotel Del Sol 
A massive padlock is placed on the front door, the windows are boarded up and secrecy surrounds the building. "I have investigated a lot of the buildings downtown and most have not disappointed, when it comes to activity. We have caught EVPs on the sidewalk all around Hotel Del Sol," explains Tim Preston of Paranormal Societies, based in Yuma. A few movies have been shot on site including The Getaway. Preston says during filming something happened that made him especially interested in the hotel. "Their audio was not good. They picked up voices that should not have been there. Things would be moved around. Most importantly, several of the crew members ran out of the building and refused to go back in after something happened that they could not explain."  
Share your "experiences" with us in the comments of our social media pages and tag us on your spookiest photos, using @visityumaaz.