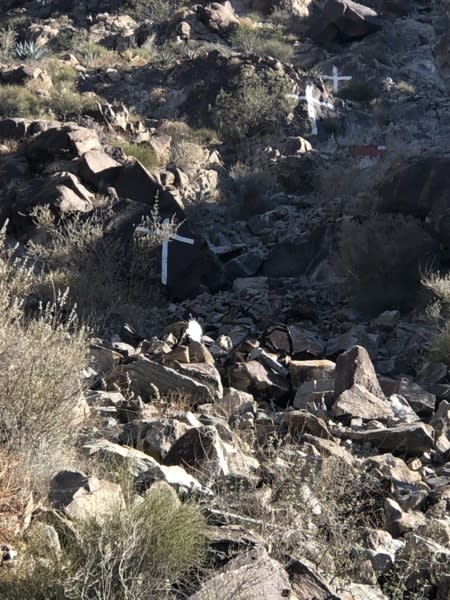 It has been 75 years since that fateful night five Army soldiers were killed in a fiery crash near Yuma.  The elements have worn down pieces of wreckage but the desire to honor the fallen is stronger than ever.
The "WWII Bomber Hike" is an investment of time and energy but the return is infinite.  The hike is a mile and a half on mostly unmarked trails mixed with humongous boulders to reach the memorial at around 1800 feet.  Four wheel drive is best to get to the trailhead near 15E and 41st Lane. The view at the bottom is breathtaking and sets the mood for the journey to pay tribute to the service members and their sacrifice.  
Avid hiker, Tanja Eiben is familiar with the route to get to the top.  But each time she steps foot on the trail she experiences a little something different.   Halfway up the hike pieces of mangled metal are laying on top of boulders and small pieces are hidden in their crevices.  Among the wreckage you can make out parts of the engines, wheels, and body of the B-17. Eiben says, "if you want to look at the debris and the different pieces you can spend hours here and go through everything and try to figure out what pieces belong to what part of the airplane."   
The airplane was once a B-17 Flying Fortress.  During a training mission, it crashed into the Gila Mountains in the dark of the night on June 28, 1944.  Historians say the soldiers' bodies were immediately removed from the site,  but the plane was left to perish.  
Since then community members have created a monument to memorialize the fallen soldiers.  Five white crosses are painted on boulders amongst the more than 60 pieces of rubble to represent the crewmembers of the B-17: 
2nd. Lt. William A. Richell, 22, Pilot
2nd. Lt. Sheridan B. Marek, 20, Co-Pilot
2nd. Lt. Angus W. MacArthur, 21, Co-Pilot
Sgt. Manten P. Jones, 23, Crew Chief
Cpl. Merle G. Ice, 23, Aerial Engineer
A plaque and ammunition box have been placed next to the fifth cross.  The plaque is so weathered you can no longer read the names once engraved on it.  However, the box is full of thoughtful mementos; notes from hikers, pictures of the fallen soldiers, and patches from active duty squadrons stationed at MCAS Yuma.  
"It is a very fitting place for the community to commemorate the upcoming holiday," Eiben says with pride.  
Tanja Eiben and Team RWB are leading a Memorial Day Hike to the B17 Bomber Crash site.  Meet at 13226 E South Frontage Road (Foothills Library) at 6am on Monday, May 27, 2019. Bring at least 2 liters of water and a snack is recommended.   
The trailhead is located 20 miles east of Yuma.
Memorial Coordinates N 32° 38.158 W 114° 19.811  
Trailhead Coordinates 32°38'41.3"N 114°20'28.6"W