Holiday shopping can be an overwhelming task for any type of buyer. Whether you purchase gifts weeks in advance, or tend to procrastinate until the day before, Visit Yuma put together a gift guide for everyone on your shopping list. From children to those that "have everything", we made a list of go-to items all found at Yuma's Visitor Information Center (VIC).
Gifts for Kids
The Visitor Information Center offers gifts ideal for the little ones. A uniquely Yuman item, Yumanopoly, is a fun twist on a classic game. Featuring all things Yuma, like Chile Pepper and Prison Hill, this game takes the Sunniest City on Earth and turns it into a fun board game for all. For the even younger crowd, the VIC gift shop has coloring books and plushies that make for great stocking stuffers.
Gifts for those that "have everything"
Are you shopping for someone that has just about everything? No need to scour Pinterest for DIY ideas, Visit Yuma offers many different Specialty Tours and Dinners that are gifts that keep giving with offering unforgettable experiences. Visit Yuma's Date Night is a truly unique dining experience only hosted in Yuma. Showcasing Medjool dates in every course of the gourmet meal, Date Night is set in a date palm grove and exudes elegance with live classical music and fine crystal dinnerware. If you are gifting someone who enjoys a more interactive experience, Field to Feast is our half-day tour that gets you down and dirty with harvesting produce that you will enjoy at a farm-fresh lunch and be able to take home. Visit Yuma offers experiences for every interest, and you can learn more about all our upcoming Tours and Dinners here.
Gifts for foodies
It is entirely possible that one of the people you are shopping for is a food fanatic. At Yuma's VIC, we have a gift for every type of foodie. Popular for every occasion, Mama Bella's variety of homemade salsas and jellies are always a good choice. If you want a gift aimed more towards the cook or baker, quirky cookie cutters and Colorado River Pottery pieces will add a touch of Yuma to any kitchen. For a true southwestern flair, the VIC sells authentic kitchen utensils, vanilla, and décor straight from Mexico.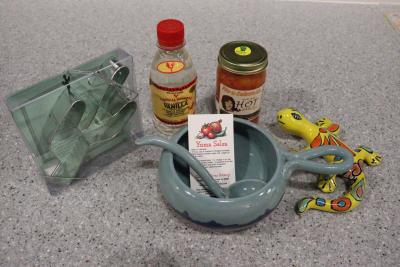 Gifts for Her
Shopping for the women in your life? We have gifts that will surely impress them. Wine glasses and wine stoppers make for the perfect gift set or addition to a gift basket. The VIC also has home décor items that are always a hit, like locally made ceramic tiles and windchimes from Mexico.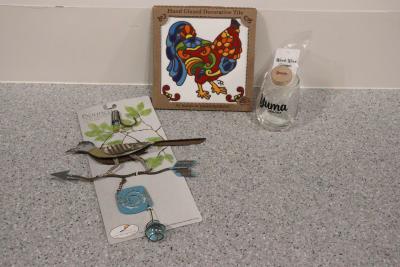 Gifts for Him
Whether a husband, boyfriend, brother, father, or friend, the Yuma VIC offers a variety of uniquely Yuman gifts perfect for the men in your life. Yuma t-shirts are always a novelty item loved by all. Pair one with a Yuma ball cap to create a complete gift set. Golf balls and fishing bob keychains also add a personal touch that he will be sure to appreciate.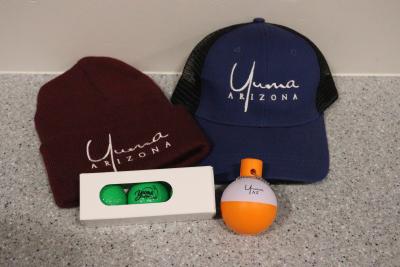 Gifts we love
A gift guide wouldn't be complete without our team's favorites. Leslie, Visit Yuma & VIC Officer Manager, enjoys the wide selection of children's books offered, "The Three Little Javelinas and Wonkey Donkey are both children's books I have grown to love. Not only did I read the Three Little Javelinas to my daughters, but I have also truly laughed reading the Wonkey Donkey." Annette, VIC Manager, appreciates the always changing offerings, "I love that we continually add items we have never carried before, like our new wooden wine stopper that has 'Yuma, AZ' engraved on it and new, unique windchimes." Jennifer, a VIC Specialist, loves the wide array of foodie gifts, "A favorite gift is one of the Colorado River Pottery bowls and a jar of Mama Bella's authentic salsa or jellies. This would be perfect for a hostess gift or white elephant." Leilani, a VIC Specialist, loves the Yuman items, which make for unique holiday gifts, "The Yuma pint glasses are one of my favorite gifts to suggest to visitors and locals who are holiday shopping. They are uniquely Yuman, and no one can have too many pint glasses!"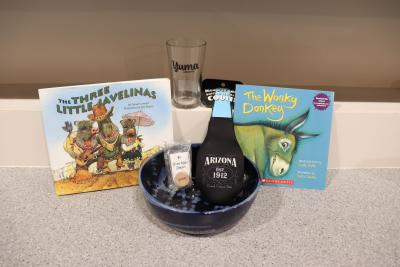 Last minute shopping and perfect stocking stuffers
If you are a last-minute shopper, we have you covered. Yuma beanies and Yuma hand-painted ornaments offer a bit of Yuma that all will appreciate. If you are looking for smaller, quirky gifts that can easily be shipped or added to a stocking, the VIC offers Roadrunner Poop mints – a fun gift for those on the "naughty list" – as well as bullet keychains and Gold Rush bubble gum.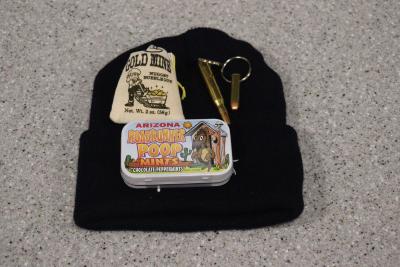 Stop by the Yuma Visitor Information Center any day of the week from 9 a.m. to 5 p.m. at 264 S. Main Street for uniquely Yuman gifts this holiday season. Our team can help you put together an experience with a ticket to one of the specialty tours or dinners or create a gift basket with locally made items that will impress any family member or friend.