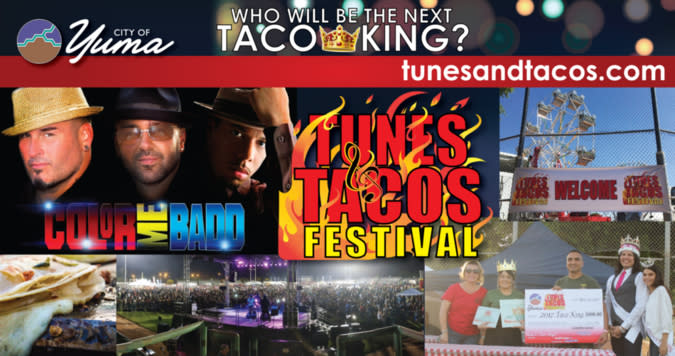 There is hardly a better way to experience Yuma than Tunes and Tacos coming up April 13 & 14.  Laid back yet exciting, hot off the grill tacos and cool of the evening entertainment.  All in one spot, all for $1 !!
City Marketing Specialist Carrie Ring gives the details:
Get your taste buds ready for the award winning Tunes & Tacos two-day festival! Featuring our Salsa Queen competition with people's choice tastings, local chef's competing for the title of Yuma's Taco King, amazing live entertainment with a concert headlining R&B legends, COLOR ME BADD, competitive eating contests, and our 2 FREE KidsZones with face painting, inflatables, piñatas, unlimited carnival rides and more! Patrons are invited to browse our local business and craft vendors, enjoy mouthwatering tacos and fair style food from over 50 food vendors, and cool down with a refreshing beverage at our Cerveza Gardens! Visit tunesandtacos.com for updates and this year's all day concert line-up!
Friday, April 13th, 6:00 pm - 10:00 pm, Yuma Civic Center Main Hall
Admission is $1.00 per person, children 3 and under free
Saturday, April 14th, 11:00 am – 11:00 pm, Desert Sun Stadium
Admission is $1.00 per person, children 3 and under free
(includes attractions and concert)