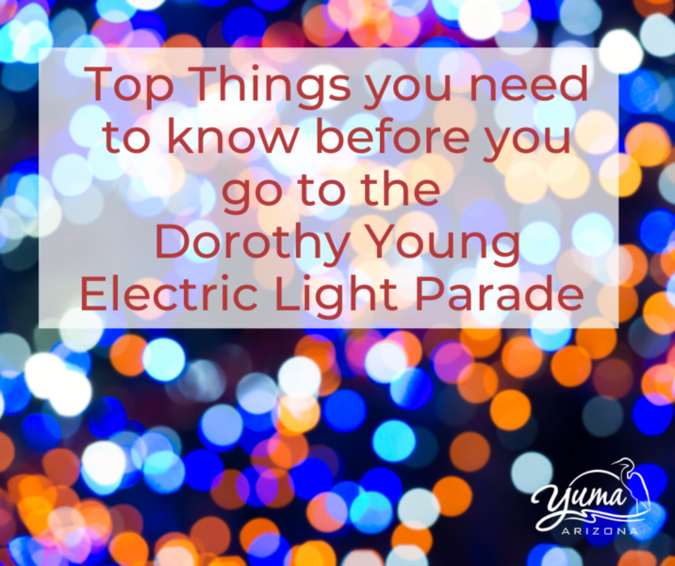 The 2019 Dorothy Young Memorial Electric Light Parade is this Saturday!
 The parade kicks off at 6 p.m. on 4th Ave. and travels through Historic Downtown Yuma.    The parade will officially step off at W. 9th Street and 4th Avenue and continues north on 4th Avenue. Best viewing spots are areas after 9th Street. Route then heads east on 4th Street and turns left onto 2nd Ave. Right onto Giss Parkway and left onto Main Street. The parade ends on Main Street and 2nd Street.  Here is a map of the route.
Road closures start around 4 p.m.  Spectators are expected to gather throughout the day.  The two lots on Main Street fill up first.   4th Avenue will have parking on the side streets as well.  
Be sure to bring your own chairs and blankets.
There are about 100 participants in this years parade including Cibola Marching Band, Big Red Barn Preschool, Gymnastics World of Yuma, Kofa High School, Yuma Heat Swim team just to name a few!  
"Light up Yuma with the Arts" is this years theme. Visit Yuma, the parade's organizer, is focusing on Yuma's growing arts community that is quickly becoming a recognized regional center for arts of all kinds. "This year's focus in our marketing puts Yuma arts in the spotlight, from visual arts, to performing arts,and everything in-between," said Linda Morgan, Executive Director of Visit Yuma. 
This parade is a huge tradition in our community, going on 17 years.  Thousands of residents and visitors gather in the Historic North End each year to watch the parade.  
The parade is named in honor of its creator, Dorothy Young, a much-loved event coordinator with City of Yuma Heritage Festivals, who had often indicated that the Electric Light Parade was her favorite event.
This year, to recognize the parade's best entries, a panel of judges will choose winners for several categories, including the Dorothy Young Memorial Trophy for Best Performance by a Marching Band, last year awarded to Gadsden Marching Band, and the Mary Jane Allen Award for Best Depiction of the Parade Theme, won by Dole Fresh Vegetables.  The winners will be announced the week following the parade.  
The parade is put on by Visit Yuma staff members and dedicated volunteers, according to parade chair Leslie Fain.  "We always have judges and countless volunteers asking to come back because it has become their holiday tradition," she explains. 
A big thank you to the parade's sponsors APS, Southwest Gas, Lockheed Martin and the Yuma International Airport.