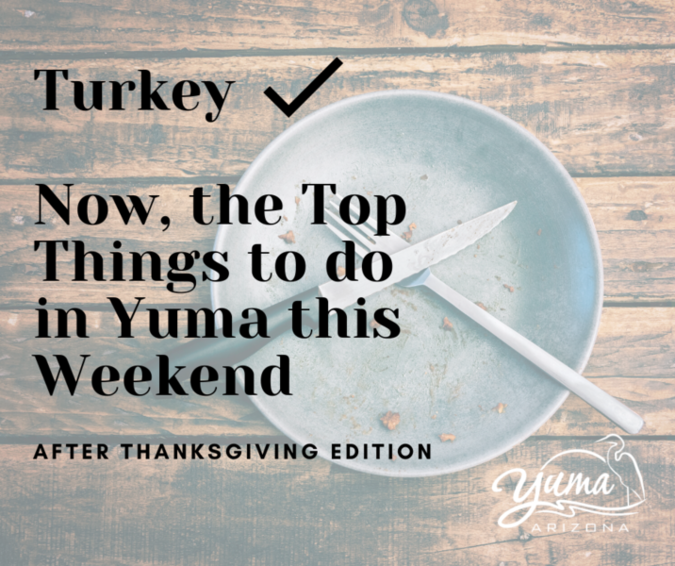 The Holiday Season is in full swing in Yuma!  It's time to get festive at some of Yuma's traditional holiday events.  Grab your shopping bags, warm up your singing voice, and put on that ugly sweater…   Here are the Top Things to Do this Weekend in Yuma.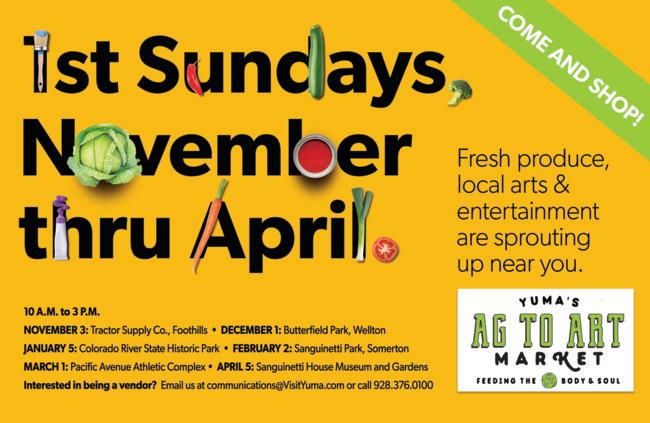 Ag to Art Market 
The Ag to Art Market: Feeding the Body and Soul returns this Sunday.  It is a fresh twist on a farmers market blending fresh farm foods with local art and artists. The second market will take place at Butterfield Park in Wellton, from 10 a.m. to 3 p.m. The event is FREE and open to the public. Weld Like a Girl will be constructing a community art project.  You will have the chance to cut, weld, and create. All ages are welcome to participate, no experience necessary. Children must fit in safety gear and parental supervision is required. Brockett Farms is bringing many of their fresh offerings including Medjool dates, local honey and locally crafted chocolates. Mama Bella Hot Sauce will have locally made jars of hot sauces and pepper jellies, among other delicious treats. Fresh eggs, homemade bread, herbs, and homemade soap will also be on hand. Naked Dates will be on site. Gypsy Girl Henna by Drea will blend both ag and art at the market, with henna tattoos as well as organic lemons and home-grown succulent plants for sale. There will be music and entertainment provided by BMC Productions. There will be a children's area with a Pot-A-Plant station, where each child can pot up their own plant to take home and care for. The Yuma Art Center will be on hand with a fun art project for the kids.  The Ag to Art market is the perfect place to spend your Sunday.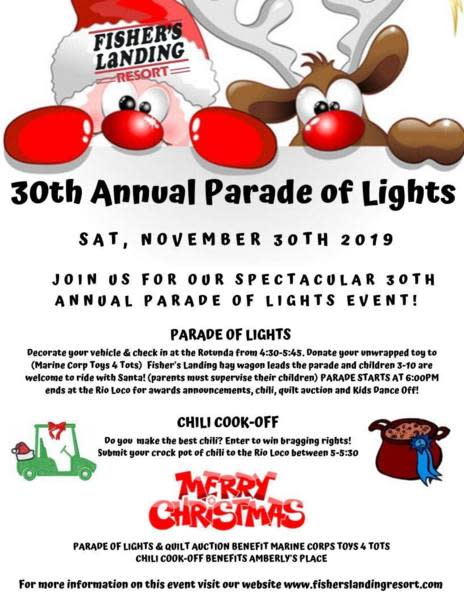 Enjoy the Parade of Lights 
Fisher's Landing will be glowing with lights this Saturday evening.  The Parade of Lights is a 30 year tradition.  The event starts at 4:30 p.m. and wraps up at 10 p.m.  75 entries are expected with decorated golf carts, rzrs, jeeps, boats and floats. The Chili Cook-Off and tasting event is also happening at Fisher's Landing.   You can enter your crockpot of homemade chili and be entered to win braggin' rights; Best Chili Maker on the River. Bowls of steaming chili are $2 and all proceeds will benefit Amberly's Place.  There is no entry fee to be in the Parade of Lights, just bring an unwrapped gift to the Marine donation station located by the Hog Shed.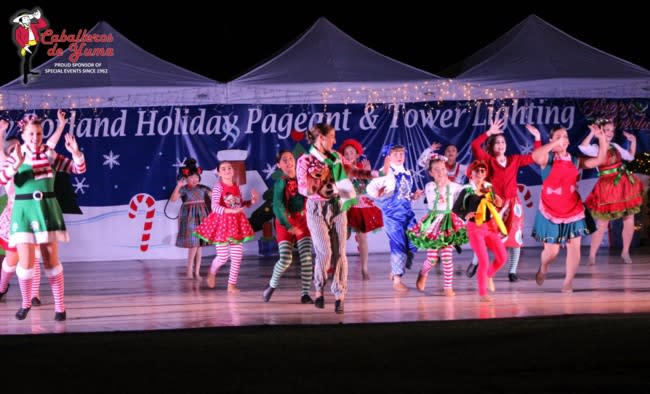 Come Together at the Friendship Tower  
The Friendship Tower will radiate with hundreds of lights to mark the spirit of the season. The Ken & Betty Borland Holiday Pageant and Tower Lighting Ceremony is in its 33rd year.  It takes place from 6:30 p.m. - 8 p.m. on Saturday evening.  The pageant features local choirs and dance groups at Desert Sun Stadium.  Admission is a canned food donation to benefit the less fortunate. Sing Christmas carols and keep an eye out for Santa Claus!  The lighting of the tower creates the effect of a 200-foot tall Christmas tree which can be seen from miles around. The tower will be lighted each evening, beginning with the pageant and ending after the first week in January.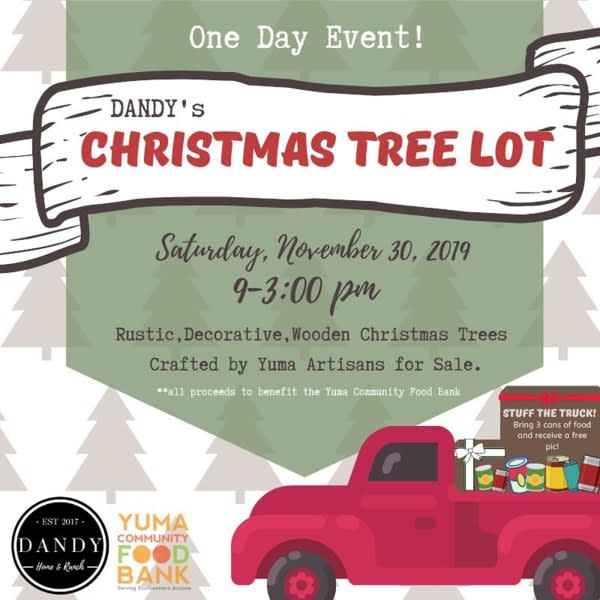 Pick a Tree at Dandy's Christmas Tree Lot 
Dandy Home & Ranch has created a lovely "Christmas Tree Lot" with rustic, wooden and metal trees for you to place on your front porch, made by local artisans. All of the proceeds from the sale go to the Yuma Community Food Bank.  If you come between 11 a.m. - 1 p.m. on Saturday with canned food to donate, you get a free photo with a mini donkey and a mini horse from Fun Sized Farms. They'll have deals and raffles all day in the shop for Small Business Saturday, and a Pop-Up-Shop with Grace Abounding, a jewelry vendor.  Dandy is located at 2500 E 16th Street, Unit C. For more information on the Christmas Tree Lot call 928-302-2120.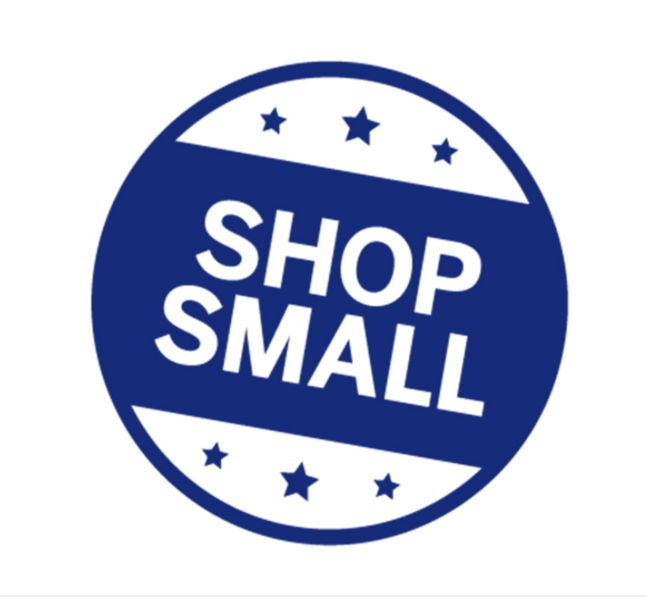 Shop Small
Small Business Saturday is a great opportunity to find holiday treasures for your loved ones.  The shops in historic downtown Yuma are stocked with holiday merchandise, and Yuma themed products.  Check out Dream Gift shop, Jack Mellon Mercantile, Bare Naked Soap Co, Brocket Farms, Belle's Boutique, Colorado River Pottery, Ms. Betty's Boutique, Old Town Wine Cellar, and Tomkins Pottery.  Most stores are staying open late and have in store specials.  The Yuman Interest gift shop, your shop for all things Yuma,  is also holding sales throughout the holiday weekend.   Make a list and check it twice and we'll see you shopping!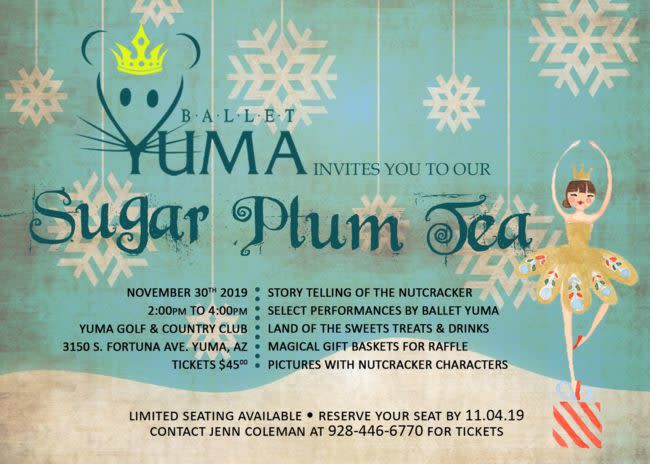 Curtsy at the Sugar Plum Tea
The Sugar Plum Tea is Ballet Yuma's holiday tradition.   You will be mesmerized by the cast as they dance to tell the story of the Nutcracker.  Audience members are encouraged to dress in their holiday best. The Sugar Plum tea takes place at the Yuma Golf and Country Club, Saturday at 2 p.m.  The event is sold out for 2019.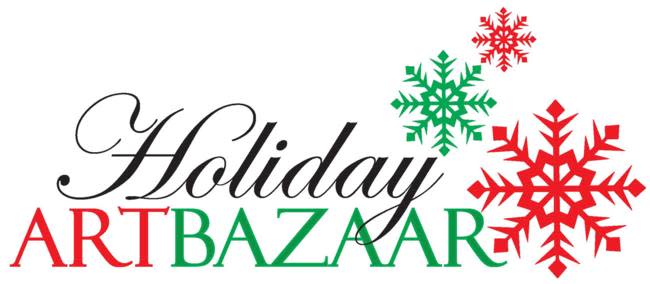 Shop the Art Bazaar 
Deck the walls with art this holiday season from the Holiday Art Bazaar.  The event takes place this Saturday from noon until 5 p.m. at the Yuma Art Center.  The bazaar will feature regional artists and their unique giftables and custom artwork available for purchase, from ceramics to jewelry, you are sure to find something special for everyone on your gift list.  The event is free to attend. The Yuma Art Center is located in historic downtown Yuma.