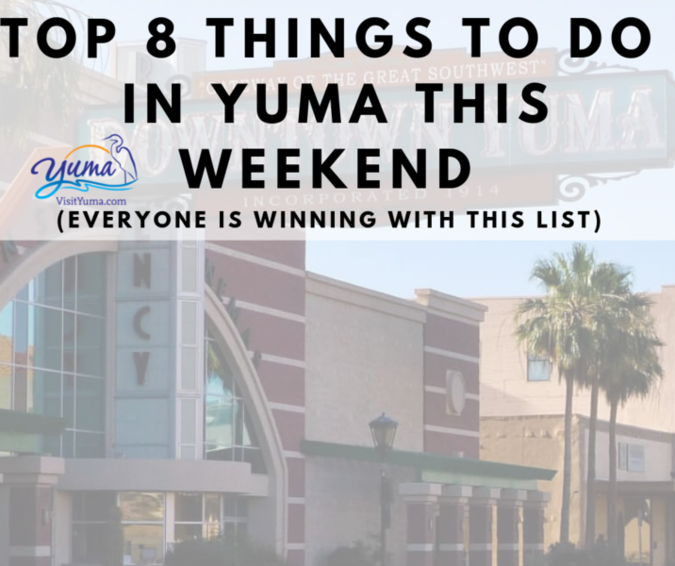 Hello, September!  It's time to celebrate the end of the summer season in Yuma.   And welcome the first signs of fall; football season!!! Read on because this weekend is packed with family friendly events around town and they don't break the budget!  Everyone is winning with the Top 8 Things to do in Yuma this weekend!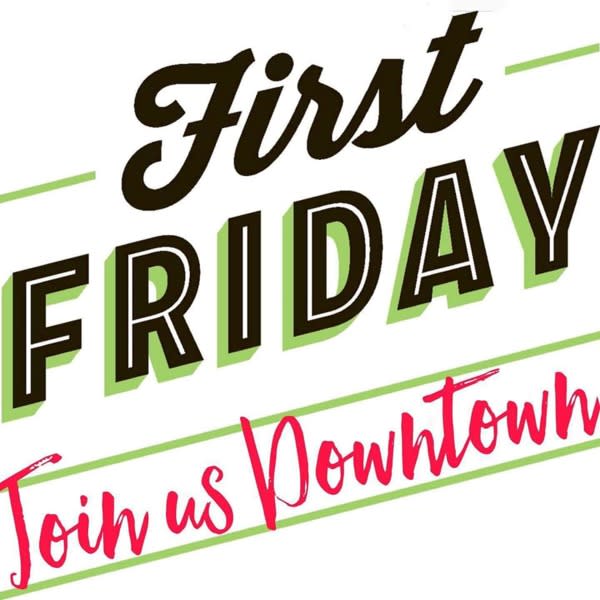 #ShopLocal at First Friday 
Explore local businesses located on Main Street, Madison Avenue and Maiden Lane on Friday evening.  The shops stay open a little later and offer specials to encourage shoppers to #ShopLocal.  This week, Dream Gift Shop is offering 40% shopping passes for their Facebook & Instagram followers.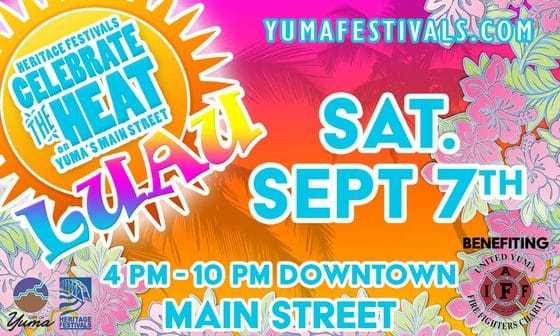 2.  Celebrate the Heat 
The City of Yuma is hosting a bright and vibrant summer themed Celebrate the Heat Luau!  This family-friendly event invites you to holoholo and features live entertainment, an ICE garden, water jumpers, misting from the Yuma Fire Department, free watermelon slices, ice-cold treats and drinks, a NEW! Movie on the Block showcasing Moana, plus the Hot Summer Nights Car Show & Shine in the 300 block!  The celebration starts at 4 p.m. Saturday, September 7th along historic downtown's Main Street. Admission is Free.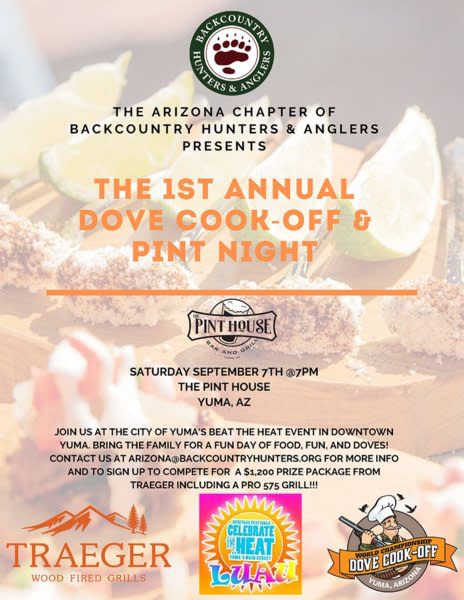 3.  Taste the 2019 World Championship Dove Cook-Off & Pint Night
The Arizona Chapter of Backcountry Hunters & Anglers is hosting the cook-off at the Pint House Bar & Grill.  Regional chefs will create their best "dove dish" on the grill. They'll be judged on dish presentation, flavor, creativity, and hosting.  The cook-off kicks off Saturday, September 7th at 7 p.m. The Pint House is located at 265 Main Street.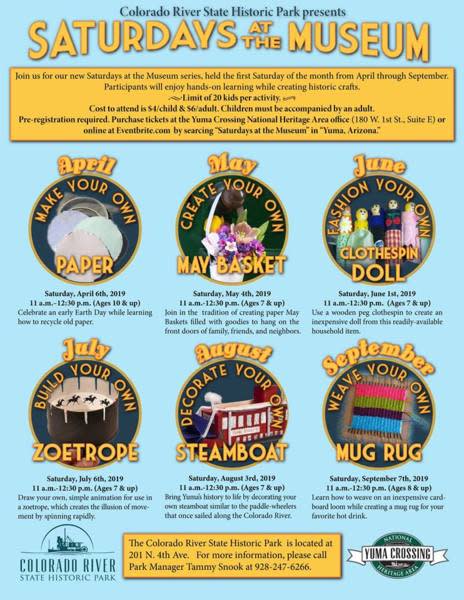 4.  Craft at the Museum 
Kids can make their own "Mug Rug" at Saturday at the Museum. The hands-on learning experience and historic craft creation takes place at the Colorado River State Historic Park.   Participants will learn to weave on a cardboard loom while creating a mug rug for their favorite drink. The event starts at 11 a.m. and tickets must be pre-purchased at www.eventbrite.com  This is the last Saturday of the Museum of the season.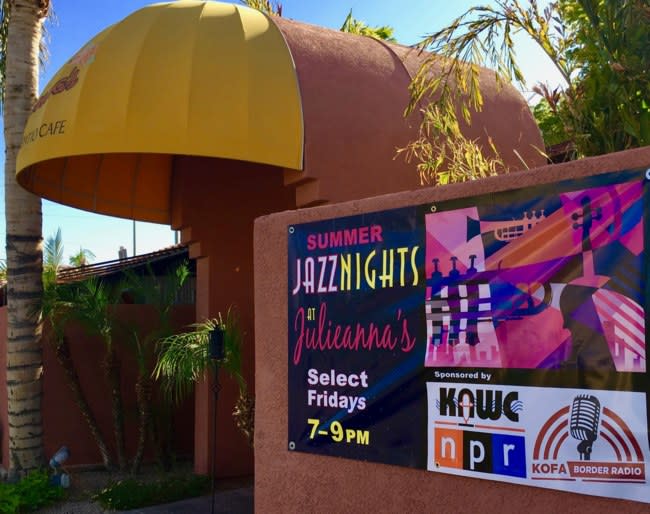 5.  Jazz at Julieanna's 
Cool off with a Jazz performance by The Yuma Jazz Company Trio.  YJC Trio has an intimate, evocative sound all its own. No frills here, just the essentials of sound, emotion, ballad, and groove. The group plays favorite standards as well as great lesser-known tunes ranging from swing to samba, torch song to blues. Steven Hennig - trumpet & flugelhorn, Carl Posch - guitar, Jon Knudtson - bass.They will perform indoors Friday from 7 p.m.  to 9 p.m. This combination of top-notch food and service and truly exceptional live music makes for a unique and memorable night out.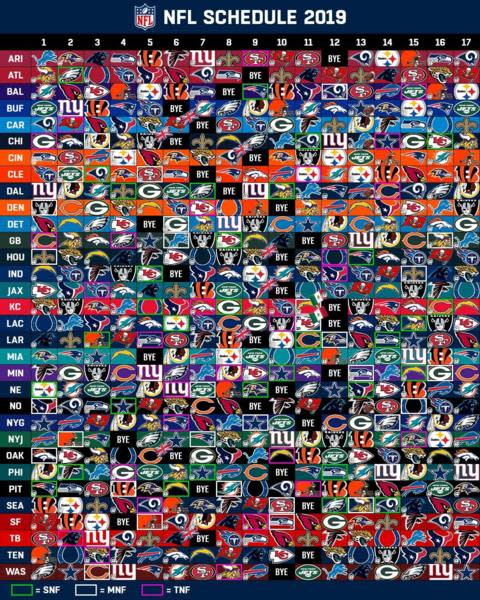 6.   Kickoff the Football Season with Friends 
Sport your jersey and cheer on your favorite NFL team for the start of the regular season this Sunday, September 8th.  Watch on the big screens at Burgers & Beers, or Buffalo Wild Wings while you eat your game-day favorites. Side note for the serious football fans… Hall of Famer Tim Brown will be greeting fans at Paradise Casino on Monday, September 9th.  Brown was a Heisman Trophy winner out of Notre Dame, and went on to become one of the NFL's most successful wide receivers of his time with the Raiders.  All ages are welcome to the meet and greet from 6 p.m. - 8 pm.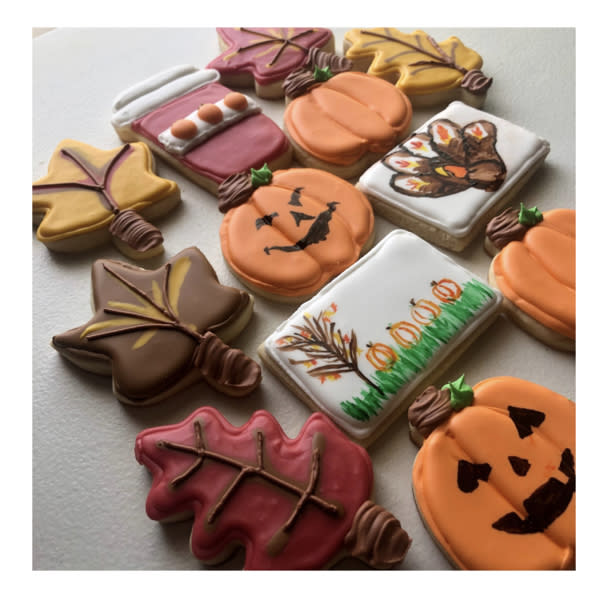 7.   Get Fall Ready 
Dandy is hosting two workshops this weekend to inspire you for  the upcoming season. Fall Cookie Decorating Class with Kait and Fall Wreath-Making, Design, Décor & Entertaining take place on Saturday, September 7th.  Small Pinch Sweets will walk you through the baking and decorating process, and of course…the tasting process! This course will include a variety of techniques for you to learn and practice.  Not only will you learn to pipe and flood cookies, but you will also learn a wet-on-wet technique and get to practice your painting skills on a blank canvas cookie. Purchase tickets for classes at www.dandyhomeandranch.com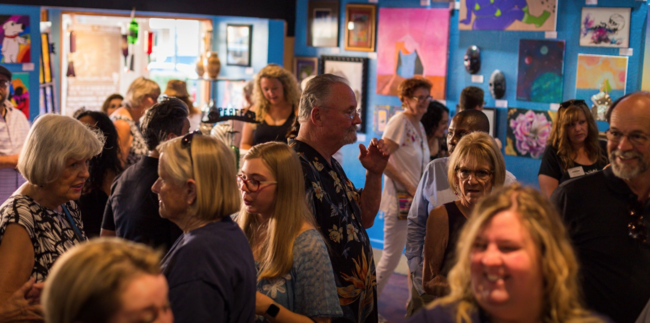 8.  Artist ALERT! 
The Littlewood Co-Op is hosting a "meet and greet" Saturday, September 7th.  Check out the brand new studio, mingle with fellow artists and sign up for your next art experience while you are there. The event runs from 1 p.m.- 3p.m. and is Free.  The Co-Op is located 176 South Main Street in historic downtown Yuma.