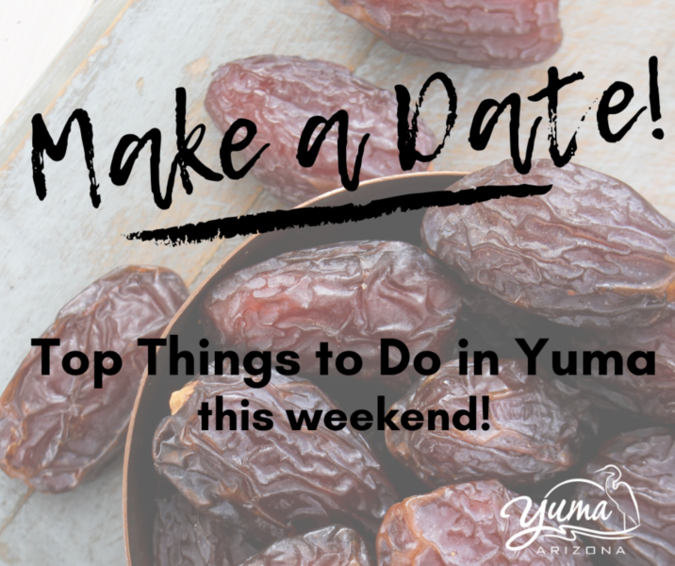 Make a date to celebrate a Yuma staple, the Medjool Date!  Or step back in time at one of many events to celebrate history, American & musical too.    Grab your running shoes, appetite, and prepare for perfect weather... Here are the Top Things to do in Yuma this weekend!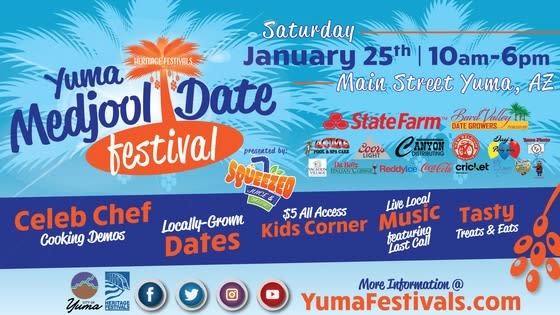 Make it a Date 
The Yuma Medjool Date Festival is a nationally-recognized fresh fruit festival celebrating the wonderful and tasty Date fruit, grown right here in the Desert Southwest.  All of the major growers will be present; offering up samples and Date Fruit novelty eats and treats! While you are downtown, enjoy live music, celebrity chef demonstrations, community performances and more! The festival takes place on Main Street in historic downtown Yuma from 10:00 a.m. - 5:00 p.m. tomorrow. 
Visit www.YumaFestivals.com for more information.  
Run Like a Criminal 
The Yuma Territorial Marathon & Half Marathon starts at 7:00 a.m. on Saturday.  
Now in its tenth year, the run has become a preferred destination for serious runners and marathon fans alike. Average temperatures in the 60's and 70's along with a race route that is close to sea level creates ideal marathon conditions. Many participants have commented that it is a perfect place to post a personal best and qualify for prestigious events like the Boston Marathon.  Register at yumamarathon.com.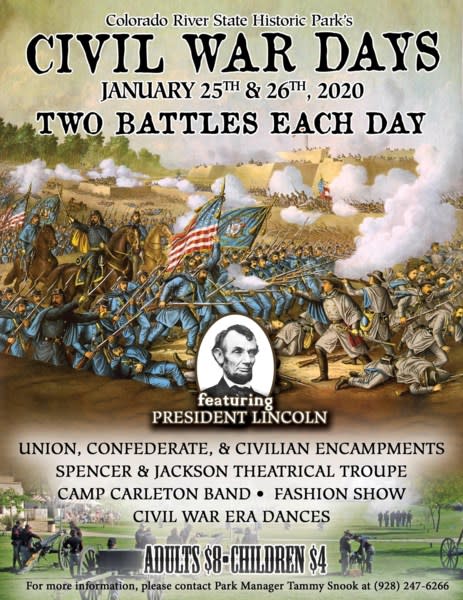 Step Back in Time 
Experience the Civil War Days on Saturday and Sunday, with two battles each day.  
More than 100 fighters from around the Country will be participating in the re-enactment of the Civil War.  Battle times include 9:00 a.m. & 2:00 p.m. at the Colorado River State Historic Park.  Call 928-373-5198 for more information.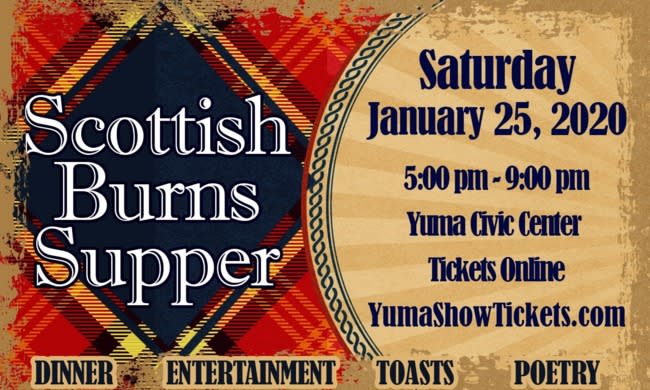 Feast, Scottish Burns Style 
Robert Burns is widely regarded as the national poet of Scotland and is celebrated worldwide. The 'Burns Supper' is a customary four-course Scottish feast, a 'Toast to the Lassies' with 'the water of life' Scotch Whiskey, excerpt readings of Burns poetry and special presentation from our very own Yuma United Firefighters Pipes & Drums Ensemble will fill the evening's festivities.  The dinner takes place from 5:00 p.m. - 
9:00 p.m. at the Yuma Civic Center.  Tickets are available online at www.yumashowtickets.com 

Rock out with Checker'd Past 
The Yuma Art Center presents Checker'd Past live in concert at the Historic Yuma Theatre. Checker'd Past brings you all your favorite 80's New Wave, MTV Hits and One Hit Wonders together in one great show! Sing, dance and enjoy the legendary music of a Video Music Era. All the fun and all the hairspray! Tickets are $10 per person, reserved seating, all ages. Tickets are available at YumaShowTickets.com, over the phone at 928-373-5202, in person at the Yuma Art Center, Yuma Civic Center, or Parks and Rec office at City Hall.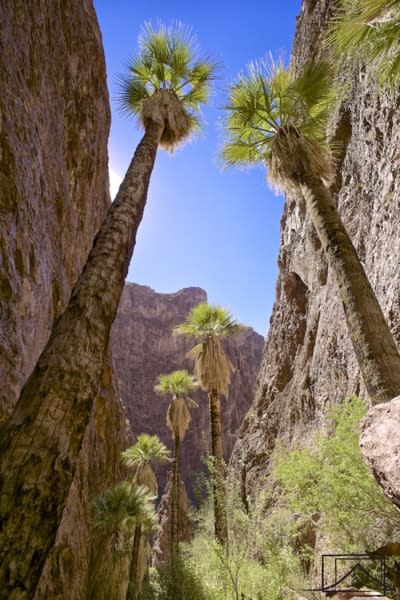 Palm Canyon Walk 
Enjoy the beauty of the Southwest Arizona desert on the Kofa National Wildlife Refuge. On this free guided hike, you will learn about the Sonoran Desert as you hike the moderately strenuous 0.5 mile (one way) Palm Canyon Trail. The hike will last roughly 2 hours, starting at 10:00 a.m. Saturday.  
Please meet at the Palm Canyon trail head.  Directions: To reach the trail from Yuma, take Highway 95 to Milepost 85. Turn right onto the dirt road located just past the brown Palm Canyon sign. Follow the road east for seven miles to a parking area. This dirt road is passable in a two-wheel drive passenger car. The drive time is roughly 1.5 hours from the east side of Yuma, AZ. 
Call the refuge at 928-783-7861 for more information about the hike.  Please bring sturdy footwear, water, snacks, and depending on the weather, sun protection or warm clothing.