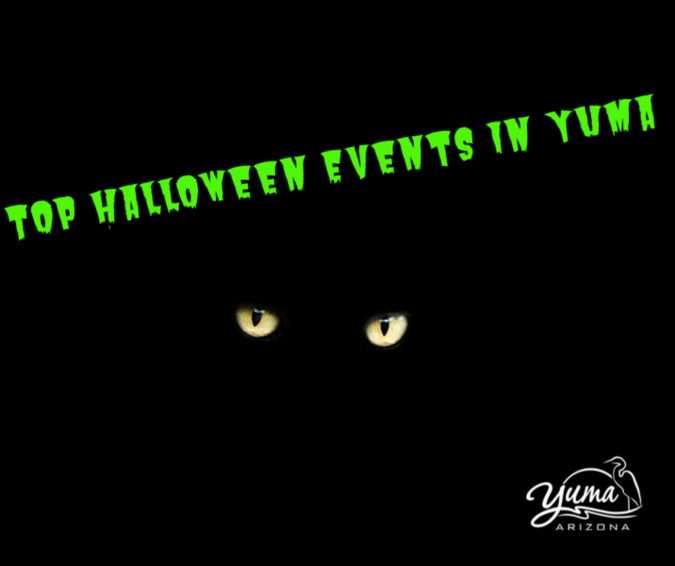 BOO!  A little spooky, super scary and lots of sweets:  Yuma is packed with activities to celebrate Halloween.  Here's our list of Top Halloween Events in Yuma!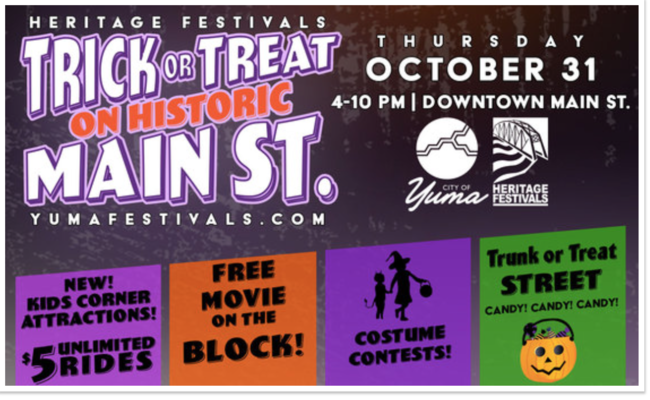 Trick or Treat on Main Street
Spend Halloween Night in historic downtown Yuma!  Kids and adults alike will have a SPOOK-tacular time Trunk-or-Treating at dozens of participating downtown shops, restaurants, and booths all along Main Street!   Activities include costume contests, face painting, a $5 Kid's Corner, lots of candy, music, dancing, and live entertainment.  "Uglydolls" will be the featured Movie on the Block.  The fun starts at 4 p.m. and goes until 10 p.m. The family friendly event is free.  Trick or Treat on Main Street 2019 is presented by Visit Yuma member, Red Moon Ale House!  
SCARY & SAFE TRICK OR TREAT 
Join in on the 10-year tradition at the Yuma County Fairgrounds.  The Yuma Police Department and Yuma County Fair Inc., put on the event Halloween night from 5:30 p.m. - 8:30 p.m.  Admission fee is $1 per person. Hotdogs, chips and water combo will be available for $2.00.  All proceeds will be donated to the Arizona Law Enforcement Torch Run for Special Olympics.   The Yuma County Fairgrounds are located at 2520 E 32nd Street.  
Bring Back the 80s Trunk or Treat 
The Yuma Family YMCA is hosting this radical event!  Vendor booths & Trunk or Treat vehicles will all be totally decked out 80's themes.  So come dressed up in your favorite 80's characters; Madonna, Saved by the Bell, or Back to the Future! Halloween at the Y is FREE to attend and open to the community with Trick or Treating for the kids. The event takes place Saturday, October 26 from 10 a.m. - 12 p.m.  The YMCA is located at 1917 W 32nd Street. For more information call 928-317-0522.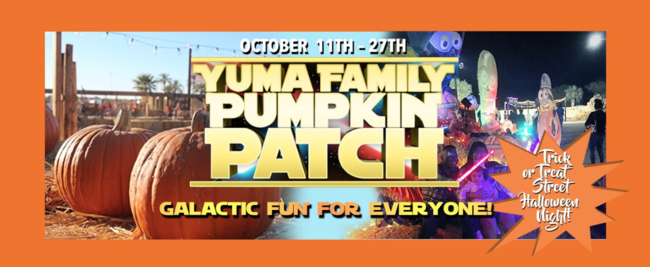 Visit the Action Packed Yuma Family Pumpkin Patch  
The Yuma Family Pumpkin patch is open on the weekends for the rest of October.  Kids (and adults too) will be delighted as they discover a world of action, adventure, and star-filled fun. It's a place where everyone can be a hero or a princess and a golden pumpkin treasure is around every corner!  $5 admission and bring a non-perishable item to donate to underprivileged neighborhoods here in Yuma, and San Luis, Mexico. Open Friday, Saturday and Sunday at 5 p.m. On Halloween night, they'll have a Trick or Treat Street from 6:30 p.m.- 9 p.m.  The YFPP is located at 3625 S Avenue 5 E. For more information call 928-783-7574.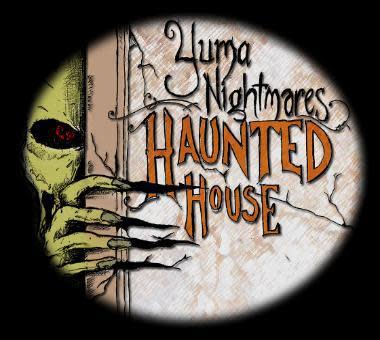 Get Scared! 
The Yuma Nightmares Haunted House is a place that shouldn't be missed this Halloween season.  The house covers about an acre turned into cemetery-like environment which provides us with all kinds of fun shadows and creepy places to hide in.  Yuma Nightmares is located at 15485 S Avenue 4E.  Get spooked Friday and Saturday, and Halloween night from 7 p.m. - 10 p.m., cost is $10 per person.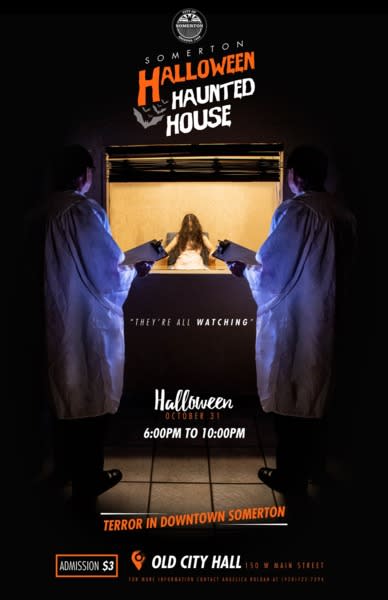 Get Scared, Somerton Style 
Go inside Somerton's Old City Hall to experience paranormal activity.   If you dare, you can only go inside Halloween night from 6 p.m. - 10 p.m.  Admission is $3. For more information contact 928-722-7400.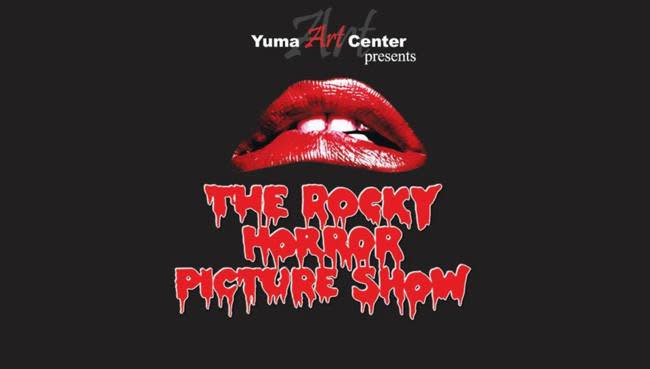 Do the Time Warp Again!  
Watch the cult classic, "The Rocky Horror Picture Show" at the Historic Yuma Theatre.  For over 40 years, Jim Sharman's science fiction parody has delighted audiences and terrified parents. The musical comedy horror screening will feature a shadowcast of the film (that's actors acting in front of the screen during the film). Audience members are invited to fully participate and costumes are encouraged, but please leave the toast, hot dogs, prunes, rice, lighters and water guns at home. Midnight Madness Virgin Kits (or "prop bags") with all your prop needs will be available for purchase at the door. Don't forget to brush up your Time Warp dance moves before you come!  The film is rated R and is not for the faint of heart. Doors open at 11:00 p.m., Saturday, October 26 for a 11:59 p.m. showing. Ticket are $7.00 per person, general admission. Tickets available soon at YumaShowTickets.com. Advanced ticket purchases are recommended as this event may sell out.  All attendees must be 18 or older.  
Go on a Ghost Hunt 
Explore Yuma's historic and haunted Territorial Prison.  Named the Most Haunted Destination in the Country by USA Today's 10 Best, the prison is holding this "adults only" special event.   The Ghost tour is set for Saturday night at 6:00 p.m.- 8:00 p.m. Call 928-783-4771 for more information.
 
Take part in Dia De Los Muertos 
Celebrate loved ones that have passed at the Yuma Crossing National Heritage Area.  Music, dancers, food, headband making stations, sugar skull decorating stations and a community altar are part of the event.  The multi-day holiday involves family and friends gathering to pray for and remember friends and family members who have died, and helping support their spiritual journey. The event takes place October 26, from 4 p.m. - 6 p.m.   Admission is $6 for adults, and $3 for children. Tickets can be purchased on eventbrite.com 
Celebrate All Things Halloween at the LittleWood Fine Arts & Community Co-Op.  
First of all, join the Fancy Pumpkin painting session.  Bring your own pumpkin and make an amazing transformation to share with the trick or treaters.   The class takes place Thursday, October 24, 2019 from 6 p.m. – 8 p.m. Cost is $20 per person. Sign up at https://www.littlewoodcoop.com/class/paint-your-fancy-pumpkin-with-lia-1-1
Then on Halloween night enjoy the Monster Mash and more at the Co-op.    Drag and music performances, a haunted house, and costume contest are planned.    First place will bring home a treat of $150!  Doors open at 8 p.m., and the show starts at 8:30 a.m.  Admission is $15.  
On Friday November 1,  take part in "Lia De Los Muertos."   A community alter will be set up along with  face painting by Wendy, live music, Catrin & Catrina contest, dancing, children's art corner, and raffles.   The Day of the Dead celebration takes place from 7 p.m. - 12 p.m.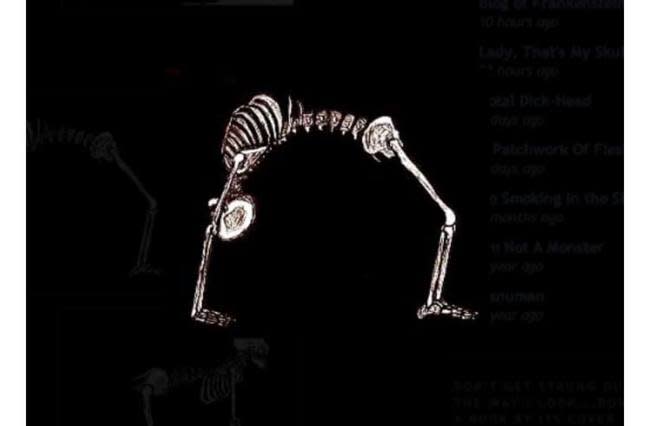 Carve Some time for Yoga 
Studio Y is hosting two Halloween themed classes.  Bring the kids to "Halloween Yoga Flow." They'll do a little yoga, storytime, craft time and leave with a treat bag.  The class costs $12 per child and takes place Saturday October 26 at 2 p.m.  
Adults are welcome to a FREE candlelit yoga class Halloween night at 6 p.m.  The all-levels, energy building flow class will give you all the more reason to indulge in some candy.   And you'll end up in an extra long corpse pose, known as savasana. Studio Y is located at 250 S Madison Avenue.  
Celebrate Halloween by the Water
Fisher's Landing is hosting events for ghosts and goblins of all ages on Saturday, October 26.  The kid's event starts with crafting at 4 p.m., and ends with a trunk or treat parade. After dark the party moves to the Rio Loco and the adults get to play.  Rated R Band, $2 jello shots, and a costume contest will rock the rio! The adult party starts and 9 p.m. and wraps up at 2 a.m. Fisher's Landing is a 40 minute drive from Yuma proper.    For more information visit fisherslandingresort.com 
Drop Your Treats and Do Drones
Check out the first ever Halloween Drone Prix at sundown Saturday, November 2nd.  Watch all the Top FPV Drone Racing Pilots from throughout the U.S. battle it out on a never before seen AZ Night Track.  The course will have 100 LED obstacles including moving Gauntlet features! All age spectators are welcome FREE of change. The race takes place at the West Wetlands park.  For more information log onto www.aznighttracks.com 
Yuma Landing Bar & Grill, Wheezy's and Daybreakers Cafe also have special events planned for Halloween night.  Go to one of those spots for adult parties complete with food and drink specials, music and costumes! Snap a pic of your costumes and show us where you decided to celebrate.  Don't forget to tag us on Facebook at @visityuma and on Instagram at @visityumaaz. Happy Halloween!