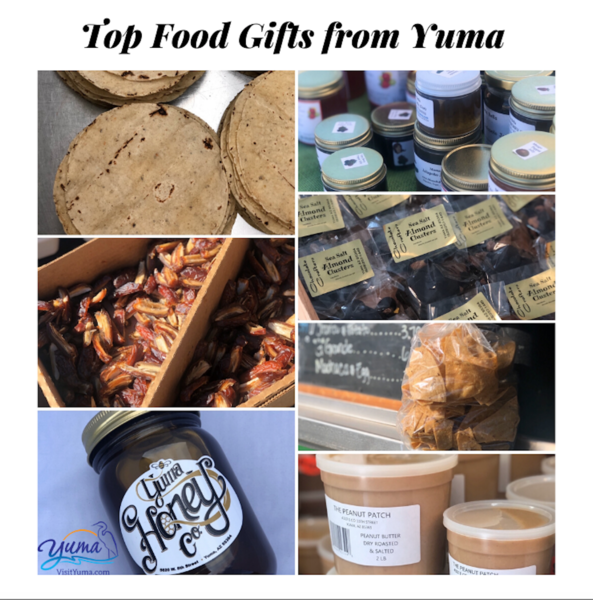 Food is the perfect ingredient for a holiday gift!  Yuma, Arizona has a long list of items that can be stuffed in a stocking or shipped across the country.  Stop stressing, you've got 14 days till Christmas, and here's a list of the Top Gifts from YUMA you can EAT! 
Dates
Savory and sweet share the oldest of cultivated fruits this holiday season, fresh from local growers.  Your choices include organic, cooking, colossal, jumbo, fancy and chocolate covered. Available at several local retailers including Naked Dates, Brocket Farms, Imperial Date Garden and Martha's Gardens.  Pricing varies based on amount.    
Yuma Honey makes everything sweeter!   The jars of goodness are unfiltered, raw honey from Yuma bees. Thick and spreadable makes it great on toast or muffins. If you want it pourable, just set the jar in warm water for a few minutes.   Sm. $8.99, Lg. $13.99 Available at Brocket Farms and Dandy Home & Ranch. 

Peanut Patch Peanut Butter
This PB is so delicious it doesn't even need jelly!  The peanut butter is available in Dry Roast or Oil Roast and with or without salt.  And if you are looking for an extra special "handmade" gift, you can make your own peanut butter inside the store.  The Peanut Patch is known as Yuma's original general store and is located at 4322 E County 13th Street. Small $5.99 Large $8.99 
Tortillas from La Fonda Tortilla Factory 
The tortillas are made fresh daily in their corn tortilla factory. Stone ground corn mixed with chipotle peppers creates their original chipotle corn tortillas dating back to 1940.  La Fonda Tortilla Factory is located at 1095 S Third Avenue.  $2.50 for three dozen.   
Chips from Mr. G's/Chili Pepper
Share a classic taste of Yuma with your loved ones!  The chips made from scratch daily are the perfect snack to share at a holiday party.  The chips also ship well to your loved ones craving a taste of the desert southwest. Available today at Chili Pepper located at 1030 W 24th Street.  Mr. G's is currently under construction. Small bag $ Large Bag 
Mama Bella Salsa  
Hot Sauce makes everything better, including the holiday season.  
Mama Bella salsas use natural and fresh ingredients in all their habanero products and proudly preserve them exclusively with Yuma County area lemons.  The habanero hot sauces are tomato-free, and come in a variety of flavors including Touch of Heat, Mango, and Flaming Hot. 8 oz jars are $5.99, gift sets of are $19.99. Available at Yuma's Visitor Information Center, The Peanut Patch, Brocket Farms, Olsens Marketplace, Dandy Home & Ranch and Colorado River Pottery. 
Chocolate Crafters Treats.  
A handmade delicious selection of chocolate treats locally made in Yuma..
A selection of 20 chocolates are hand made fresh weekly including carmels, bark, and covered marshmallows.  Turtles and the kona coffee bars are the best sellers. The chocolates will fit perfectly in a stocking, or will serve as the perfect party pleaser for a hostess gift.  Chocolate Crafters Treats are priced from $2- $6. Available at Brocket Farms & the Sanguinetti House candy shop. To purchase online visit www.brocketfarms.com