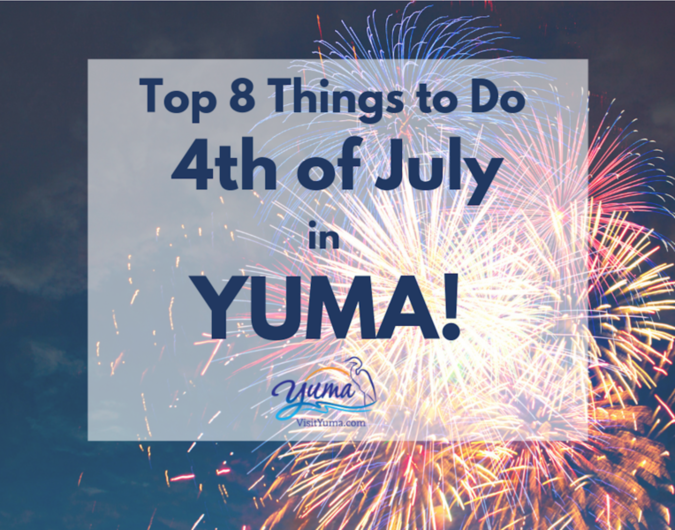 The 4th of July is the heart of America's summer.  It is time to commemorate the Declaration of Independence of the United States on July 4, 1776 with family and friends.  Check out our list of the Top 8  4th of July celebrations in Yuma!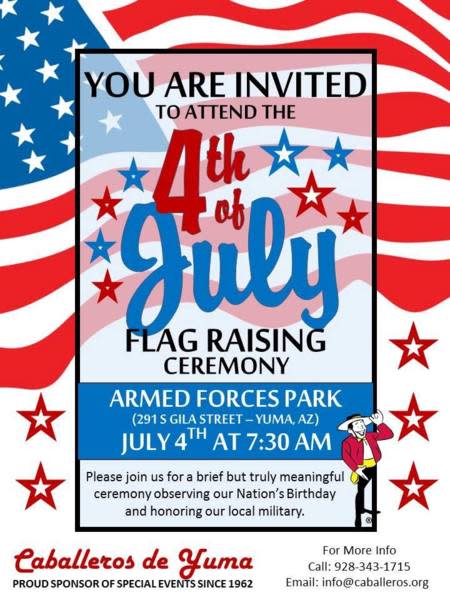 Armed Forces Park Flag Raising 
Start your day off with the national anthem and Pledge of Allegiance at the Yuma Armed Services Park in downtown Yuma. The Fourth of July Flag Raising ceremony honors the military in Yuma. The ceremony features speakers from Yuma's two military bases, Marine Corps Air Station--Yuma and Yuma Proving Ground. Marines and soldiers at the bases are recognized during this ceremony. The highlight of the morning is the raising of the Stars and Stripes at the park as well as from the mast of Yuma's iconic water tower at Friendship Park. Ceremony starts at 7 am.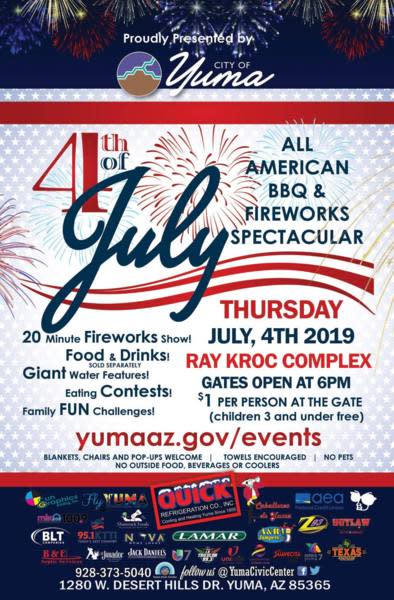 A Star-Spangled Celebration 
Yuma's take on 4th of July festivities combines traditional entertainment with fun water features to help the family keep cool throughout the evening. For just a dollar per person, attendees can enjoy dry and wet play areas, food eating competitions and games, a patriotic ceremony, and 20-minute fireworks display. Food and drink will also be available for purchase. Head on out to Desert Sun Stadium on the 4th beginning at 6 p.m. to join the party in a fun, family-friendly environment at the annual City of Yuma All American BBQ & Fireworks Spectacular. Also, help support the Yuma Community Food Bank by bringing a non-perishable food item.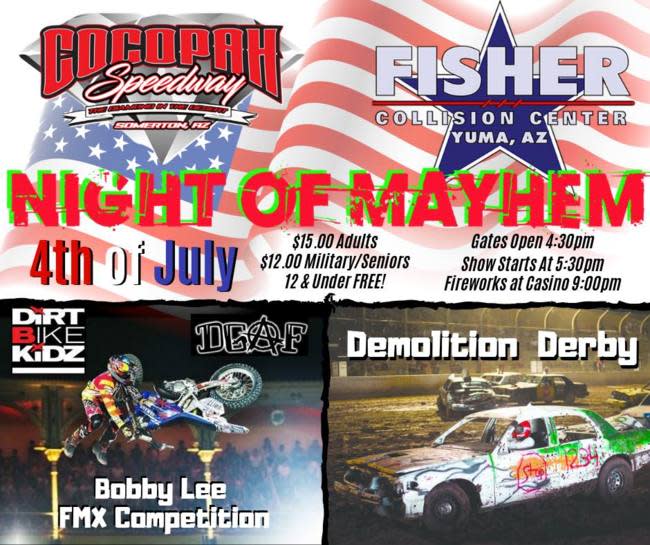 Cocopah Speedway Night of Mayhem 
Celebrate our Independence with Freestyle Motocross, Demolition Derby, and an insane fireworks show courtesy of Fisher Collision Center and Cocopah Casino & Resort!  Gates open at 4:30 pm, the show starts at 5:30 pm, and the fireworks blast off at 9:30 pm.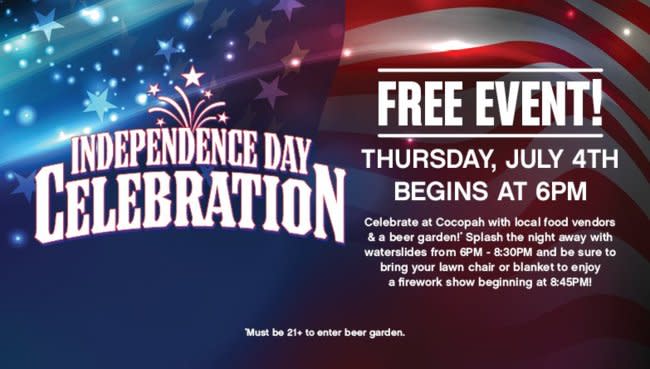 Cocopah Casino Fireworks Show
Celebrate the 4th of July with a spectacular fireworks show and local band performing live Tommy and the Drifters and a DJ at Cocopah Casino!  This event is perfect for the family with water slides for kids starting at 6pm. Enjoy authentic food vendors and a beer garden. Admission is free.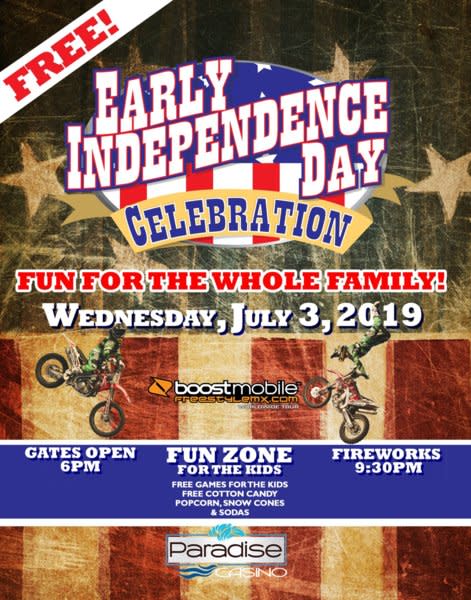 Paradise Casino Early 4th of July Celebration 
Make the most out of the holiday with a celebration on the evening of the 3rd for the whole family.  Free fun zone for the kids with games, cotton candy, popcorn and snow cones. Gates open at 6pm and fireworks blast off at 9:30 pm.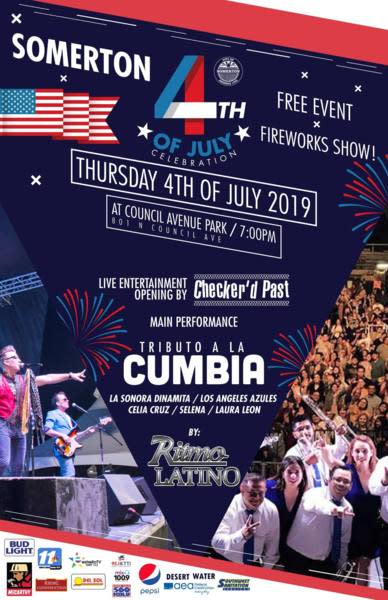 Somerton 4th of July World Record Water Balloon Fight  
Checker'd Past & Ritmo Latino star in the show at the 4th of July Celebration in Somerton.  Prepare yourself for an epic water balloon fight with record-breaking of 57,000 water balloons, a fireworks show and watermelon eating contest. Thursday 4th of July starting at 7:00 pm at Council Ave Park, 801 N. Council Ave.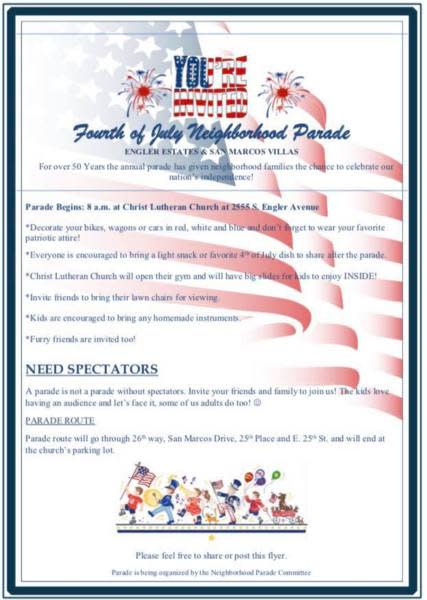 Fourth of July Neighborhood Parade
This parade has more than 50 years of history in our community. The parade begins at 8 am at Christ Lutheran Church at 2555 S Engler Avenue. You can sit along the parade route and watch or join in!  Decorate your bikes, wagons, or cars in red, white, and blue. 
The parade route will go through 26th Way, San Marcos Drive, 25th Place and E 25th Street and will end at the church's parking lot.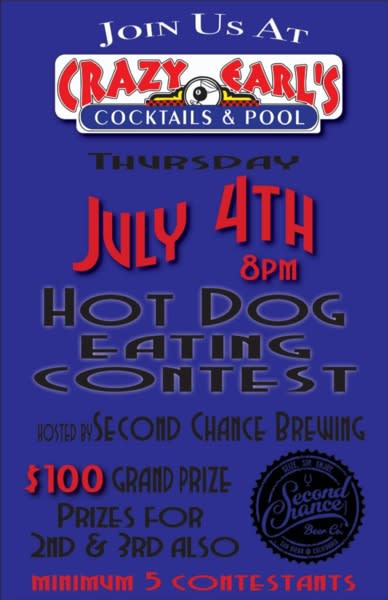 Crazy Earl's Hot Dog Eating Contest 
Save your appetite for this event!  Crazy Earls is going to get a little bit crazier during its HOT DOG eating contest. The first person to eat 25 hot dogs wins 100 bucks.  Contest starts at 4pm. Crazy Earl's is located at 11274 Fortuna Road in the Foothills. Sidenote: did you know that 150 million hot dogs are eaten on the 4th of July according to the National Hot Dog and Sausage Council.