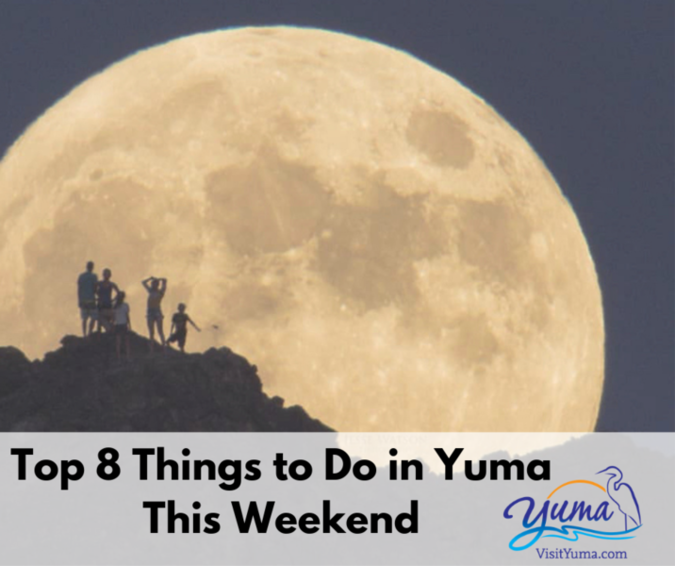 Feeling Superstitious?  Probably because the weekend starts on Friday the 13th.  We dare you to go outside and enjoy the memorable moon. Or you can wait and venture out on Saturday and Sunday for a full line-up of events.  There are plenty of options this weekend to dress up or be casual, celebrate Hispanic heritage, and lock yourself down at a downtown hotspot. Here's the Top 8 Things to Do in Yuma this weekend…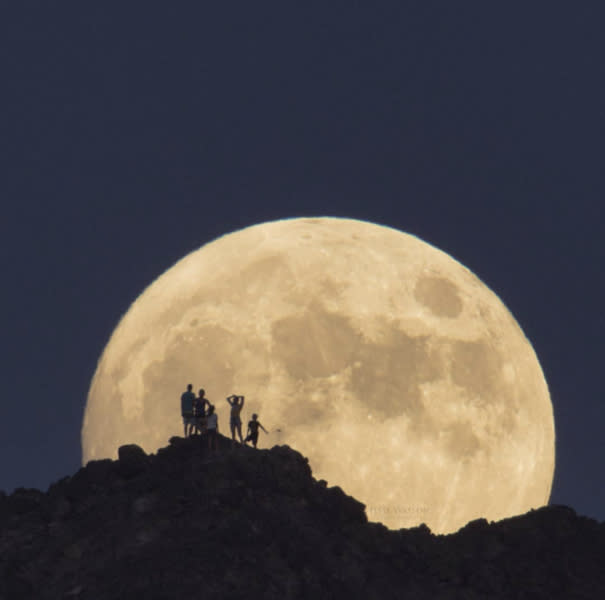 Howl at the Harvest Moon  
Astrologers say you can see a Full Moon on Friday, September 13th.  It gets even spookier because this is the first time in 13 years there is a full moon on a Friday the 13th.  The Harvest Moon usually occurs around the autumnal equinox.  The harvest moon will rise about 25 minutes after the sun sets.  This brings extra light in the evenings; creating the perfect moonlight for an evening walk on a desert trail.   Photo by Jesse Watson photography.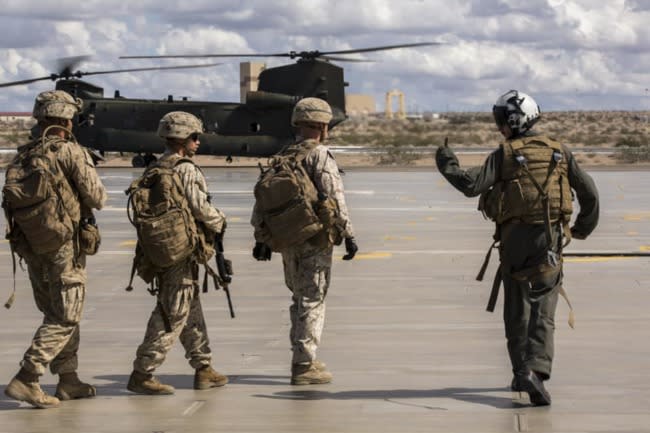 Look and Listen for the Sites & Sounds of Freedom
The USMC Weapons and Tactics Instructors course, commonly known as WTI is underway.  The seven week training program is hosted twice a year at MCAS Yuma. Expect to see and hear the best of marine aviation over the skies of Yuma.  If you want to try to see the aircraft up close your best bet is the parking lot at the fairgrounds.  (U.S. Marine Corps photo by Lance Cpl. Claudia Nix)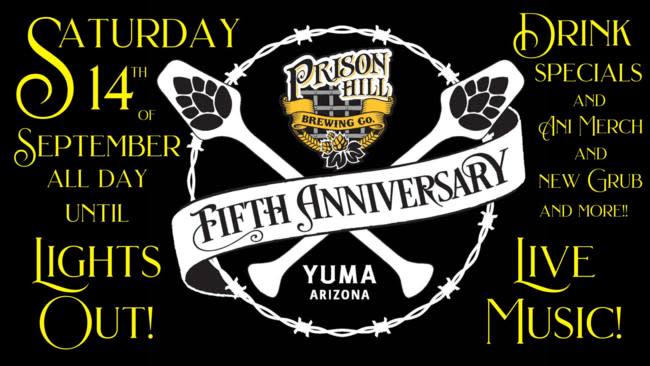 Lock Yourself Up at Prison Hill Brewery 
Celebrate Prison Hill Brewery Company's 5th Anniversary at an ALL DAY party Saturday September 14.  Live music, special swag, one day only grub, giveaways, drink specials and of course, lots of BEER will be at the brewery! The party starts at 11 a.m. and rolls until the warden calls for "lights out!"  Prison Hill Brewery is located at 278 S Main Street in historic downtown.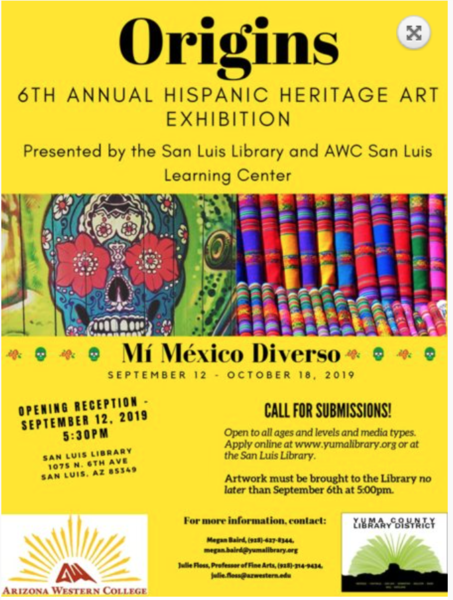 Experience Art Diversity 
The San Luis Library is displaying "Origins: Mi México Diverso," to celebrate Hispanic Heritage Month.  The opening reception is Thursday, September 12th from 5:30 p.m. to 8 p.m. "Origins: Mi México Diverso" is a collaboration of Arizona Western College, Museo Regional de San Luis Rio Colorado, Sonora, Mexican Consulate and the San Luis Library.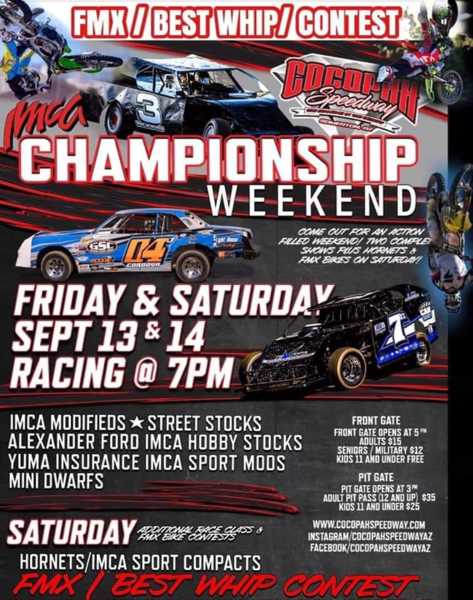 Race Into the Weekend
Cocopah Speedway is opening for the season with the IMCA Champion Night, September 13th & 14th from 6 p.m. to 8 p.m.  IMCA-sanctioned races feature IMCA modified, IMCA Northern sportsmods, street stocks, hobbystocks, and last but not least, mini dwarf racers, bringing up the rear!  The speedway is also celebrating the song "Beer Never Broke my Heart," by Luke Combs. Anytime you hear the song, Coors Light beers will be two-for-one during the duration of the song.  The Speedway is located at 3450 E County 15th in Somerton, Ariz.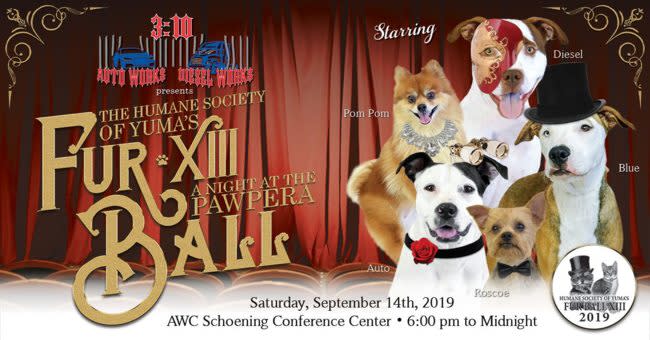 Dance with Strays! 
The Humane Society of Yuma's FUR BALL XIII "Dancing with the Strays" is Saturday Night at 6 p.m.  There will be live entertainment, extraordinary cuisine, live and silent auctions, and dancing at the AWC Schoening Conference Center.  One hundred percent of the proceeds will go towards helping to pay for a new shelter.  For more information call 928-782-1621 or ticket sales humanesocietyofyuma.salsalabs.org/furball13/index.html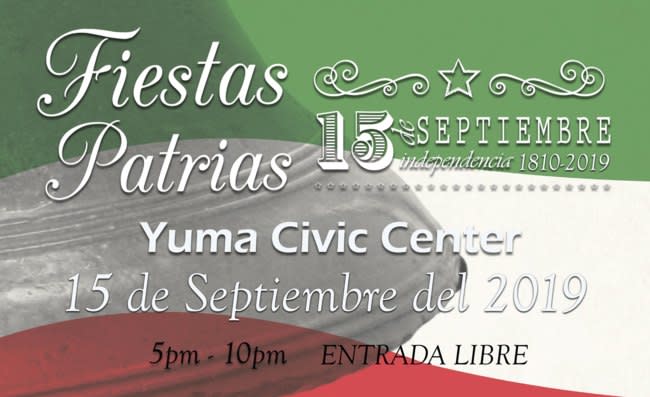 Celebrate Mexico's Independence Day 
Spend your Sunday celebrating Fiestas Patrias, event that celebrates Mexico's Independence Day!   Admission is free and the event is designed for non-stop family fun with booths and table exhibits, artifacts, food, live entertainment, artistic presentations from Mexico and a meaningful international experience. Fiestas Patrias starts at noon and goes until  10 p.m. at the Yuma Civic Center.  Call 928-373-5040 for more information.
Get Crafty
The Macrame Baskets with Sweet Peas workshop is taking place in Dandy Home & Ranch's new gathering space.  Learn basic macrame knots, which will allow you to create endless projects. You will be making a gorgeous tobacco basket macrame wall hanging that can be used in any room in your home as a perfect place to display greenery & florals, or as a catch-all station for toiletries or office supplies, or even as a charging station for electronics!  You will be given a macrame knot guide, a 20% off coupon for your first macrame supplies order, and a free gift. Snacks and drinks will also be provided. Sign up for workshops here.  Cost: $45