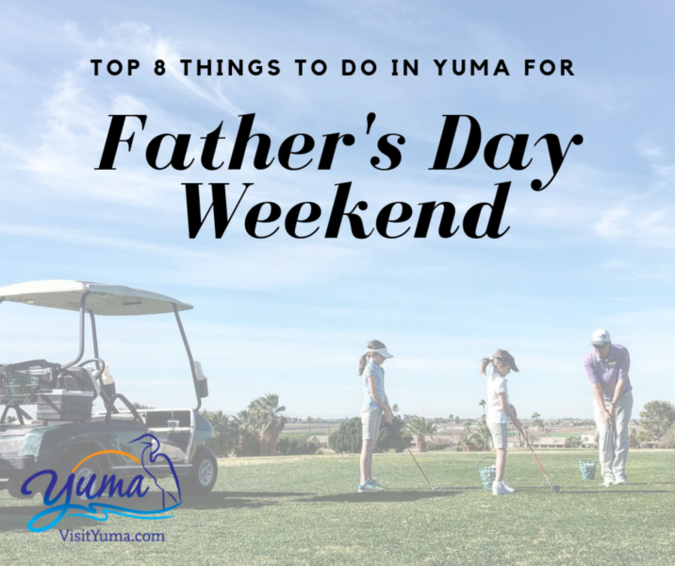 Dads are so rad!  Let's show them how much we appreciate them this Father's Day weekend.  It is the one time of year we don't drag Dad out of the house to do what the rest of the family desires. Instead, we plan a day just for our most special guy.  Here are the...
Top 8 Things to do with DAD in Yuma this Father's Day weekend!
Foooooooooor Dad!
Get Dad up early and take him out on the GOLF COURSE. Getting him out on the course is the gift that keeps on giving because you and your special guy will get in a good amount of exercise. Yuma golf courses listed below have early morning tee times and HOT DEALS available during the summer season.  
Desert Hills Golf
Desert Hills Par 3
Fortuna de Oro Resort Golf Course
Ironwood Golf Course
Las Barrancas Golf
Mesa Del Sol Golf Course
Westwind RV and Golf Resort
 Hit the Bulls-Eye!  
Sprague's Sports SHOOTING RANGE is the perfect place for Dad to perfect his shot. The indoor range is consists of 10 lanes and Dad can even rent a gun of his choice to experience while you are there.  Sprague's tell us the range is dedicated to the memory of George W. Sprague, "a diehard shooter, competitor and gun enthusiast... and a great father, mentor and shooting coach to many of us. He would have loved this place."  For pricing check out http://www.visityuma.com/member/sprague-s-sports
 Make Him an Offer He Can't Refuse!  
Celebrate the patriarch of your family with a Godfather marathon at the Historic Yuma Theater. Stop by the refreshment stand and ask for a Corleone Special, a cannoli and scotch. Fedoras and mustaches are encouraged. All films are Rated R.  Friday, June 14: THE GODFATHER, Saturday, June 15: The Godfather Part II, Sunday, June 16: The Godfather Part III.  Ages: 17 and up Fees per film: $5.00 per movie, $2.50 for students, seniors, and military with ID, FREE for fathers.
Cool Dad off in the Colorado River!
Make memories with Dad on an outdoor adventure down the COLORADO RIVER.  Yuma River tubing will drop you off and pick you up at the perfect location. They offer three different trip options this year including 5 miles, 2.5 miles and a one mile HAPPY HOUR float. You can now book online at www.yumarivertubing.com
DAD-durday at the YMCA
Father's Day was born at the YMCA in Washington state back in 1910.  Sonora Smart Dodd, whose father, William Jackson Smart, had raised six children on his own came up with the idea.   After hearing a sermon about Mother's Day, Dodd told her pastor that fathers should have a similar holiday honoring them. In 1972, President Nixon recognized Father's Day as an official holiday.
The YMCA will offer an ARROW MAKING CLASS as an introduction to our new Adventure Guide Program! It will take place this Saturday from 10-12 a.m.  Adventure Guides is a Father-Child program starting this fall, where dad's gather in local "circles" and have adventures with their kids. Call 928-723-2013 to register for DAD-durday.  
Father's Day Float
The Sizzlin' Summer POOL PARTY at the Quechan Casino Resort is the perfect chance for Dad to chill out!  Float the lazy river while listening to a DJ, playing games and grubbing down on grilled eats. Admission is $10 and kids 3 and younger are free. 10 a.m.- 6 p.m. on Sunday.   For more information visit http://www.visityuma.com/member/quechan-casino-resort
Give Dad Eggs-Actly what he wants
BRUNCH at the Patio Restaurant & Bar at the Hills on Father's Day.  Reservations are suggested for the dining experience complete with omelets made to order, a carving station, shrimp cocktail and Patio favorites created by Chef Alex Trujilo.  Call (928) 344-1125 today for more information or visit http://www.visityuma.com/member/patio-restaurant-bar-at-the-hills
Have a Drink with Dad
Take Dad on a date to one of Yuma's watering holes like Wheezy's, Crazy Earls, Pint House, Hooters or Lutes Casino. There is tons of sports action on the big screen this weekend including the U.S. Open and College World Series. So you could catch a game or just sit back and chat. Quality time with Dad this Father's Day is the best give you can give!