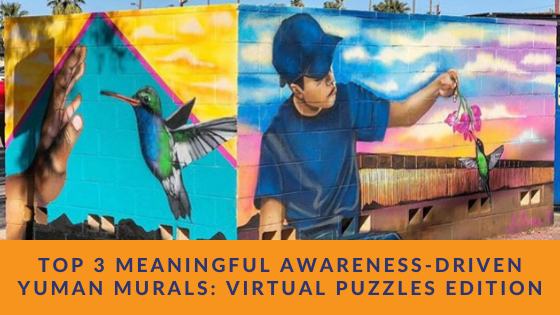 Mural art has brought aesthetic pleasure to Yuma, Arizona, during the last couple of years. Thanks to the McKivergan Foundation, and the Mural-A-Month program by the Yuma Art Center and NextGen, Yuma has been painted with mesmerizing art by talented artists from around the nation. In efforts to raise awareness for important social and environmental issues, these artists have brought a unique approach to these issues through mural art. Try building these puzzles to unveil the picturesque awareness-driven murals of this desert-dwelling destination.
Endangered Sonoran Desert Species Mural
Location: Arizona Western College, 2020 S. Avenue 8E in Yuma, east side of the Theatre Building
The 76-foot by 22-foot mural features two Sonoran Desert endangered species, the Sonoran pronghorn and the Yuma clapper rail. The mural was painted on the wall of Arizona Western College's theater building by artist Roger Peet and Phoenix-based Arizonan muralist Lucinda Hinojos (La Morena). This emotional piece with a strong message raises awareness on the mounting threats these desert animals face with issues such as global warming and habitat loss. Construct the puzzle to unveil this beautiful and incredibly meaningful mural.
Borderlines Mural
Location: Historic Downtown Yuma behind The Pint House on South Madison Lane in Yuma
Latina muralist Lucinda Hinojos (La Morena) compassionately painted this three-sided mural, depicting through her art what it's like to be young immigrants who have crossed the border without parents or guardians in search of a better life. The average age group for these young immigrants are mostly teens, but children as young as five years old have also been reported. The mural is close to her heart and she wants to show the importance of acknowledging this information and raise awareness on the crisis that these children are facing. This mural was painted to build hope. Put the puzzle pieces together to see this inspirational and hopeful mural.
Flor del Desierto (Desert Flower) Mural 
Location: Southside wall of Del Sol Market's building at the corner of 4th Avenue & 3rd St., at 280 S 4th Avenue, Yuma
Artist Adry del Rocío painted the Flor del Desierto Mural in efforts to increase consciousness of the fauna and flora that surrounds the desert. Few people know that the jaguar used to roam Arizona. While in the past couple of years the jaguar population has seen some improvements, it still remains an endangered species at risk of extinction. The idea is that there is room for all living beings on this planet. Construct the puzzle to take a look at how this artist portrayed this meaningful message.
Art is incredibly empowering. These artists have used their talents to raise awareness on important issues pertaining to the area. To experience the inspiration of more Yuman murals, visit the Visit Yuma app for a look at our art map to create your desired mural exploration route.