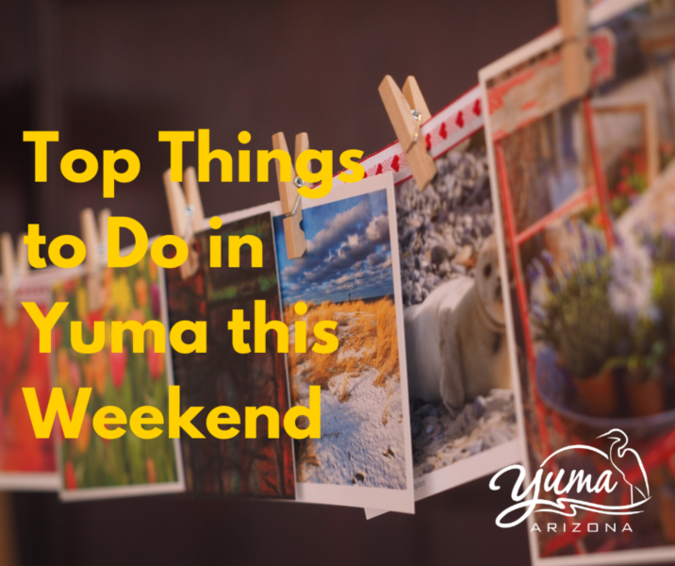 Start your weekend early on Halloween night.  This year the holiday falls on a Thursday and there is no shortage of fun events for little ghosts and big goblins too.  This weekend is also full of firsts.  Saturday, the first Yuma Halloween Drone Prix will take place at the West Wetlands.  And Visit Yuma's first-ever Ag to Art Market is Sunday.  Get your fix of Yuma's local treats and see what's hot in the art scene.  Yuma is jam packed with fun from now until we go back to work next week!  Here's the Top 16 Things to Do in Yuma This Weekend!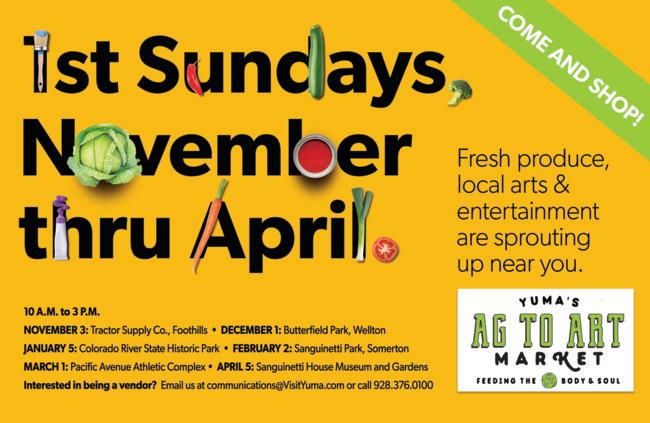 Attend the first-ever Ag to Art Market 
The Ag to Art Market: Feeding the Body and Soul premieres this Sunday.  It is a fresh twist on a farmers market blending fresh farm foods with local art and artists. The first market will take place on Nov. 3rd at Tractor Supply Company in the Foothills, from 10 a.m. to 3 p.m. The event is FREE and open to the public. Weld Like a Girl will be constructing a community art project.  You will have the chance to cut, weld, and create. All ages are welcome to participate, no experience necessary. Children must fit in safety gear and parental supervision is required. Brockett Farms is bringing many of their fresh offerings including Medjool dates, local honey and locally crafted chocolates, and caramel apples. Mama Bella Hot Sauce will have locally made jars of hot sauces and pepper jellies, among other delicious treats. Fresh eggs, homemade bread, herbs, and homemade soap will also be on hand. Naked Dates will be on site with their modified Volkswagen which serves to display their dates and products. Gypsy Girl Henna by Drea will blend both ag and art at the market, with henna tattoos as well as organic lemons and home-grown succulent plants for sale. There will be music and entertainment provided by BMC Productions. Mr. G's food truck will be on hand to sell tasty Mexican food, and there will be a children's area with a Pot-A-Plant station, where each child can pot up their own plant to take home and care for. The Yuma Art Center will be on hand with a fun art project for the kids.  For more information call 928-376-0100.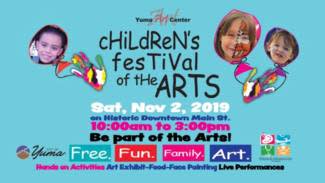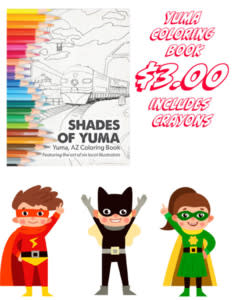 Art. All. Day.  
The Children's Festival of the Arts is one of the biggest celebrations of the year!  The FREE, family-friendly festival takes place this Saturday from 10 a.m. - 3 p.m. The Super Hero-themed festival takes over Main Street with tons of arts and crafts booths full of make and take projects.  Visit Yuma will have a booth set up near Red Moon Ale House. Stop by and do an activity with us. We'll also be selling "Shades of Yuma" coloring books and crayon sets for $3 each. The festival will feature performances by local dance studios and music groups, a special youth art exhibition inside the Yuma Art Center, a kids jumper zone, and several food vendors!  Your kids will leave feeling like future Picassos.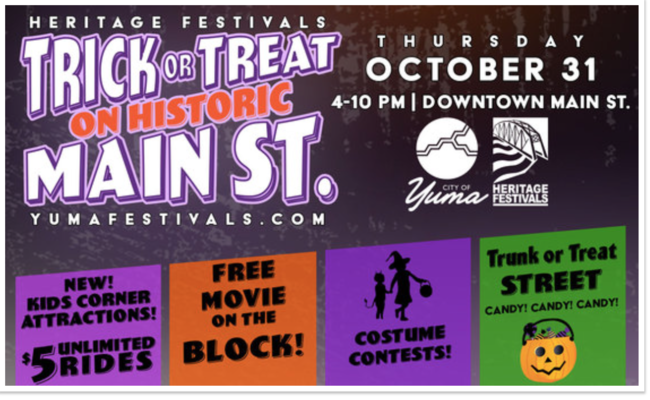 Trick or Treat on Main Street
Spend Halloween Night in historic downtown Yuma!  Kids and adults alike will have a SPOOK-tacular time Trunk-or-Treating at dozens of participating downtown shops, restaurants, and booths all along Main Street!   Activities include costume contests, face painting, a $5 Kid's Corner, lots of candy, music, dancing, and live entertainment. "Uglydolls" will be the featured Movie on the Block.  The fun starts at 4 p.m. and goes until 10 p.m. The family friendly event is FREE. Trick or Treat on Main Street 2019 is presented by Visit Yuma member, Red Moon Ale House!  
SCARY & SAFE TRICK OR TREAT 
Join in on the 10-year tradition at the Yuma County Fairgrounds.  The Yuma Police Department and Yuma County Fair Inc., put on the event Halloween night from 5:30 p.m. - 8:30 p.m.  Admission fee is $1 per person. A hot dog, chips and water combo will be available for $2.00. All proceeds will be donated to the Arizona Law Enforcement Torch Run for Special Olympics.   The Yuma County Fairgrounds are located at 2520 E. 32nd Street.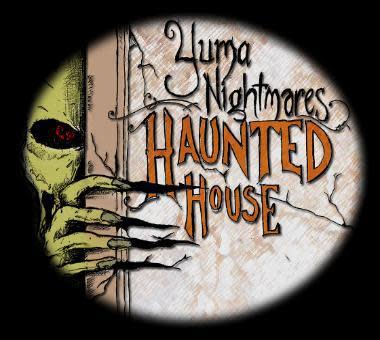 Get Scared!  
The Yuma Nightmares Haunted House is a place that shouldn't be missed this Halloween season.  The house covers about an acre turned into cemetery-like environment which provides us with all kinds of fun shadows and creepy places to hide in.  Yuma Nightmares is located at 15485 S. Avenue 4E. Get spooked on Halloween night from 7 p.m. - 10 p.m., cost is $10 per person.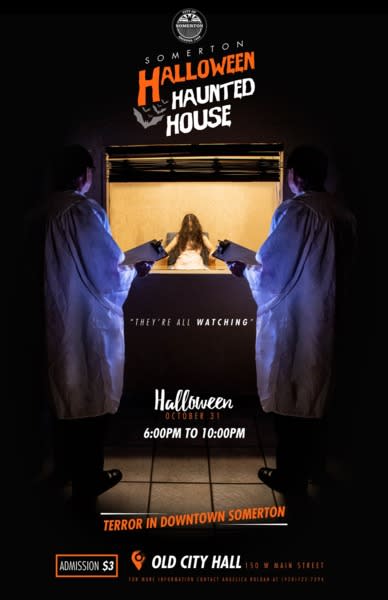 Get Scared, Somerton Style 
Go inside Somerton's Old City Hall to experience paranormal activity.   If you dare, you can only go inside Halloween night from 6 p.m. - 10 p.m.  Admission is $3. For more information, contact 928-722-7400.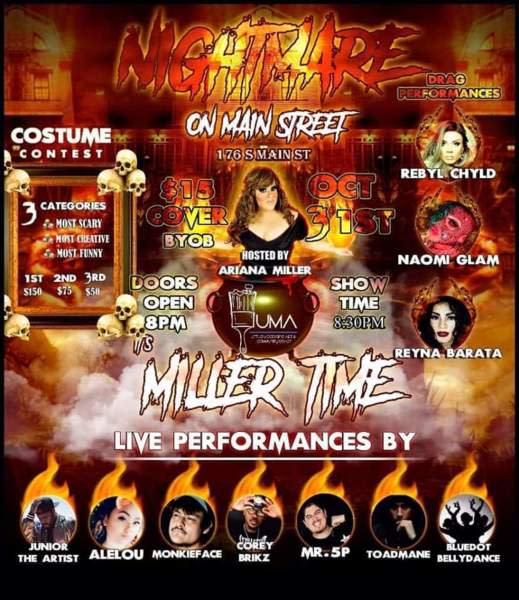 Nightmare on Main Street 
Drag and music performances, a haunted house, and costume contest are planned for Halloween night at the Littlewood Fine Arts Community Co-Op.   First place will bring home a treat of $150! Doors open at 8 p.m., and the show starts at 8:30 a.m. Admission is $15.  
Lia De Los Muertos 
On Friday November 1,  take part in "L-I-A De Los Muertos,"  at the Littlewood Fine Arts Community Co-Op.  A community alter will be set up along with face painting by Wendy, live music, Catrin & Catrina contest, dancing, children's art corner, and raffles.   The Day of the Dead celebration takes place from 7 p.m. - 12 p.m.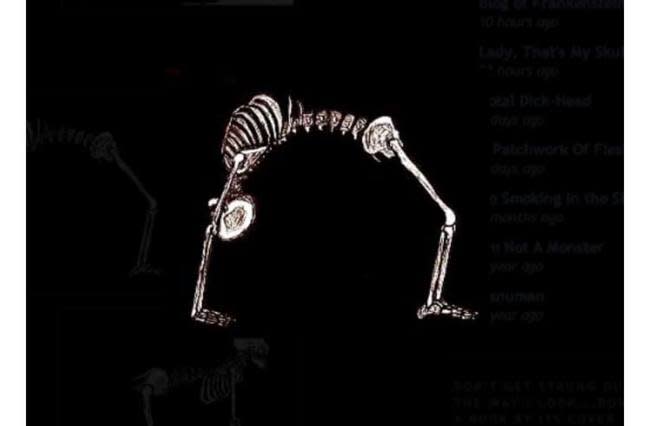 Carve Some time for Yoga 
Adults are welcome to a FREE candlelit yoga class Halloween night at 6 p.m.  The all-levels, energy building flow class will give you all the more reason to indulge in some candy.   And you'll end up in an extra long corpse pose, known as savasana. Studio Y is located at 250 S. Madison Avenue.  
Drop Your Treats and Do Drones
Check out the first ever Halloween Drone Prix at sundown Saturday, November 2nd.  Watch all the Top FPV Drone Racing Pilots from throughout the U.S. battle it out on a never before seen AZ Night Track.  The course will have 100 LED obstacles including moving Gauntlet features! All age spectators are welcome FREE of change. The race takes place at the West Wetlands park.  For more information, log onto www.aznighttracks.com 
Get to the Top of Telegraph Pass
The 2nd Annual Telegraph Pass Challenge is taking place this Saturday.  Conquer Telegraph pass with the "duathalon" style challenge up and down one of Yuma's favorite mountains.  Make it to the top and you'll be rewarded with a breathtaking view. The bike and run start at 8 a.m. You can pre-register by calling  928-269-2280. Telegraph pass challenge day of registration is November 2nd from 6am - 7am; all ticket types are $65.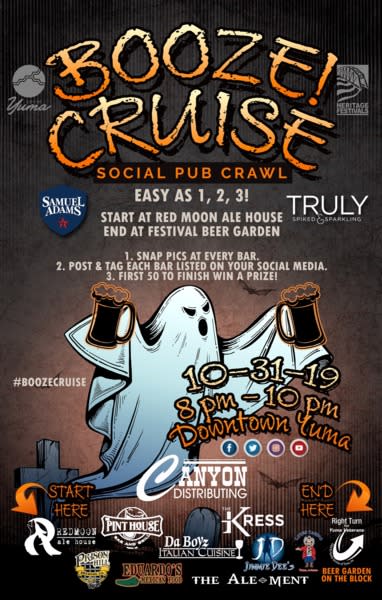 Explore Downtown on a Booze Cruise 
Crawl along the downtown bars to celebrate Halloween.  The starting point is Red Moon Ale House and the ending point is the festival beer tent.  To play you must: 1. Snap pics at every stop 2. Post and tag each bar on social media with the hashtag #Boozecruise  3. First 50 people to complete the cruise will win a prize.  
#ShopLocal at First Friday 
Explore local businesses located on Main Street, Madison Avenue and Maiden Lane on Friday evening.  The shops stay open a little later and offer specials to encourage shoppers to #ShopLocal.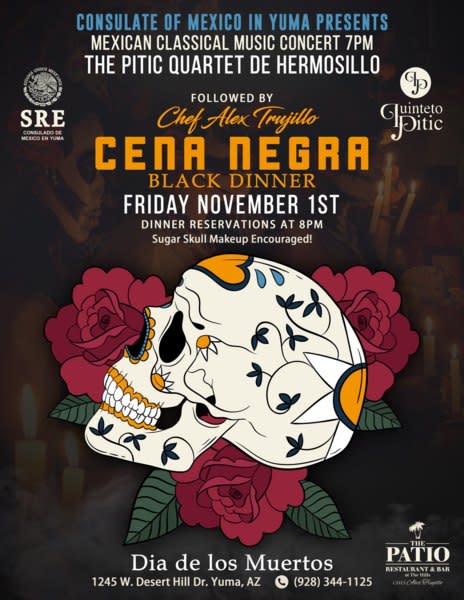 Dine for the Day of the Dead
Experience a Cena Negra or "Black Dinner" celebrating Dia de Los Muertos on Friday November 1st.  Listen to the Quinteto Pitit String Quartet from Hermosillo, Mexico starting at 7 p.m. followed by a Four Course Dinner by Chef Alex Trujillo at 8 p.m.  Call The Patio Restaurant & Bar at 928-344-1125 for reservations. The cost is $65 per person. Sugar skull makeup is encouraged.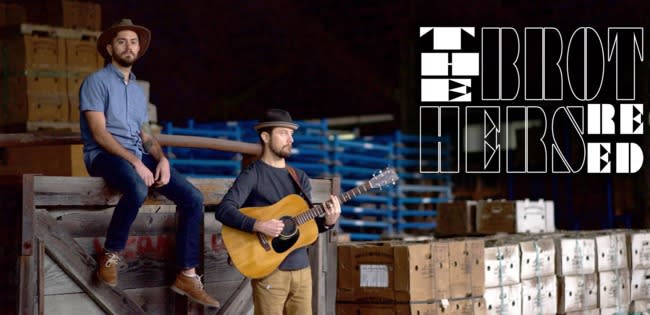 Enjoy the Music 
Prison Hill Brewery is hosting The Brothers Reed this Saturday night.  The duo is made up of two brothers known for their edgy sibling banter and bluegrass sound.  The show starts at 8 p.m. Prison Hill Brewing Company is located at 278 S. Main Street. Get a sneak peak at www.thebrothersreed.com
Learn a new skill: Soap Making 
Enjoy a hands-on introductory class at Naked Dates, designed to give you skills to make your own soap at home.  You'll learn the cold process method and leave with a batch of handmade soap you made yourself! All supplies including base oils, fragrance oils, additives, colorants, equipment and molds as well as safety gear will be provided.   The cost of this class is $75 per person. Naked Dates is located at 13589 S. Ave 25E, Wellton. To sign up go to http://www.healthynakeddates.com/product/soapmaking-class/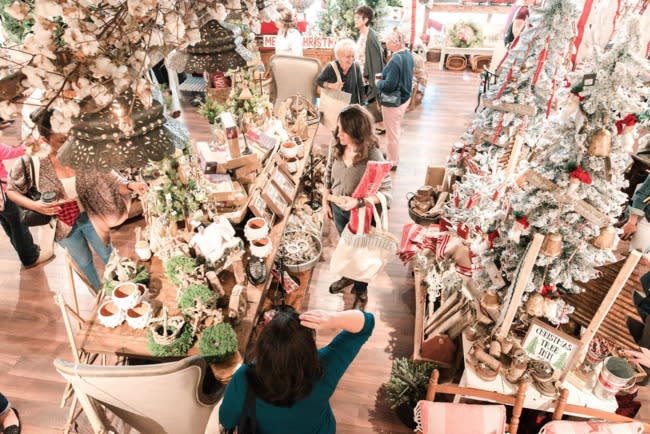 Celebrate Christmas in Dandyland
It's never too soon to get into the holiday spirit, or start your seasonal shopping.  Dandy will unveil their holiday-themed store this Saturday, November 2nd from 9am-3pm.  Enjoy a spiced cappuccino and take in all the Christmas magic! This is a free event. Dandy is located at 2500 E. 16th Street.