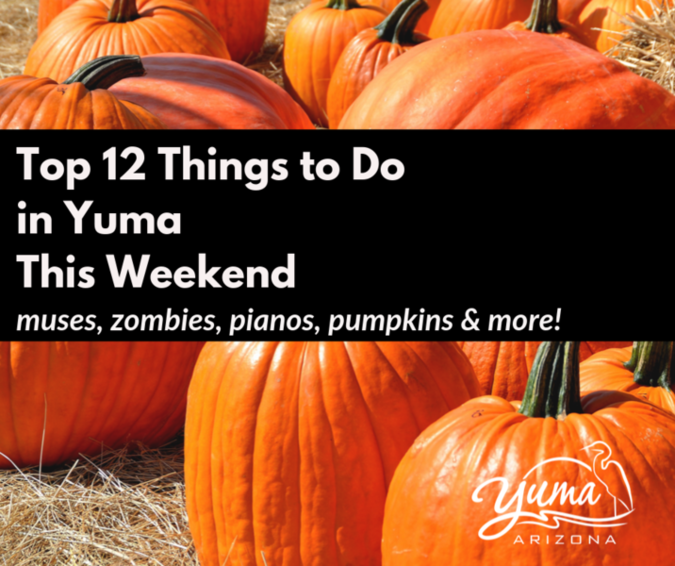 Zombies, Muses, Dueling Pianos, and Pumpkins just to name a few.   There is so much to do this weekend. Let's not waste anymore time.  Make plans now. Here's the Top 12 Things to Do This Weekend in Yuma.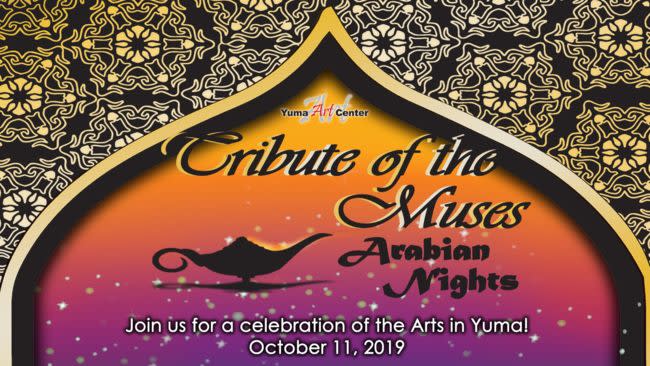 Experience Arabian Nights
Tribute of the Muses celebrates members of Yuma's dynamic arts community. The event is presented by the City of Yuma's Division of Arts and Culture and takes place at the Yuma Art Center, Friday night at 7 p.m.  The awards ceremony in the Historic Yuma Theatre is free to attend and is followed by a ticketed celebration and fundraiser for the Yuma Art Center in the galleries. Guests are encouraged to dress in black tie or themed attire.  For more information call 928-373-5202.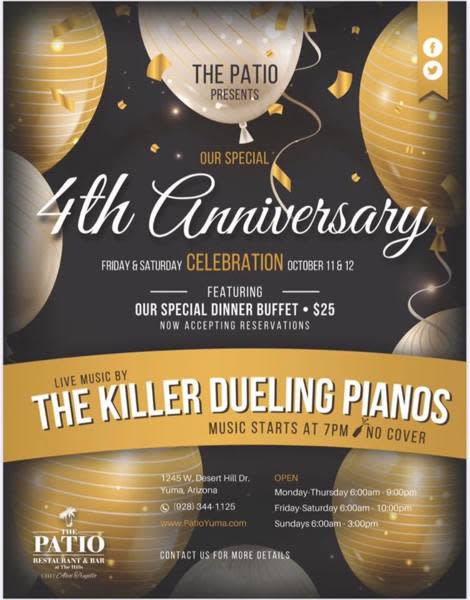 Sing us a song, you're the piano man
Celebrate The Patio Restaurant at The Hills 4th Anniversary with The Killer Dueling Pianos!  Live music starts at 7:00 p.m. on both Friday and Saturday night.   The Killer Dueling Pianos will have you clapping, singing, and laughing along all night with a catalog of songs ranging from the likes of Frank Sinatra and Elvis Presley to Bruno Mars and Lady Gaga.  A special birthday dinner buffet will be offered for $25 a person.  Make your song list now and call 928-344-1125 for reservations.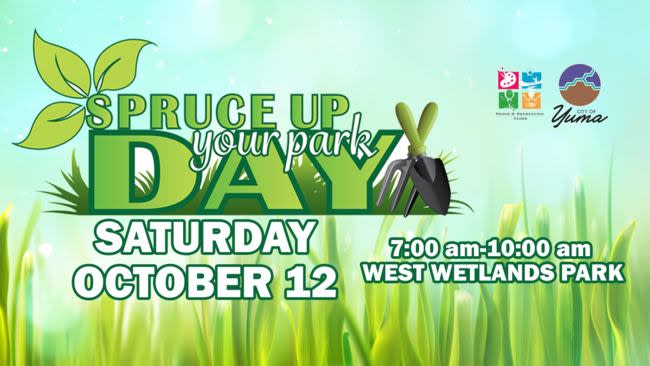 Spruce Up Your Park 
Get your hands dirty and do something good for nature too!  Join One Tree Planted and the City of Yuma in planting trees around the park!  Help us continue to maintain and beautify our existing outdoor recreation facility while preserving wildlife habitats in the Riverfront Regional Park. This event will also serve as the first demonstration project of the Implementation Phase of the City's developing Tree and Shade Master Plan. The itinerary includes reforestation; graffiti abatement; trail expansion; debris and equipment clean-up; and manual removal of unwanted plants/weeds (naturalized, noxious, non-native, and/or invasive) or in plain kids' language- planting trees, picking weeds, and cleaning up... while Moms, Dads, Guardians, and Grandparents lend a hand (mostly supervise!)  If you are reserving more than 4 tickets, please contact Gabriela directly at gabriela@onetreeplanted.org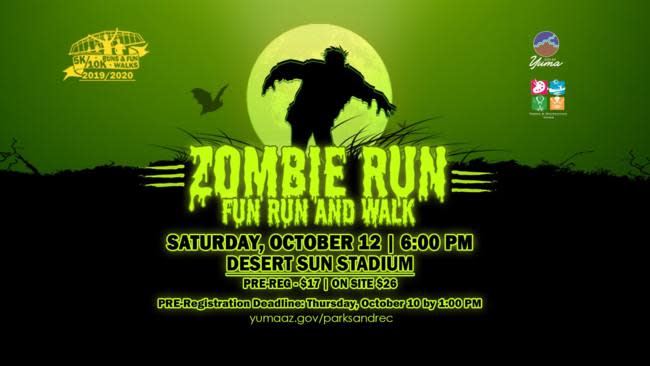 Zombie Attack… Run!
Get in the spirit of the season with the kick off for Series of Runs at the 2019 Zombie Run. The race starts Saturday at 6 p.m. sharp at Desert Sun Stadium.  Prizes awarded to the best Zombie Costumes! Runners will still earn 5 bonus points and walkers will earn a star for participating in this non-timed event.  On-site registration fee is $26. On-site registration/bib pick-up starts at 5:00 p.m. Register over the phone at 928-373-5200 or online at https://apm.activecommunities.com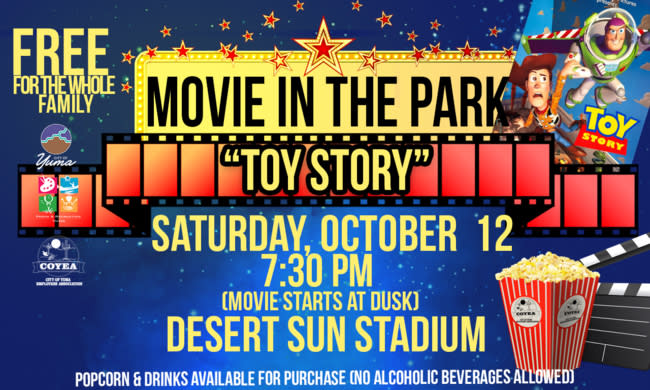 See Toy Story in the Park 
Bring a blanket or lawn chairs and head over to Desert Sun Stadium where you can buy some popcorn and enjoy the free showing of the movie Toy Story, outdoors, under the stars on a big blow up movie screen. Movie starts at dusk following the Zombie Run. Rated PG. Popcorn and drinks for sale. (No alcoholic beverages allowed)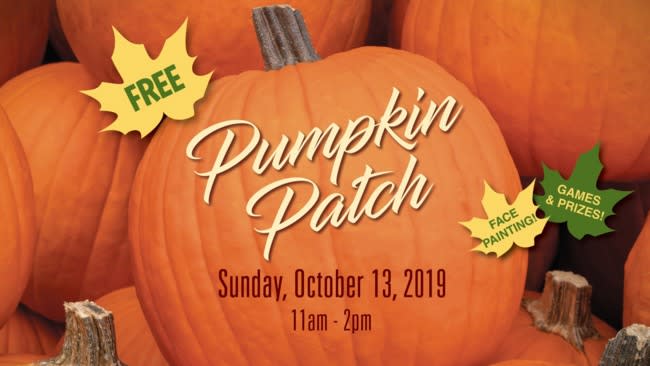 Let the Littles pick a FREE Pumpkin
Celebrate fall with the whole family at the Yuma Palms pumpkin patch. 
Children ages 10 and under can pick their favorite pumpkin for FREE.  Face painting, games, prizes, crafts and candy will keep the little ones entertained.  The pumpkin patch will be set up in the parking lot near Kirklands on Sunday from 11 a.m.- 2 p.m.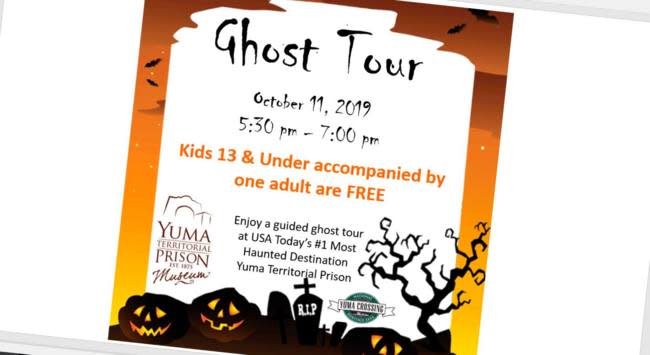 Go on a Ghost Hunt
Explore Yuma's Territorial Prison with the kids!  Named the Most Haunted Destination in the Country by USA Today's 10 Best, the prison is holding this special event for kids to celebrate.   The Children's Ghost tour is set for Friday night at 5:30 p.m. Children 13 & under accompanied by one adult may receive FREE admission into the prison. Call 928-783-4771 for more information.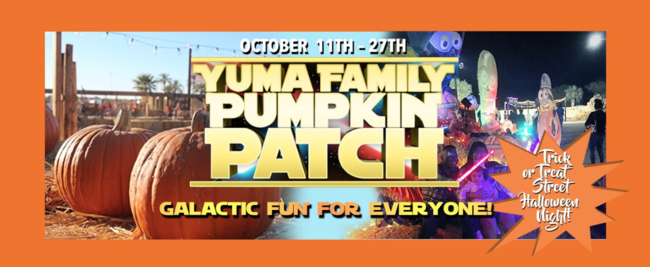 Visit the Action Packed Pumpkin Patch  
The Yuma Family Pumpkin patch opens this weekend.  Kids (and adults too) will be delighted as they discover a world of action, adventure, and star-filled fun. It's a place where everyone can be a hero or a princess and a golden pumpkin treasure is around every corner!  $5 admission and bring a can of food if you can. Open Friday, Saturday and Sunday at 5 p.m. The YFPP is located at 3625 S Avenue 5 E. For more information call 928-783-7574.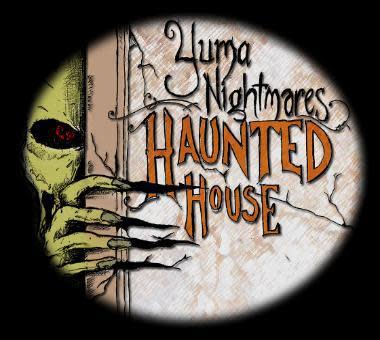 Get Scared!  
This is opening weekend for the Yuma Nightmares Haunted House.  The house covers about an acre turned into cemetery-like environment  which provides us with all kinds of fun shadows and creepy places to hide in.  Yuma Nightmares is located at 15485 S Avenue 4E. Get spooked this Friday and Saturday from 7 p.m. - 10 p.m., cost is $10 per person.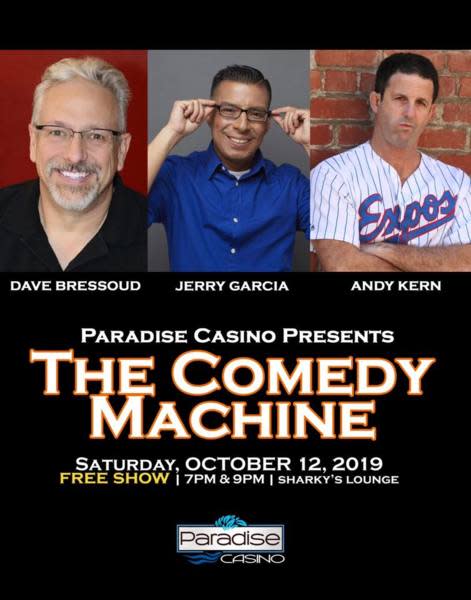 FREE LAUGHS
The Q Paradise Casino presents The Comedy Machine.  Admission is FREE! The lineup includes Dave Bressoud, JERRY GARCIA from HBO's It's not my Weekend, and Mike Simpson. Jerry Garcia is considered to be one of the fastest rising young Latino comics in Los Angeles and quite possibly the entire Latino Comedy genre.  The show takes place Saturday, October 12 at 7 p.m. and 10 p.m. at Sharky's Lounge.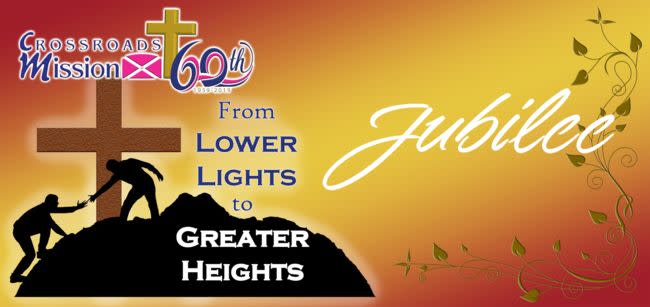 Crossroads Mission
Crossroads is celebrating its 60th year in Yuma!  We will be having a special celebration on October 12, 2019 at the original site of the mission, 272 S Madison Avenue in downtown Yuma, 6 p.m. -9 p.m.   Tickets are $60 each and include a tri-tip and chicken dinner, along with live entertainment by The Gwynn. www.eventbrite.com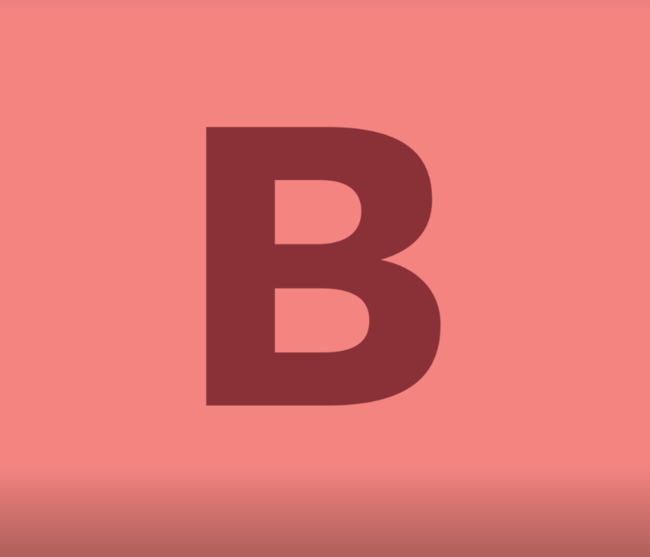 Shop til You Drop! 
Ladies night at Belles Boutique is Thursday at 6:00 p.m. Chef Lucy with Caterfit catering the event. It is BYOBOW. (Bring your own beer or wine)   Now is the time to stock up on fall fashion!