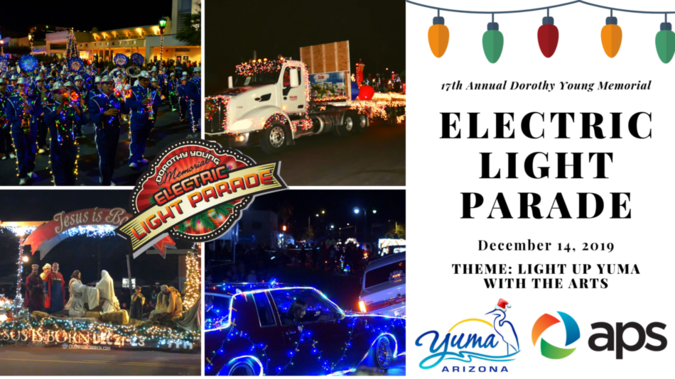 TOP 10 Things You Need to Know about the 2019 Dorothy Young Memorial Light Parade
 The 2019 Dorothy Young Memorial Electric Light Parade is scheduled for December 14, 2019.
 The parade kicks off at 6 p.m. on 4th Ave. and winds through Historic Downtown Yuma   
"Light up Yuma with the Arts" is this years theme. Visit Yuma, the parade's organizer, is focusing on Yuma's growing arts community that is quickly becoming a recognized regional center for arts of all kinds. "This year's focus in our marketing puts Yuma arts in the spotlight, from visual arts, to performing arts,and everything in-between," said Linda Morgan, Executive Director of Visit Yuma. 
This parade is a huge tradition in our community, going on 17 years.  Forty-thousand  residents and visitors gather in the Historic North End each year to watch the parade.  
The parade is named in honor of its creator, Dorothy Young, a much-loved event coordinator with City of Yuma Heritage Festivals, who had often indicated that the Electric Light Parade was her favorite event.
Parade entry forms are now being accepted by Visit Yuma. The deadline to enter is November 29. Download the parade entry form here.  The entry fee is $45.  
This year, to recognize the parade's best entries, a panel of judges will choose winners for several categories, including the Dorothy Young Memorial Trophy for Best Performance by a Marching Band, last year awarded to Gadsden Marching Band, and the Mary Jane Allen Award for Best Depiction of the Parade Theme, won by Dole Fresh Vegetables.
The parade is put on by Visit Yuma staff members and dedicated volunteers, according to parade chair Leslie Fain.  "We always have judges and countless volunteers asking to come back because it has become their holiday tradition," she explains. 
Last year the memorable event included a record high 102 lighted, festive entries.   Families, school groups and local businesses work together all fall season to build elaborate displays to portray the parade theme and the spirit of the season.  
Christmas is in 138 Days!