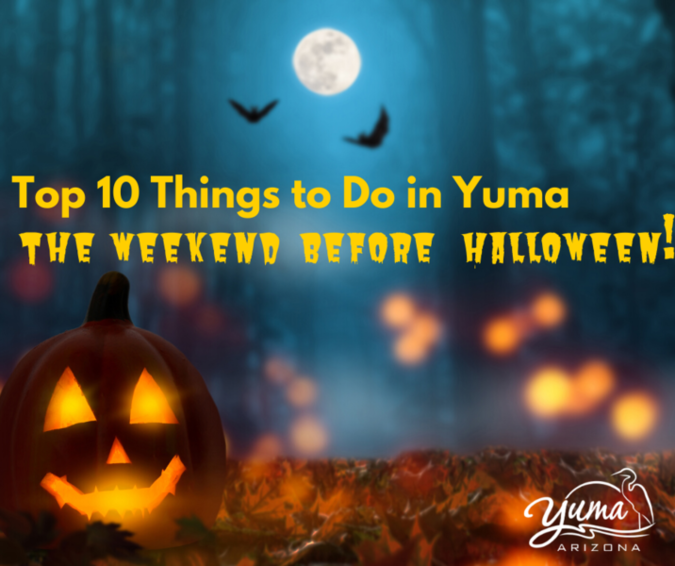 Grab your costume, your crew and get ready for tons of weekend-before-Halloween fun!  We've got a list full of things for the littlest ghosts and grown-up goblins too. Boo!  Here's the Top 10 Things to Do in Yuma this Weekend!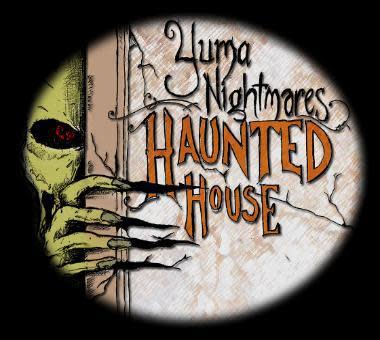 Get Scared!  
The Yuma Nightmares Haunted House is a place that shouldn't be missed this Halloween season.  The house covers about an acre turned into cemetery-like environment which provides us with all kinds of fun shadows and creepy places to hide in.  Yuma Nightmares is located at 15485 S Avenue 4E. Get spooked Friday and Saturday, and Halloween night from 7 p.m. - 10 p.m., cost is $10 per person.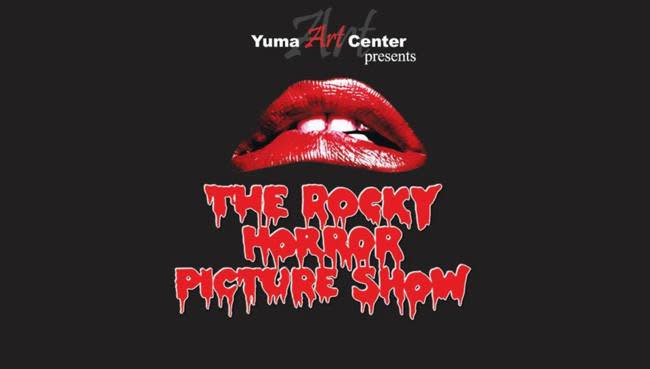 Do the Time Warp Again!  
Watch the cult classic, "The Rocky Horror Picture Show" at the Historic Yuma Theatre.  For over 40 years, Jim Sharman's science fiction parody has delighted audiences and terrified parents. The musical comedy horror screening will feature a shadowcast of the film (that's actors acting in front of the screen during the film). Audience members are invited to fully participate and costumes are encouraged, but please leave the toast, hot dogs, prunes, rice, lighters and water guns at home. Midnight Madness Virgin Kits (or "prop bags") with all your prop needs will be available for purchase at the door. Don't forget to brush up your Time Warp dance moves before you come!  The film is rated R and is not for the faint of heart. Doors open at 11:00 p.m., Saturday, October 26 for a 11:59 p.m. showing. Ticket are $7.00 per person, general admission. Tickets available soon at YumaShowTickets.com. Advanced ticket purchases are recommended as this event may sell out.  All attendees must be 18 or older.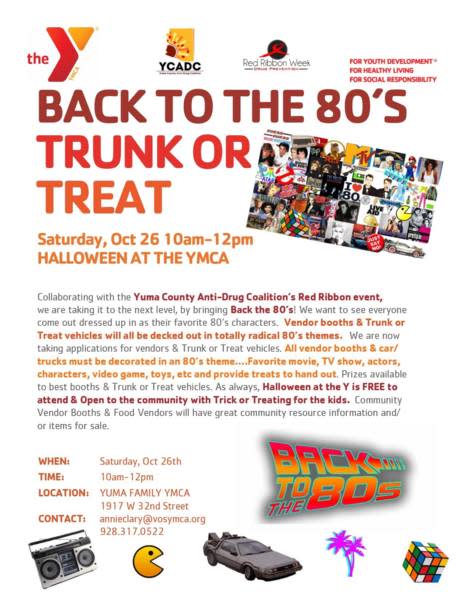 Bring Back the 80s Trunk or Treat 
The Yuma Family YMCA is hosting this radical event!  Vendor booths & Trunk or Treat vehicles will all be totally decked out 80's themes.  So come dressed up in your favorite 80's characters; Madonna, Saved by the Bell, or Back to the Future! Halloween at the Y is FREE to attend and open to the community with Trick or Treating for the kids. The event takes place Saturday, October 26 from 10 a.m. - 12 p.m.  The YMCA is located at 1917 W 32nd Street. For more information call 928-317-0522.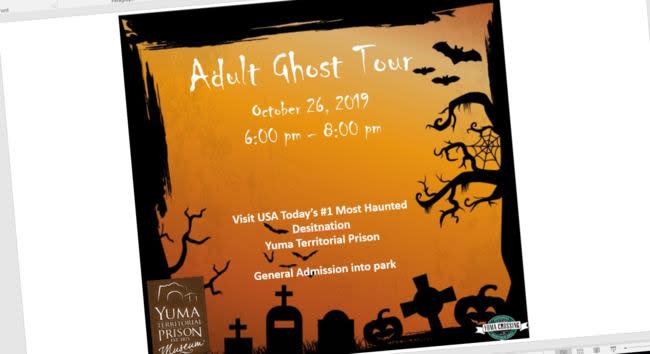 Go on a Ghost Hunt 
Explore Yuma's historic and haunted Territorial Prison.  Named the Most Haunted Destination in the Country by USA Today's 10 Best, the prison is holding this "adults only" special event.   The Ghost Tour is set for Saturday night at 6:00 p.m.- 8:00 p.m. Call 928-783-4771 for more information.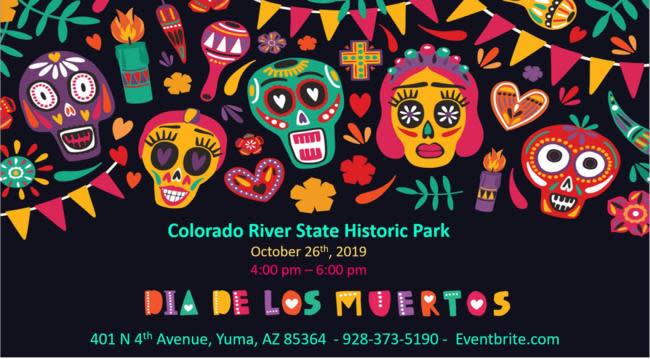 Take part in Dia De Los Muertos 
Celebrate loved ones that have passed at the Yuma Crossing National Heritage Area.  Music, dancers, food, headband making stations, sugar skull decorating stations and a community altar are part of the event.  The multi-day holiday involves family and friends gathering to pray for and remember friends and family members who have died, and helping support their spiritual journey. The event takes place October 26, from 4 p.m. - 6 p.m.   Admission is $6 for adults, and $3 for children. Tickets can be purchased on eventbrite.com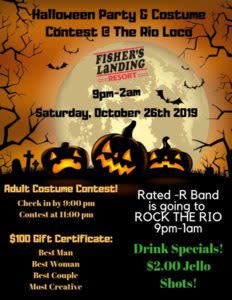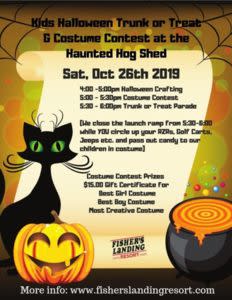 Celebrate Halloween by the Water
Fisher's Landing is hosting events for ghosts and goblins of all ages on Saturday, October 26.  The kid's event starts with crafting at 4 p.m., and ends with a trunk or treat parade. After dark the party moves to the Rio Loco and the adults get to play.  Rated R Band, $2 jello shots, and a costume contest will rock the rio! The adult party starts and 9 p.m. and wraps up at 2 a.m. Fisher's Landing is a 40 minute drive from Yuma proper.    For more information visit fisherslandingresort.com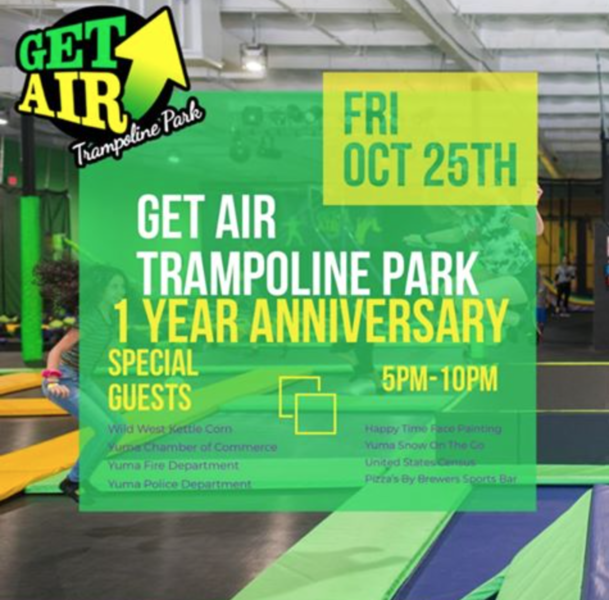 Get your Jump On
Bounce to celebrate Get Air's first birthday this Friday evening from 5 p.m. - 10 p.m.  Kids can enjoy face painting, Yuma Snow on the Go, and high flying fun. To celebrate guests pay $7 per hour all day!  Get Air is located at 3121 S. Fourth Avenue.  
Let the Force Be with You 
The Foothills Library will join libraries and bookstores around the galaxy for the 8th Annual  Star Wars Reads Day from 10:30 a.m. to 1 p.m., this Saturday.   The event celebrates the joy of reading and all things Star Wars.  Fans of all ages are invited to dress up in their best Jedi, Princess Leia, or Imperial attire and enjoy games, activities, and prizes. Admission is FREE.  Call 928-342-1640 for more information.
Celebrate Fall Y'all
Celebrate the new season at the Somerton Library's 8th Annual Fall Festival.  The Somerton Library will host the 8th Annual Fall Festival.  Families are invited to enjoy games and a fall story time on Saturday from 10:30 a.m. - 12:30 p.m.   Light refreshments will be served. Admission is Free. Call 928-627-2149 for more information.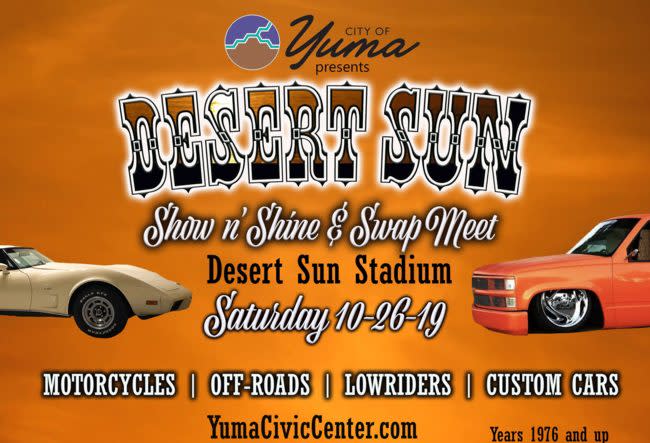 Show & Shine Time  
Don't miss this one of a kind car show!  The Desert Sun Show n' Shine & Swap Meet is a unique auto show that encompasses motorcycles, off-roads, low-riders, plus custom cars and trucks! Featuring an auto related Swap Meet, a car corral, free RC Racing, a stationary motorcycle, vendors, food, music and a Dynamometer! Make sure you grab a good seat inside the stadium to watch the line-up of cars testing their horsepower on the Dyno!  Come out and test your skills on the off-road and on-road RC racing tracks for FREE! We'll see you on Saturday, October 26th inside Desert Sun Stadium from 9:00am – 6:00pm! All ages welcome and it is only $1 to get in (children 3 and under are FREE.) To register your ride visit YumaCivicCenter.com
Our community churches and schools are holding several safe trick or treating events and fall festivals this weekend as well.   Snap a pic of your costumes and show us where you decided to celebrate.  Don't forget to tag us on Facebook at @visityuma and on Instagram at @visityumaaz