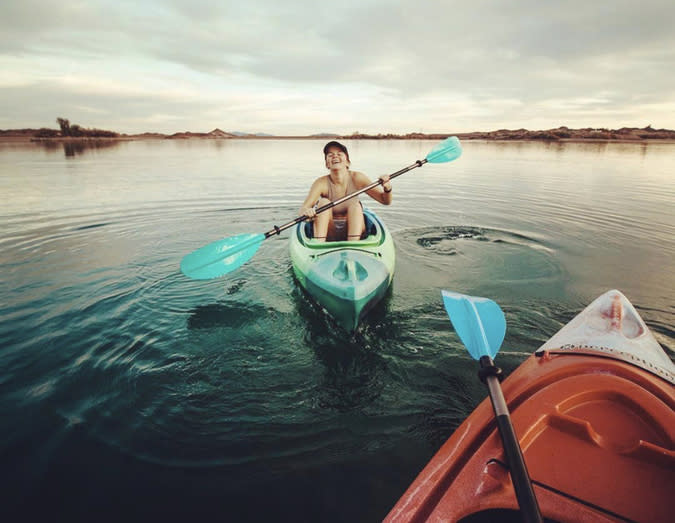 Even with Stay At Home orders, keep your spirits up by taking part in these fun challenges, contests and online experiences.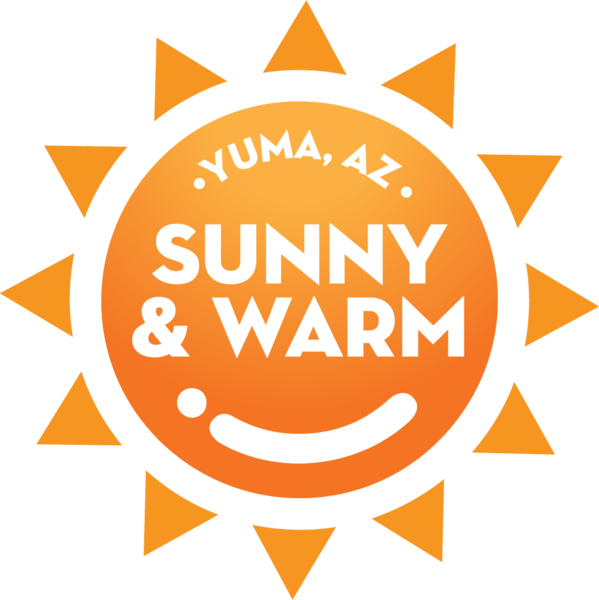 Sunny & Warm 
Sunny and Warm is Visit Yuma's new marketing campaign, with a fun new logo, below.  From mild to wild, visitors can golf, hike and bike, paddle, ride ATVs or powerboat right around Yuma. The East and West Wetlands Parks and Gateway Park along the river, close to Downtown, are linked by miles of paved paths. This area is perfect for a cool morning, a leisurely bike ride or wade in the river at several sandy beaches. Many golf courses offer special rates in early summer. Trails abound for day hikes or mountain biking in the mountains and desert. There's no place like the Imperial Sand Dunes to feel the adrenaline on an ATV or UTV, and the Arizona Peace Trail invites riders yearning to get in some miles to see the landscape. And, to cool off, the Colorado River and nearby lakes offer the option of tubing, canoeing, kayaking, pontoon boating, or revving it up for water skiing, jet skiing or boogie boarding.  Keep your distance and have a mask on hand, if you're around other people, but let's get out there an enjoy this gorgeous weather!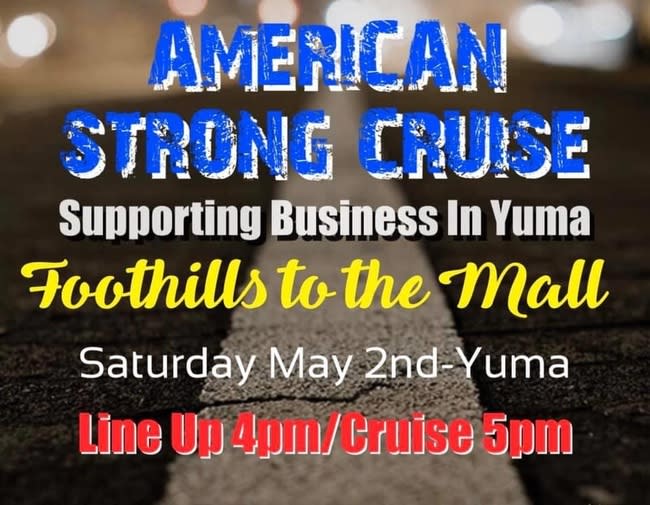 American Strong Cruise 
The American Strong Cruise was created by a group of local residents and they are spreading the word on social media. Here's their message, "Starting at 5 p.m. on Saturday, May 2, at Applebee's parking lot in Foothills, we will head west down the South Frontage Road, on to 32nd Street, then on to 4th Avenue. Heading east on 16th Street to the Mall parking lot. From there disperse throughout Yuma go to business to support them. Use common sense and newly learned safety precautions including PPE and social distancing. Let's give our businesses a shot in the arm. No fees, no registration. Hot rods, classics, motorcycles, dubs, imports, late model muscle, 4X4, rat rods, all welcome. The cruise will be led by our fellow American Brent in his green 18-wheeler in a salute to our truckers."  Organizers suggest people gather in their rides around 4pm and stay socially distanced.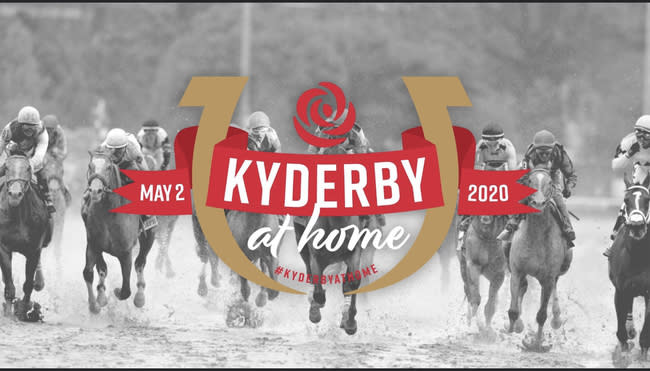 Race the Kentucky Derby
Celebrate the first Saturday in May, the traditional date of the annual Kentucky Derby, with an epic virtual race. Fans can tune in to a special broadcast on NBC from 1 p.m. to 3 p.m. which will feature the 2015 Kentucky Derby that began the legendary American Pharoah's historic Triple Crown run. The broadcast will highlight Churchill Downs' first ever virtual horse race—The Kentucky Derby: Triple Crown Showdown, a computer-simulated version of a race under the historic Twin Spires of Churchill Downs. The virtual race will feature the 13 past Triple Crown winners and use data algorithms including historical handicapping information about each horse, which helps to determine the probability of their potential finishing positions.  Beginning on April 30, fans will be able to visit www.KentuckyDerby.com to choose their favorite horse to win the virtual race and also join Churchill Downs in making a charitable donation to COVID-19 emergency relief efforts. Churchill Downs has pledged to match up to $1 million of donations. The 146th Kentucky Derby was postponed until Sept. 5. Get out your hats and mint juleps and enjoy the derby!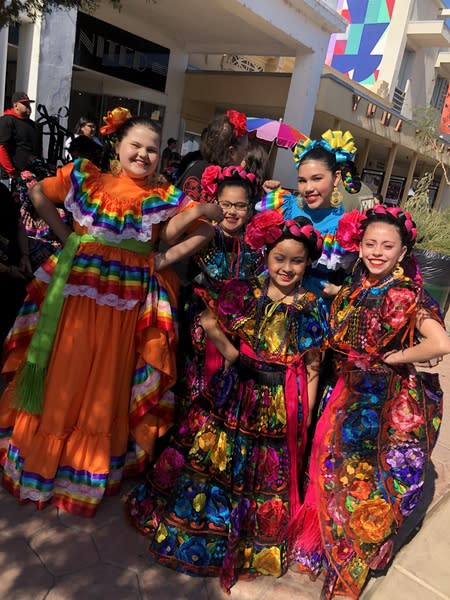 Feel the Warmth Celebrate Cinco De Mayo
Traditionally the Yuma community goes big for Cinco de Mayo, and though this year may be a little bit different, there are plenty of fun ways to celebrate from home. Cinco de Mayo falls on a Tuesday this year, yes a Taco Tuesday! Pick up your favorite Mexican food and margaritas too. We can't wait to see what sorts of specials our local eateries like El Charro Cafe, Chili Pepper, Chretin's and La Fonda Tortilla Factory will create for this special occasion. You can also cook your Mexican food family favorites at home. The holiday is also the perfect time for a history lesson. Teach the kids the day is to celebrate the Mexican army's May 5, 1862 victory over France at the Battle of Puebla.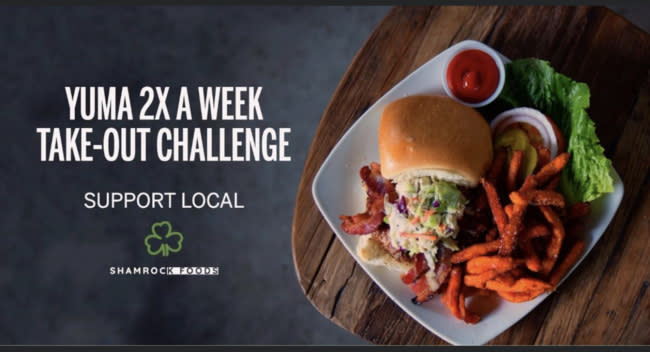 Take the Yuma 2X Challenge 
Have you been taking out twice a week?  The Yuma 2X Challenge is going strong to keep your favorite local restaurants thriving.  All you have to do is get take out food from local eateries twice a week. For more information on the challenge check out their Facebook page.
Check out our blog on "where to get to-go food".  We've been updating it all the time.