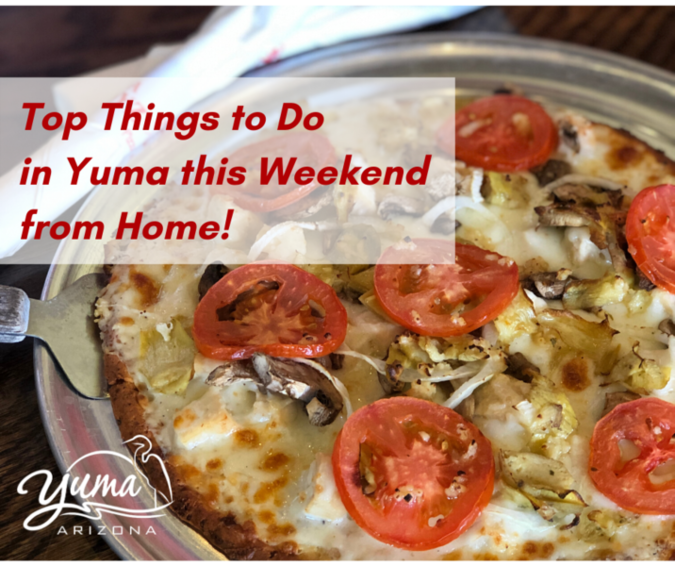 Even with Stay At Home orders, keep your spirits up by  taking part in these fun challenges, contests and online experiences. Check out the following list for ways to stay connected.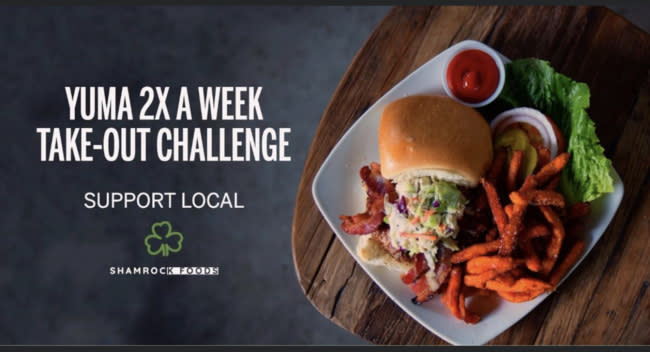 Yuma 2X Challenge 
Help keep your favorite local restaurants in business by taking on the Yuma 2X Challenge.  All you have to do is get take out food from local eateries twice a week. For more information on the challenge check out their website https://www.yuma2xchallenge.com 
Check out our blog on "where to get to-go food".  We've been updating it all the time. https://www.visityuma.com/blog/where-to-get-food-to-go

Shop Local
Birthdays, anniversaries, and other milestones are happening while we stay home!  Make someone's day special or treat yourself by shopping local! Sprauge's Sports are open as an 'essential business' to our community during this time.  Richard Sprague says, "we have implemented many CDC guidelines to protect both sides of our counters. We have modified our hours to accommodate for extra cleaning and sanitizing.  "The Peanut Patch closes for the season on May 2nd. Call in to get your favorite gourmet goodies to grab and go. Most local businesses are open for call in orders and curbside pick-up.  Explore immune boosting medicinal herbs to stay healthy at the Yuma Garden Herb Shop. The shop is open or you can call in, get expert advice, and place an order to pick up. Super Elderberry Syrup is stocked as much as possible.  Call the Yuma Garden Herb Shop today at (928) 581-4614. 
Experience a Bird's Eye View of Yuma
Feel like Peter Pan as you fly above the Colorado River!  The drone video filmed by James - Bebop showcases the Yuma Territorial Prison and the Ocean to Ocean bridge.  If you miss going out and about around town this video will fly you through your favorite places. Watch here… https://www.youtube.com/watch?v=he9JJqN8R3s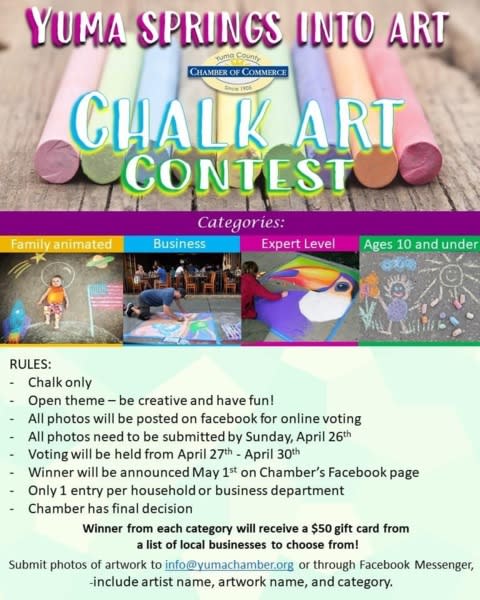 Enter the Chalk Art Contest
The Yuma County Chamber of Commerce is hosting a Chalk Art Contest.  
Chamber leaders say they were inspired by recent chalk art all over town.  The contest is designed for Yumans to get creative and have fun in the sun.  The deadline to enter photos is Sunday, April 26th. Enter at info@yumachamber.org or via messenger on their Facebook page.  Winners will be announced May first and will receive a $50 gift card to a local business.  
Celebrate the Class of 2020
The Yuma Union High School District athletic fields will light up for 20 minutes at 8:20 p.m. every night as a way of honoring the Class of 2020.  YUHSD Associate Superintendent Tim Brienza says the idea was brought to staff's attention by a member at Yuma High.
"All of our athletic directors agreed unanimously that it was just one of many unique ways we can pay tribute to the Class of 2020 during this unprecedented time. Those students, and student-athletes, are missing out on a great deal of things they spent their entire school careers working towards, so the district is doing anything we can to honor them."Families across Yuma County are encouraged to join the movement and turn on their porch lights in support of the district's seniors.
Wear Purple for Military Kids 
Yuma is the most patriotic city in Arizona so let's show some love for our military kids!  April is designated as the Month of the Military Child highlighting the important role military children play in the armed forces community.  It is a time to applaud military families and their children for the daily sacrifices they make and the challenges they overcome. Purple Up for the month of the military child and wear something purple!