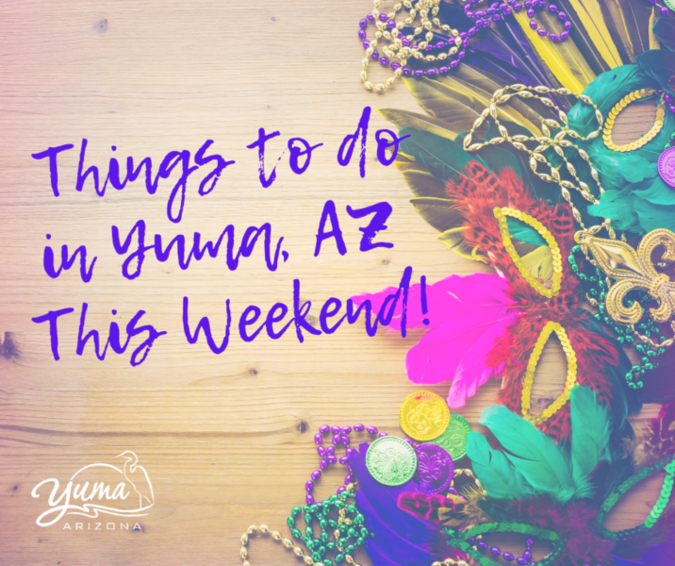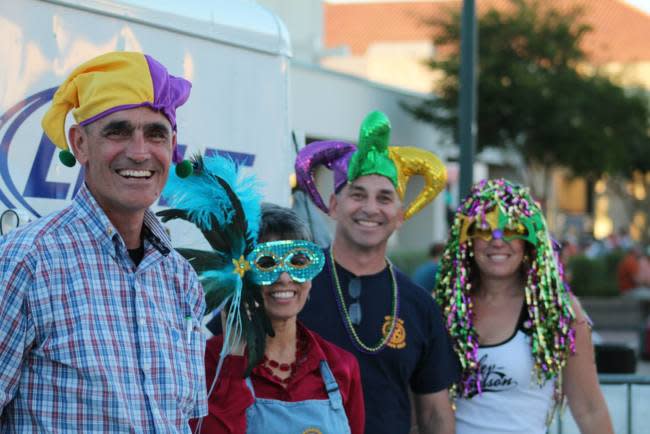 Celebrate Mardi Gras 
Mardi Gras on Main kicks off the parties this weekend.  The event hosted by the Fort Yuma Rotary  features Mile Post 30.  The block party takes place between 1st and 3rd streets starting at 5:00 p.m. Friday.  Enjoy entertainment, vendors, food and fun to celebrate before the start of the Lenten season.  Fort Yuma Rotary is  a branch of the international service club with the motto "Service above Self."  
Boogie, Brews & Blues
The 6th annual Boogie, Brews and Blues is set for Saturday, February 22 from 11:00 a.m. to 7:00 p.m.  The full-day festival takes place at Gateway Park alongside the scenic Colorado River.  Live music, food trucks, and craft beers will be on hand throughout the day.  Gateway park is located at 259 S Gila Street.  Presale tickets are $25, $30 at the gate, $20 for military with ID, kids 12 and younger are free.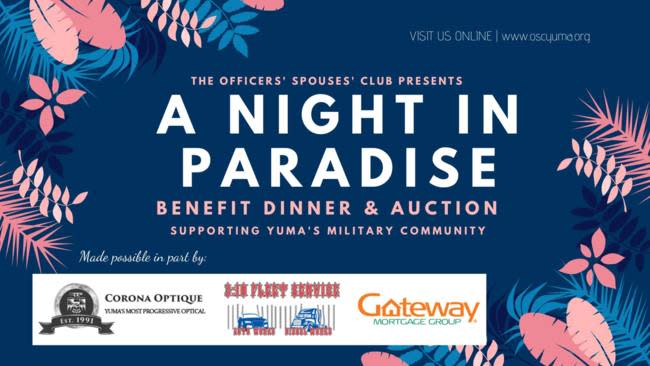 A Night in Paradise 
Join the Yuma Officers' Spouses' Club for a benefit dinner and auction themed a Night in Paradise. Auction proceeds go towards scholarships for Yuma-based military dependents and grants to organizations that support our local military community.  The event takes place at the Colorado River State Historic Park from 5:00 p.m.- 9:30 p.m. Tickets available at www.oscyuma.org/annual-benefit  Aloha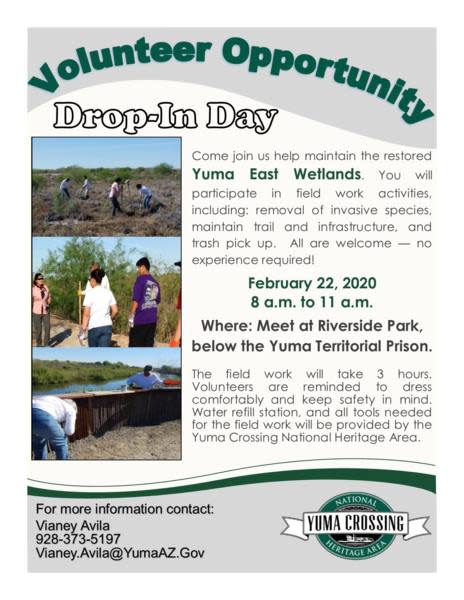 Do Some Good 
The East Wetlands clean up day is Saturday from 8:00 a.m. to 11:00 a.m.  Volunteers will take care of this local treasure by cleaning trails, and picking up trash.  Tools will be provided and volunteers needs to wear comfortable clothes and closed toed shoes.  The meet up spot is at the Riverside Park below the Yuma Territorial Prison.  Call 928-373-5197 for more information.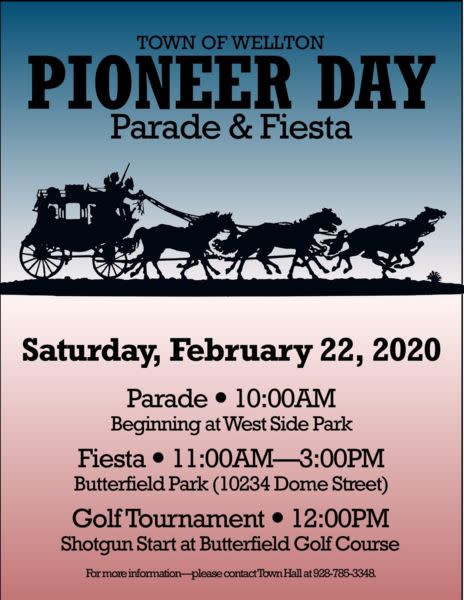 Take Pride in Pioneer Day
The Town of Wellton is hosting the 43rd annual Pioneer Day parade & fiesta.  The parade kicks off at 10:00 a.m. Saturday at West Side Park.  The fiesta goes from 11:00 a.m. - 3:00 p.m. at Butterfield Park with food, music, and fun.  The shotgun golf tournament starts at noon at the Butterfield Golf Course.  The event is hosted by the town of Wellton and is the city's premier event of the year. 
Barre & Bubbles
Kick off your weekend with barre work and mimosas for a reward.  All levels are welcome to the class.  Studio Y is located at 250 S Madison Avenue.  $15 if you pre-register or $20 at the door.    Barre & Bubbles takes place Saturday at 11:00 a.m.

Experience The Yuma Art Symposium
The Yuma Symposium is a series of demonstrations, lectures and slide presentations given by both internationally recognized and emerging artists who have demonstrated unusual talent. Activities include an exhibit of work by presenters and a student show, the National Saw, File, & Solder Sprints, the annual pin auction, and a fiesta and dance on Saturday night at the Yuma Art Center.   For more information visit www.yumasymposium.org