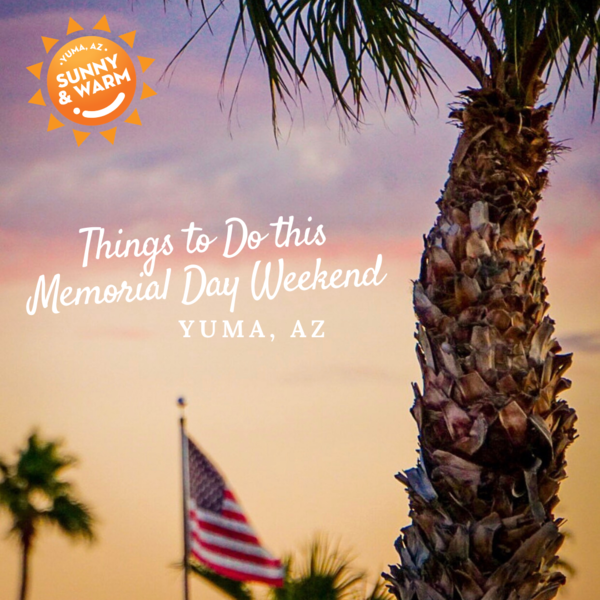 Kick off Summer with plenty of FUN !!! 
Yuma is more "open" but we're not back to full speed on community events.
Keep your spirits up by taking part in these experiences.
Title photo credit instagrammer  ba_afphotography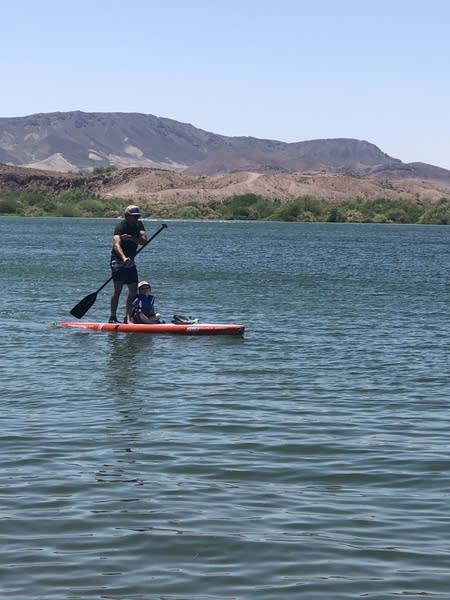 Get wet & wild
With cool waters streaming down from the Rocky Mountains, the Colorado River snakes its way along the Arizona-California border and down into the desert southwest, where it gently flows by Yuma's Historic Downtown. Along the route, various lakes and reservoirs provide boaters, waterskiers, anglers, and birders with beautiful waterways to relax, rest, and recreate. Don't have watercraft? Give Jet Rent a call. Prefer a casual cruise along Yuma's riverfront? Make a reservation with Yuma River Tubing, or bring your own float and enjoy the gentle flow from Yuma's Gateway Park to Centennial Beach at West Wetlands. For information about boating in Arizona, visit the Arizona Game & Fish Department's website.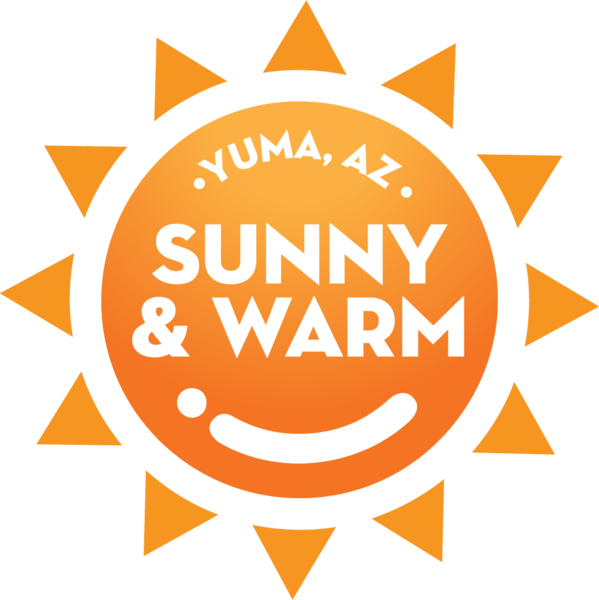 Visit the Visitor Information Center 
Now is the perfect time to explore your own backyard! The Visitors Information Center is the best place to start. Stop in for maps, brochures & and everything you need to inspire local exploration. Also, take time to explore the Yuman Interest shop (www.yumaninterest.com) also onsite. There you can hunt for local treasures, and Yuma-themed swag.  The VIC is located at  201 N. Fourth Ave. For more information call 928-783-0071 or email info@visityuma.com. The staff is wearing masks and follow social distancing guidelines. Hours are 9:00 a.m. - 4:30 p.m., Tuesday through Sunday, closed on Mondays during the summer season.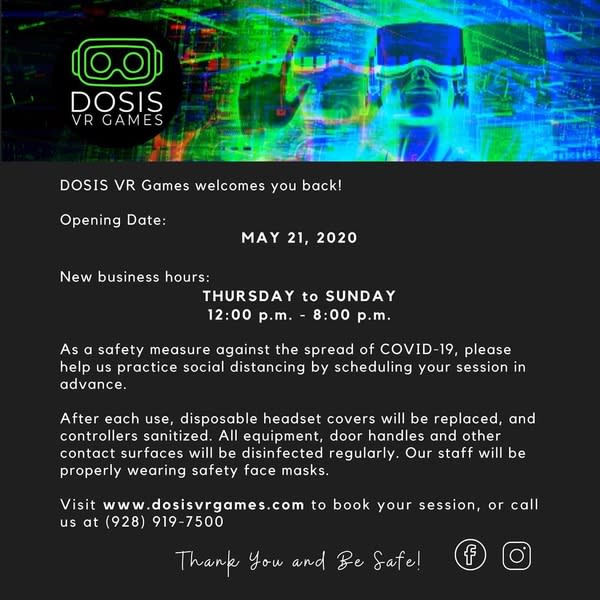 Play Games
There are a few great spots in Historic Downtown Yuma to play all different types of games.  First, the Escape Room is back open.  Do you have what it takes to defuse the bomb in a bomb squad??? Or solve riddles and clues to escape Da Vinci's room?? It's like a real life game of clue.  They'll only be doing rooms by appointment, so call 928- 210-7470 or book online at escaperoomyuma.com.  You can also experience virtual reality at DOSIS VR GAMES now open Thursday through Sunday 12 p.m. - 8 p.m.  They are taking appointments only, limiting the numbers of guests inside, and using disposable headset covers.  DOSIS VR games is located at 3 W 3rd Street.  Call  (928) 919-7500 for more information.  Don't forget Red Moon Ale house for future gaming!  For now they are food dining only and plan to offer gaming soon.  We'll keep you posted.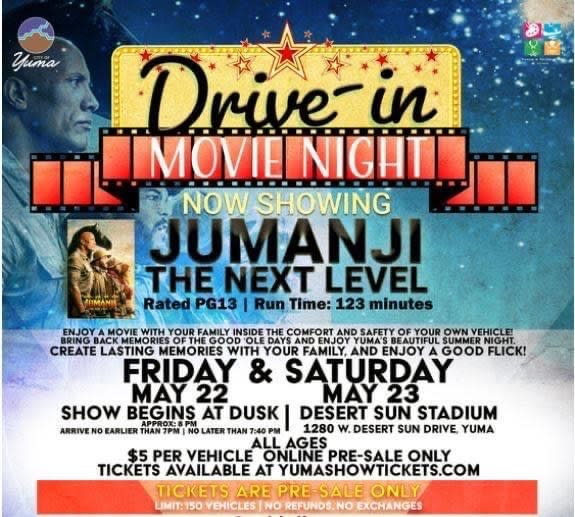 Catch a drive-in
We can't remember the last time Yuma had a drive-in! The City of Yuma Government presents Jumanji: The Next Level  Friday- Monday night, at dusk. The Drive-In takes place at Desert Sun Stadium with social distancing and safety measures in place. You must purchase pre-sale tickets. The cost is $5 per car at YumaShowTickets.com. Snacks will be available for purchase onsite. Some scenes of Jumanji: The Next Level were filmed in the Glamis Sand Dunes. Some shows are sold out.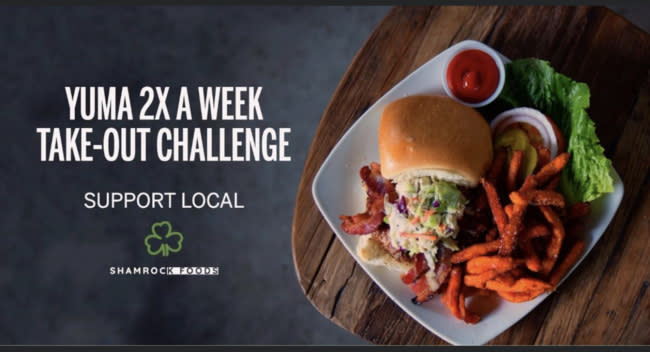 Yuma Take X2 Challenge
Have you been taking out twice a week?  The Yuma 2X Challenge is going strong to keep your favorite local restaurants thriving.  All you have to do is get food from local eateries twice a week (to-go or dine-in counts!). For more information on the challenge, check out their Facebook page.  Several local restaurants have opened their dining rooms while following social distancing guidelines; advance reservations are suggested.  
Be a bookworm 
The Yuma County Library District in now offering curbside pick-up! Library cardholders can reserve materials online or by phone, and pick up their items after receiving confirmation from the library. For more information, visit https://yumalibrary.org/curbside-pick-up/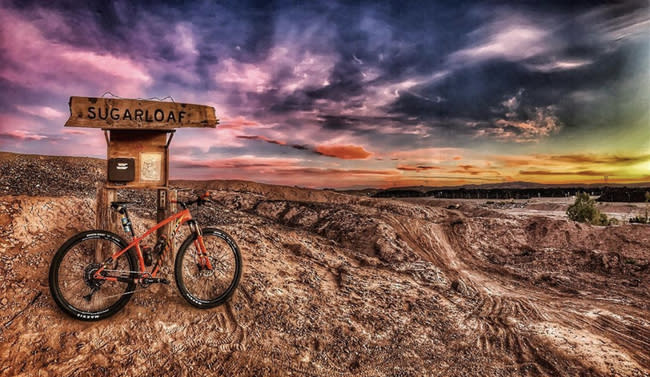 Take a bike ride—May is National Bike Month!  
Yuma's multi-use trail system is great for easy cruising on a bike.   You can also rent electric bikes and scooters at Sonoran Cycle's downtown location.  But for hard-core mountain bikers, there are some hair-raising single and double-track trails in the nearby hills, including a network in the Sugarloaf area (off Avenue 7E/Laguna Dam Road three to four miles north of Highway 95). Maintained by local volunteers, these trails are unmarked, and even the easy ones have gnarly sections.   Photo from instagrammed @haileyeah86 at Sugarloaf.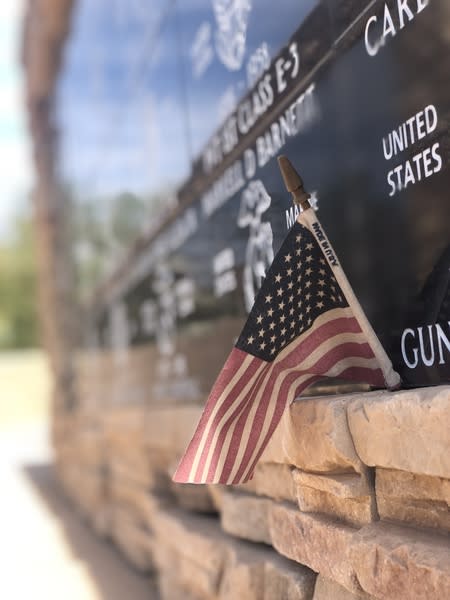 Remember
Let's not forget what this long weekend is all about, honoring the men and women who died while serving in the U.S. military. Memorial Day 2020 is on Monday, May 25.  This year will be different than years past without large gatherings.  You can pay tribute to our military at the Yuma Armed Forces Park. The park is the only site in Arizona that honors all military veterans, living or deceased, from all branches of service. Open year-round, the public is welcome to wander the walkways surrounded by the names of three thousand servicemembers.