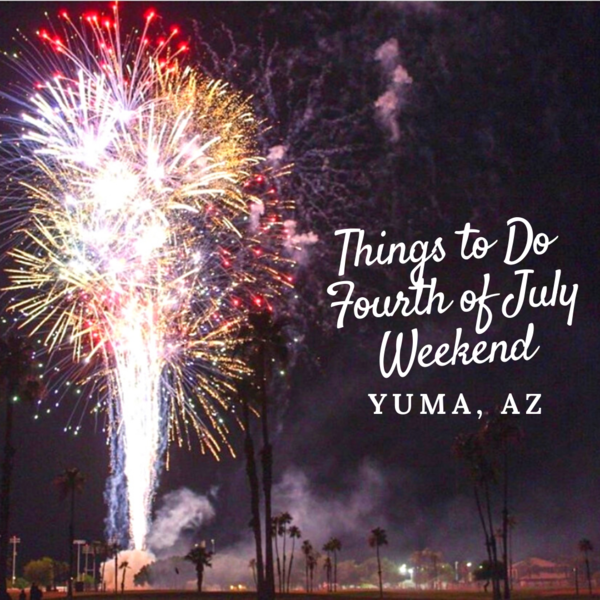 With so many safer ways to celebrate, there's no reason not to have a fun-filled 4th of July! 
Cover photo courtesy of Lilly Gonzales, @lg_photography_
Gaze at the Moon & the Lunar Eclipse 
We've got plenty of wide open spaces in Yuma county for you to see mother natures 4th of July spectacular - the Buck Moon.  The first full moon of the summer will rise on Saturday evening and end with a partial lunar eclipse. The Buck Moon is named after the new antlers seen on young male deer at this time of year, according to the Old Farmer's Almanac.  The Buck Moon will rise after sunset on Saturday before reaching peak illumination at 9:44 p.m. on Saturday.  A partial penumbral lunar eclipse will also be available to view from Yuma on Saturday night. . The moon misses the inner, darkest part of Earth's shadow, and instead it glances the outer, less dark part of the shadow, which will subtly darken a part of the lunar surface.
The Old Farmer's Almanac says the eclipse will begin at 8:07 p.m. reaching maximum lighting just before 9:30 p.m. and end at 10:52 p.m.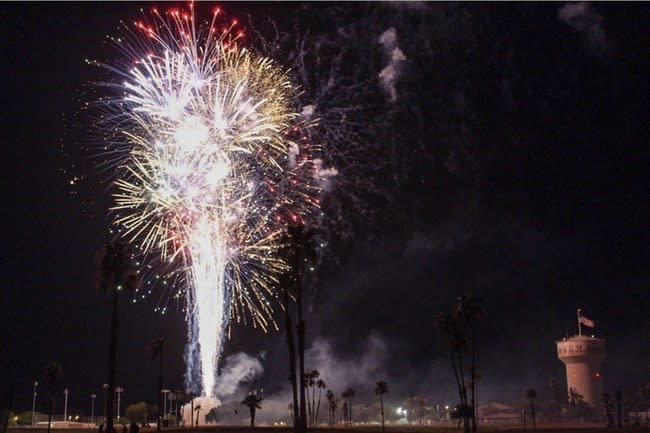 Celebrate the 4th with Fireworks
The City of Yuma's 4th of July Fireworks Spectacular is set for Saturday, July 4, 2020 beginning around 8:45 pm.  The best viewing area is the PAAC (Pacific Avenue Athletic Complex) at 1700 E. 8th St Yuma, AZ. The community is invited to park and enjoy a 20 minute fireworks display in celebration of America's Independence Day! Parking is limited. Spectators are asked to remain in their vehicles to watch the fireworks display.  Parking is first come, first served.  Similar to the drive-in movies, tailgating will be allowed, and you may sit or stand just outside your vehicle. Attendees must respect social distancing and stay within their parking space/area. The event is 
FREE to the public.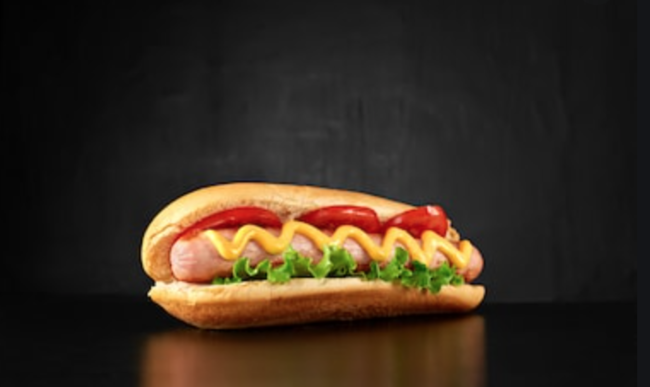 Go to the Watermelon Hot Dog Drive 
The city of Somerton is handing out 500 watermelons, hot dogs, and a surprise for the kids.  Drive by the Cultural Center between 5:30 pm and 7:30 pm (please start the line at Jefferson Street) on the 4th of July.  Then go home, eat your treats and watch the fireworks while social distancing.  For the celebration the City of Somerton is looking for Veterans, Active Military, and essential workers to share their photos for a tribute.  Community members are also encouraged to get on red, white and blue and take a picture with your family for the most patriotic family photo contest.  Send all photos to marketing@somertonaz.gov   The cultural center is located at 239 W Canal Street.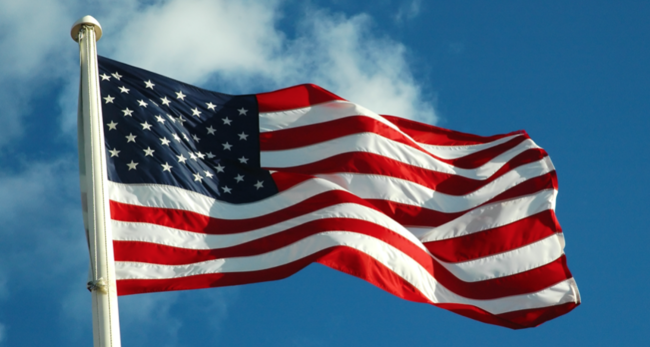 Watch the Flag Raising from Home 
Watch the American Flag rise above Yuma to celebrate Independence Day.  The Caballeros de Yuma and the Yuma County Chamber of Commerce are hosting this virtual event.  The ceremony starts at 7:30 a.m. and includes speakers from MCAS Yuma and the Yuma Proving Ground.  The Caballeros de Yuma have hosted this community event since 1986 in order to honor service members in our community.   
Follow the event facebook page to watch.  https://www.facebook.com/events/189269029181303/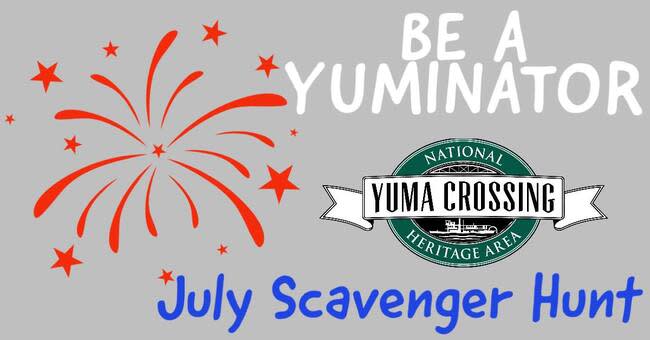 Dominate the 4th of July Scavenger Hunt
 The National Crossing Heritage area is hosting the "be A Yuminator " scavenger hunt in historic downtown Yuma area.  Complete all questions through the google doc (link below) to be entered to win the following based on time completed and accuracy (all questions have to be answered correctly).   Here's the google doc you'll need  
https://forms.gle/WSRq3pEaPdRyp6ww9
Prizes include a gift basket full of swag and Peanut Patch goodies along with Colorado River State Historic Park and Yuma Territorial Prison admission tickets.  For more information contact 928-373-5190. 
Practice Yoga at Sunset
Studio Y is now hosting Sunset Yoga Mondays, Tuesdays, and Thursdays starting this week.   Immerse yourself in poses while social distancing at the calming gardens of the Sanguinetti house at sunset.  Don't forget to bring your own mat and pre-register on the mindbody app.  Classes start at 7 p.m. Namaste.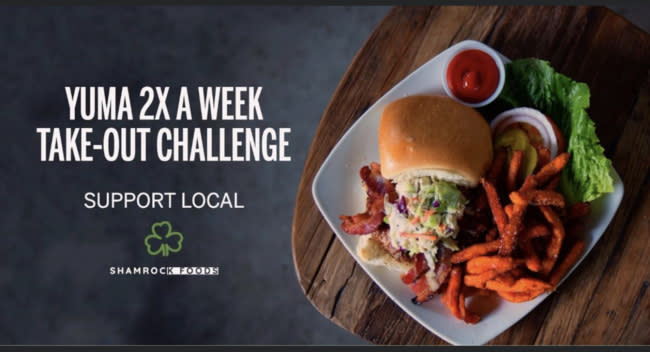 Yuma 2x Challenge
Have you been taking out twice a week? The Yuma 2X Challenge is going strong to keep your favorite local restaurants thriving.  All you have to do is get food from local eateries twice a week (to-go or dine-in counts!). For more information on the challenge, check out their Facebook page.  Several local restaurants have opened their dining rooms while following social distancing guidelines; advance reservations.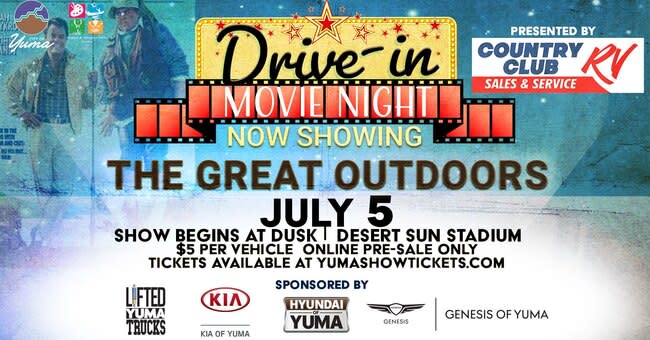 Do a Drive In
This week's drive in movie line up includes a showing on Thursday and Sunday.  First up is the all American classic A League of their Own.  The film is a look inside the first women's professional baseball league and focuses on the rivalry between sisters on the same team, and their washed up, hard-drinking coach played by Tom Hanks.  Sunday night's feature is the comedy classic, The Great Outdoors.  The movies take place at Desert Sun Stadium with social distancing and safety measures in place. Showings for this week are Friday and Saturday. You must purchase pre-sale tickets. The cost is $5 per car at YumaShowTickets.com. Snacks will be available for purchase onsite. The lineup of movie showings throughout the summer will be released weekly.