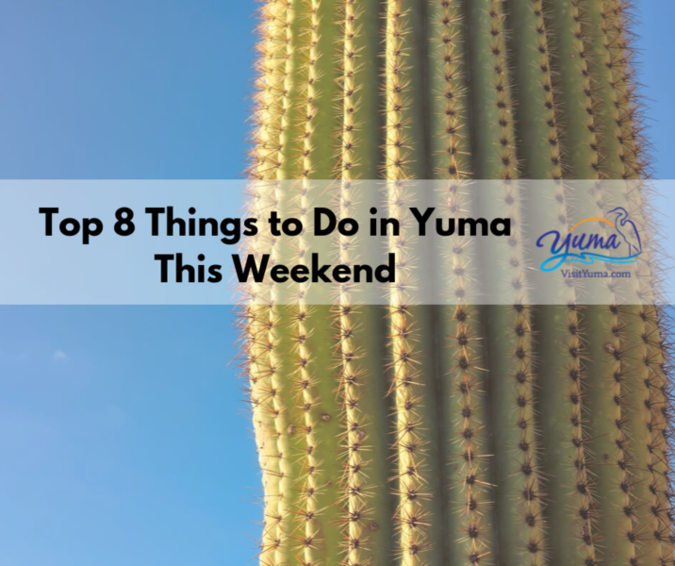 It's time to get social during the last weekend of September.  The calendar is packed with events for you and the family to enjoy the company of our community.  So grab your running shoes, or fishing pole, business cards and your appetite. Here's the list of the Top 8 Things to Do in Yuma This Weekend.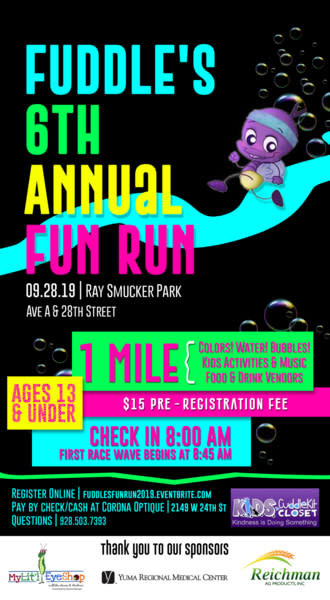 Take the Kids for a Run!  
Fuddle's Fun Run is this Saturday, September 28.    It's a one mile course for kids ages 13 and under at Ray Smucker Park.   The 6th annual event is put on by KIDS Cuddle Kit Closet.  There will be fun stations to run through, such as color, water, tires, bubbles and a blow up slide. Kids activities will be throughout the park for families to enjoy as well as games and music.  Children will start the race in waves according to age. Registration and check in will be from 8-8:30 am and the first age group will take off at 8:45 am (then every 10 minutes after that). Children are encouraged to run by themselves. They will have a number of other volunteers along the course to help the children. Parents are welcome to run/walk around the center grassy area to keep an eye on their children. There is a $5 charge for parents running with their child or with a stroller. If you are running with a child you must have a bracelet to be on the course (this is for the safety of all the children running). Each paid kid runner will be getting a runner's goodie bag. In order to guarantee the bag it is best to register before the day of the event.  Register at https://fuddlesfunrun2019.eventbrite.com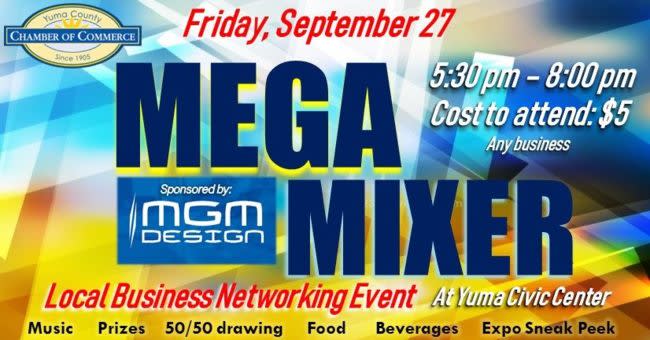 Mix at the Mega Mixer 
Get super social at the Mega Mixer this Friday night.  The evening is an opportunity for great fellowship and business networking!  Join the Yuma County Chamber of Commerce from 5:30 - 8:00 p.m. at the Civic Center for food, drinks, prizes and more!  The Caballeros de Yuma will be making a formal introduction to new local agency Heroes: YPD Chief, Susan Smith, YTC Commander, Alicia Johnson, AWC Chief of Police, Steve Suho, Somerton Police Chief, Araceli Juarez.  Business professionals are encouraged to attend.  Admission is $5.00 and don't forget your business cards!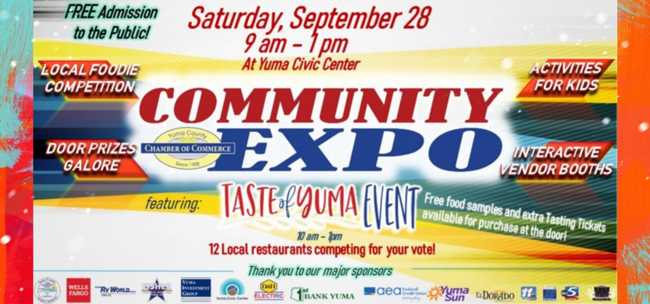 Don't Miss the Community Expo & Taste of Yuma 
The 2019 Community Expo is Saturday, September 28th from 9 a.m. - 1 p.m. at the Yuma Civic Center.  Show your support for local businesses as they showcase their services and products. This is a FREE family friendly event with plenty to do, see, and eat!  Experience the friendly foodie "Taste of Yuma" competition and sample tastings from:
Prison Hill Brewing Company
Lutes Casino
The Pint House Bar & Grill
Quechan Casino Resort
The Press Cafe & Bistro
J.T. Bros
Da Boyz Italian Cuisine- Downtown
Julieanna's Patio Cafe
2fifty1 Downtown Twisted Kitchen
Yuma Landing Sports Bar & Grill
Rolls and Bowls
El Charro Cafe
Everyone gets a free sample ticket upon entry and you can purchase extra tickets for $2.00 at the door.  The Yuma International Airport is taking over the lobby to showcase their great partners MCAS Yuma, Yuma Proving Ground, Million Air Yuma, and more.  The Civic Center is located at 1440 W Desert Hills Dr.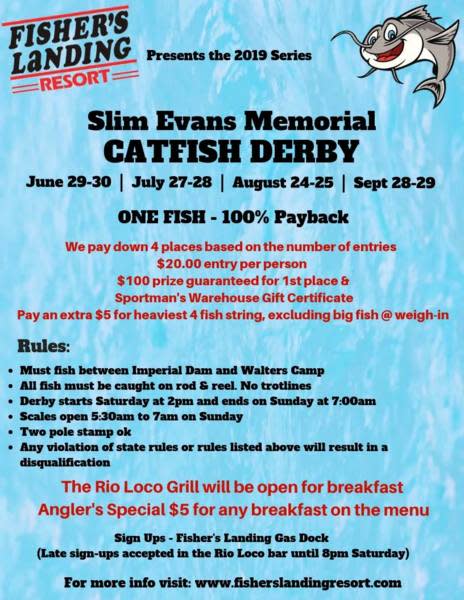 Get Your Fish On 
Catch the Slim Evans Overnight Catfish Derby this weekend.   The derby starts at 2 p.m. on Saturday, September 28 and ends at 7:00 a.m. Sunday.  You must fish between the Imperial Dam and Walters Camp.  Sign up at Fisher's Landing gas dock.  Cost is $20 to enter and entrants will receive any breakfast item on the menu for $5.  The first place winner is guaranteed $100 and a Sportsman's Warehouse gift certificate.  Weigh-in's starts at 5:30 Sunday morning.  Scales close at 7:00am sharp. For more information call (928) 783-0844.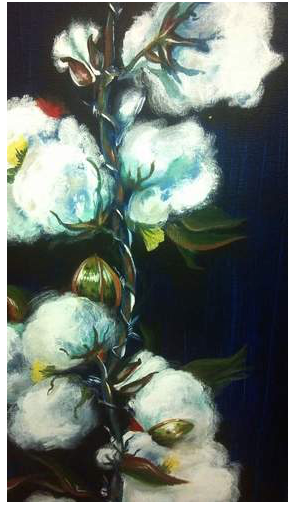 Dabble with art at Dandy
Dabble with Acrylic painting this weekend at  Dandy Home & Ranch.  Yuma agriculture is the focus of the Acrylic painting class. You will paint a stock of cotton with your choice of background.  Lia from the Littlewood Community Co-Op will pre-draw the cotton so you can focus on shading and using color.  The class starts at 9:00 a.m. on Saturday. Sign up for workshops here.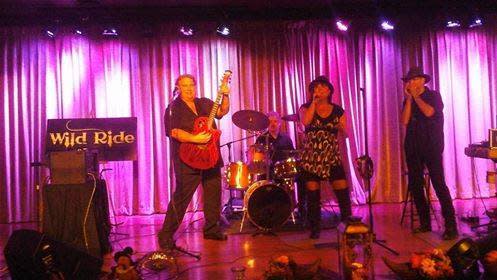 Wild Ride at Wheezys
Enjoy live music with Wild Ride featuring Rex, Shelli and the gang.  They'll turn up the volume starting at 7 p.m. on Saturday.  Wheezy's Grill and Sports bar is located at 11732 S Fortuna Road in the Foothills.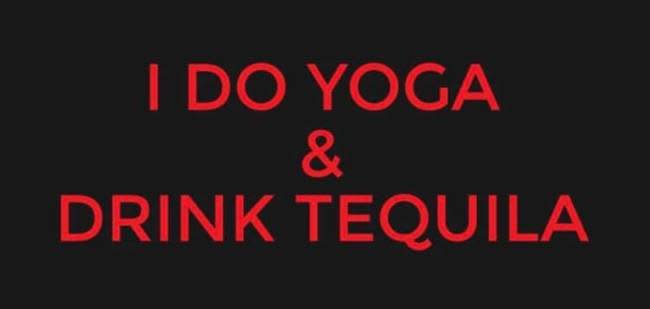 Drink Tequila & Do Yoga - yep, that's a thing. 
Trap, Yoga & Tequila at Studio Y is back by popular demand.   Flow to trap music, hip hop music that was developed in the early 2000s in the Southern United States.  September is National Yoga month and this is the perfect opportunity to celebrate. TYAT takes place Saturday from Saturday at 6 p.m. – 8 p.m.  $25 pre-register via MindBody or $30 at the door.  Namaste.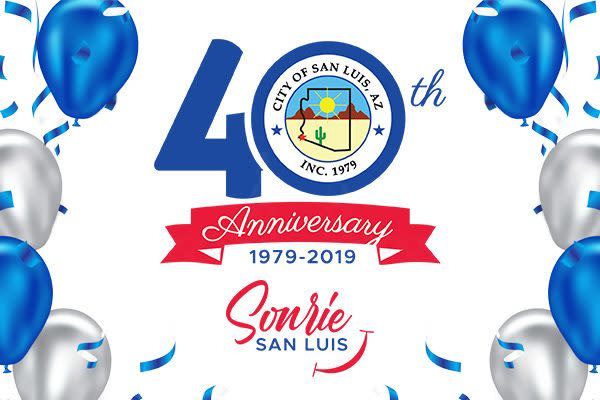 Celebrate 40 Years of San Luis
The Founders Day celebration in San Luis take place on Saturday, September 28.  The city of San Luis event kicks off with a parade at 8:00 a.m.Boulevard.  Route begins on 8th Avenue and Cesar Chavez Blvd. Parade ends at Cesar Chavez Blvd. and 1st Avenue (Joe Orduño Park).  The celebration continues with a party at Joe Orduño Park, starting at 6:00 p.m.   Live Music, folkloric dancers , mariachi, a family zone, food and giveaways are expected.     Visit www.40sanluisaz.gov for more information.