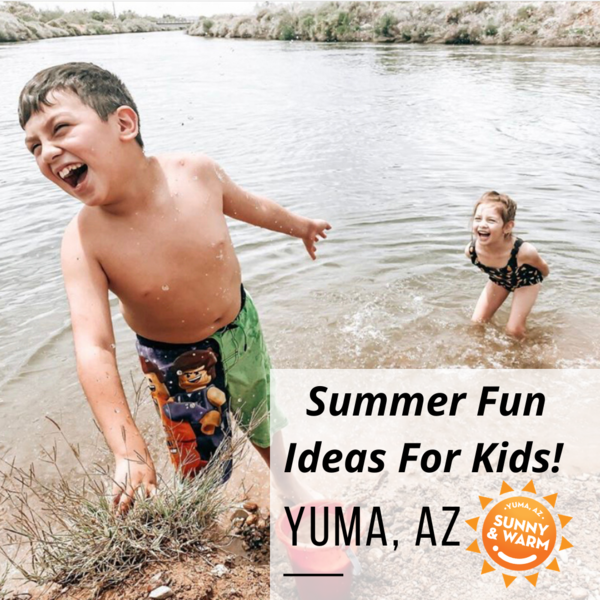 Hey Moms, 
This blog is for you.  You've been working extra hard to keep the kids up on their school work all spring.  Now it's time to let loose!  We've compiled a list of fun stuff do to around Yuma for kids of all ages.  Some of our suggested activities are for the mornings to get outdoors, others are ways to beat the heat.  We'd love to see your adventures in photos share with us on Facebook @visityuma at or tag us on Instagram at @visityumaaz.   Cover photo from instragrammer @kathytippen_
A real life history lesson
Now is the perfect time to explore your own backyard! The Visitors Information Center is the best place to start (open now). Stop in for maps, brochures & and everything you need to inspire local exploration.   From there, you can walk into the Colorado River State Historic Park (opening soon). The Yuma Quartermaster Depot served as an army supply depot between 1865-1883. Touring original buildings of the depot, kids learn the purpose of the site and its role in storing supplies for all the forts in Arizona Territory during the Indian Wars. Next stop, the Yuma Territorial Prison (opening soon).  It only operated for 33 years, but that was long enough to etch a fearsome reputation into the history of the Old West.  Be sure to let your little ones take an inmate selfie.   For more information log onto www.yumaprison.org  The staff at all three locations are wearing masks and follow social distancing guidelines. Hours are 9:00 a.m. - 5:00 p.m., Tuesday through Sunday, closed on Mondays during the summer season.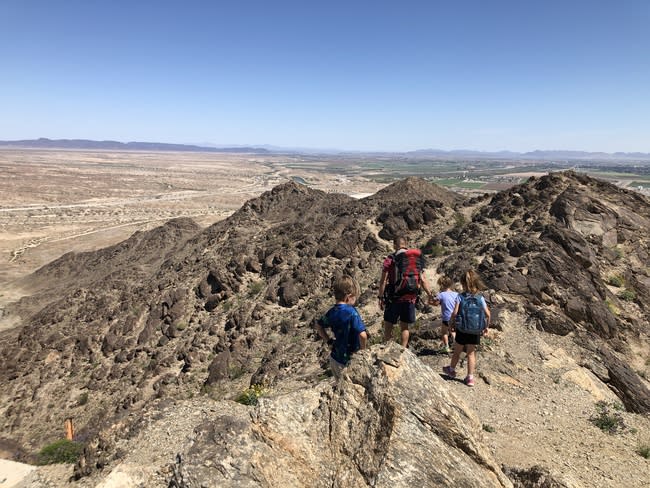 Get your hike on
It's best to be an early bird to make the most of your hike before the temperature turns hot.  Both the West Wetlands Park and East Wetlands parks have the easiest of trails for hikers of all ages. They'll get to see lots of birds, plants, and the beauty of the Colorado River. Parking lots and trails are marked. Telegraph Pass is a great challenge for older kids. Bring lots of water and pace yourself. At the top you'll find a book to sign your name and the kids love the feeling of accomplishment. It is best to allow a couple of hours to get up and down the pass.  
Be a bookworm 
The Yuma County Library District is now offering curbside pick-up! Library cardholders can reserve materials online or by phone, and pick up their items after receiving confirmation from the library. For more information, visit https://yumalibrary.org/curbside-pick-up/
Ride your bikes
Yuma's multi-use trail system is great for easy cruising on a bike with the kids.  For something easy and scenic try the bike bath along the river.  It's about four miles from Joe Henry Park to the East Wetlands.  Shaun Chapman, of Sonoran Cycle Yuma says,  "It is the perfect bike path for mom or dad and the kids because it is safe and a super easy ride to get read exercise.  There is just one little hill near the Quartermaster Depot."  Something new for the older kids, you can also rent electric bikes and scooters at Sonoran Cycle's downtown location.   Check out this link with a map of the city's paths and trails https://www.yumaaz.gov/parks-and-recreation/parks/paths-and-trails.html 
Get your game on
There are a few great spots in Historic Downtown Yuma to play all different types of games.  First, the Escape Room is open again. Do you have what it takes to defuse the bomb in a bomb squad??? Or solve riddles and clues to escape Da Vinci's room?? It's like a real life game of Clue. They'll only be doing rooms by appointment, so call 928- 210-7470 or book online at escaperoomyuma.com. You can also experience virtual reality at Dosis VR Games now open Thursday through Sunday 12-8 p.m.  They are taking appointments only, limiting the numbers of guests inside, and using disposable headset covers. DOSIS VR games is located at 3 W. 3rd Street. Call (928) 919-7500 for more information. Or make an appointment here https://dosisvrgames.com
Don't forget Red Moon Ale house for future gaming!  For now they are food dining only and plan to offer gaming soon. We'll keep you posted.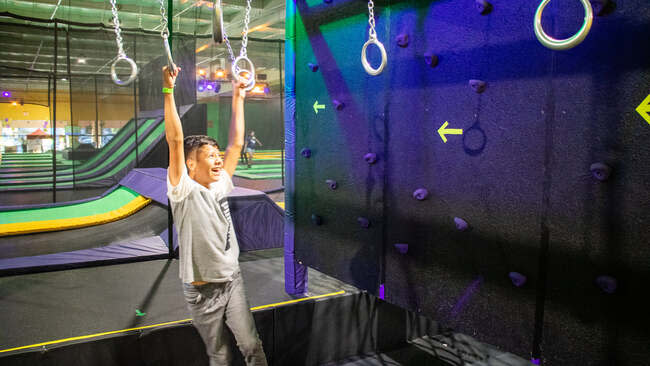 Get Air
Burn some serious energy at Get Air!  They are now open daily from 10:00 a.m. - 6:00 p.m.  If you plan to be a frequent flyer - your best bet is the annual membership for $99.  You can jump two hours a day for a full year.  Or purchase a summer pass for $49.99.  You can jump for three hours a day from now until August 31st.  Get Air revamped their cleaning process to include a sanitizing mascot.  Get Air is located at 3121 S. 4th Avenue.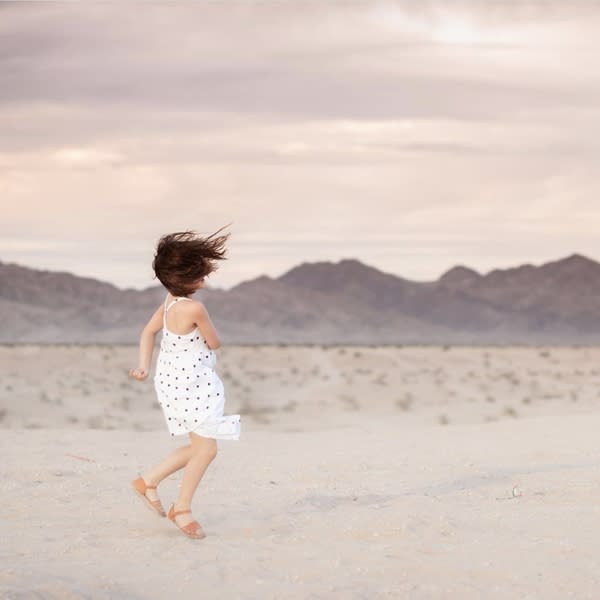 Build a sand-something 
Sand is so stimulating!  Yuma serves as the gateway to one of the nation's largest mass of inland sand dunes, which extend for more than 40 miles along the eastern edge of California's Imperial Valley.  Now a national recreational area, this natural sand box acts as a magnet for off-road enthusiasts in all but the hottest months and welcomes more than one million visitors every year.  This is the best time of year to bring the kids out to play because it is considered off season and there are very few off road vehicles, according to Carrie Sahagun, Assistant Field Manager at the El Centro BLM Field Office.  She said, "fees are waived this time of year.  Morning is the best time of day to go before it gets too hot."  The plank road area has a kiosk and is recommended for a quick visit.   Certain areas and campgrounds are temporarily closed.  Check out their website for the most up to date information at https://www.blm.gov/visit/imperial-sand-dunes  Photo by instragrammer @stef.demuth.photography
Take pictures together 
There are so many Instagrammable places to generate memorable photos. Take your kids to see a larger than life mural on the back of the Del Sol Market, located at the corner of 4th Ave. and 3rd Street. It's also fun to walk around Historic Downtown Yuma and let them do a "scavenger hunt" to find the different artworks using the Visit Yuma App's Art Trail. You've got to start the "welcoming mural" along Main Street. Don't forget to take them to the front of Lute's Casino where they can turn into a criminal.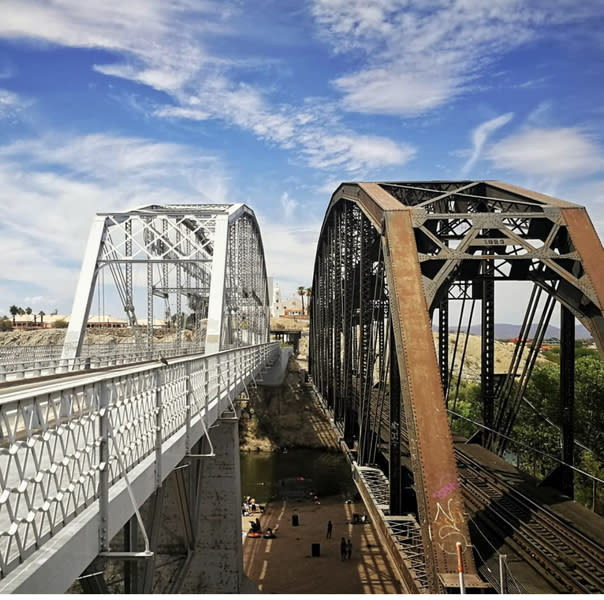 See old architecture up close 
Experience Yuma's historic bridges. The Ocean-to-Ocean Bridge was the first highway crossing of the Colorado River. Its name derives from the fact that it was a critical link in one of the nation's first transcontinental highways. There is a walkway that will take you across. The best view of the bridge is from Gateway Park, or drive over it; traffic flows in one direction at a time, from 1st Street in Downtown Yuma or Quechan Drive in California. The "bridge to nowhere" was built in 1929 and spanned the Gila River. You can't walk on the bridge but you can get up close. To get there  I-8 exit 12. Go north on Fortuna Road for two miles, then north on US 95 for a little less than five miles. You can easily see its towers off to the west of US 95.  Photo from instagrammer @shrabfab
Float together 
A family that floats together is guaranteed to have fun together. Bring your own float and enjoy the gentle flow from Yuma's Gateway Park to Centennial Beach at West Wetlands. It is a quick trip good for kids that are comfortable in the water.  Officials say the water levels are currently high.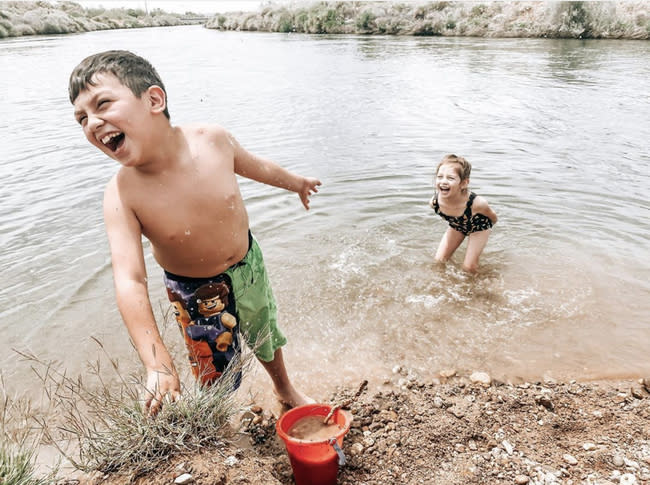 Hit the beach
The best place to cool off in the warm summer months is the beach!  Bring the buckets, shovels, and picnic lunches to guarantee they'll be tired after this adventure. Yuma's waterways have several beach areas to play in the sand. The most convenient are at Gateway Park or Playa Linda Beach at West Wetlands Park.  Playa Linda has An ADA accessible ramp, seating wall, open grass area, and plenty of shade under the trees.
The bigger beachfront play properties are at Senator's Wash. Plenty of space to launch a kayak, paddleboard, or canoe too. And yes, you can find shells!  photo from instragrammer @kathytippen_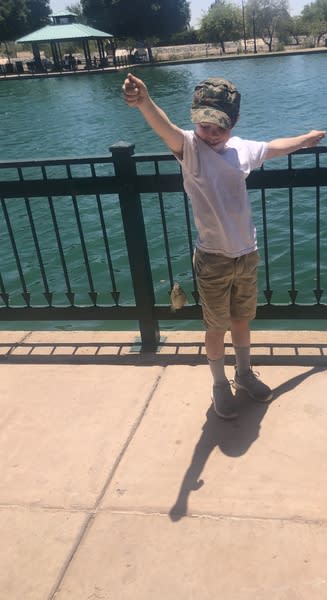 Catch a fish
Sit back and relax with the kids with fishing poles in hand. They learn patience and the reward of the catch, too. Yuma has a long list of fishing spots to fit your schedule. West Wetlands pond is a great place for the littles because they can watch the ducks and hit the playground when their patience runs out. Squaw Lake is also a favorite spot for kids because its stocked with bass and there are bathrooms too! Check out this link for more information on Yuma area fishing holes from the Arizona Game & Fish Department.  https://fishaz.azgfd.com/wp-content/uploads/2018/12/YUMA-FISHING-HOLES-BROCHURE.pdf

Eat ice cream
We need to do an entire blog about all of the ice cream spots around town. We love Raspados Cuchy's.   Brocket Farms LLC date shake is also a favorite.  Cold Stone Creamery is located at the Yuma Palms and offers traditional scoops with mix-ins of your favorite toppings. Frozen Yogurt from the Tiki Hut is the perfect summer treat. They change their flavors every week.  Open from 12-9 p.m. daily. If you are in the mood for ice cream with a mexican flare, check out La Michoacana Plus Yuma. Indulge in a variety of drinks, ice cream by the scoop, bars, sandwiches--they've got it all. 
Do a drive in
The City of Yuma Government is bringing back the drive-in!  The movies take place at Desert Sun Stadium with social distancing and safety measures in place. You must purchase pre-sale tickets. The cost is $5 per car at YumaShowTickets.com. Snacks will be available for purchase onsite.  The lineup of movie showings throughout the summer will be released weekly. 
We are awaiting word for some of our favorite spots for kids to re-open including Waylon's Water World and local pools. Follow Visit Yuma on social media to stay connected.