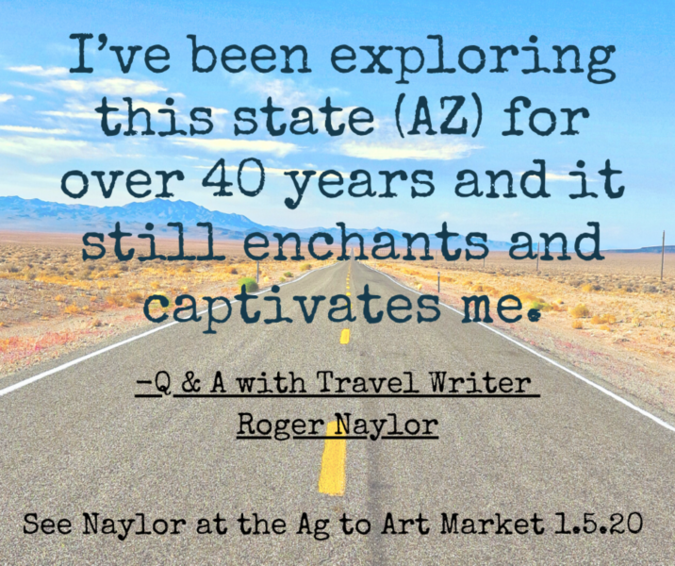 Travel writer Roger Naylor is coming to Yuma to kick off 2020! 
Naylor says "I've been exploring this state for over 40 years and it still enchants and captivates me."
Naylor will be reading from his new book "Arizona State Parks," at the Ag to Art Market taking place Jan. 5th at the Colorado River State Historic Park.  The public is encouraged to attend. Visit Yuma did a Q & A session with Naylor, and the conversation will certainly inspire you to explore.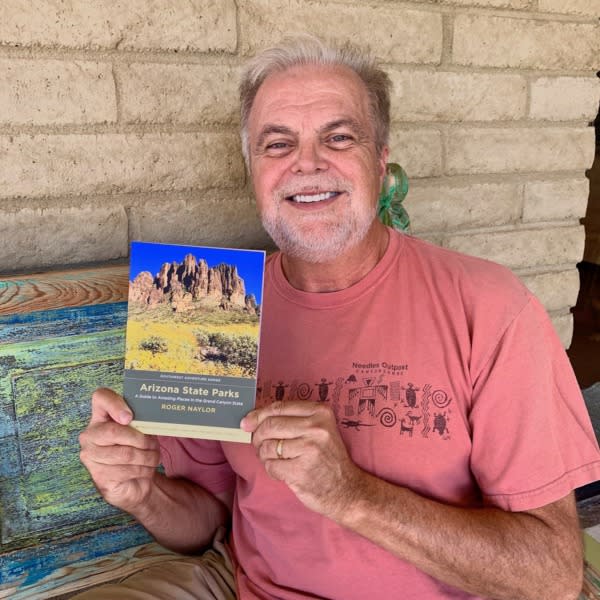 1.) What inspired you to write about Arizona State Parks?
It started from my own personal experience. I live in Cottonwood and Dead Horse Ranch State Park is just minutes from my house. It's essentially my backyard. So for 25 years, I've been hiking in that beautiful park and I know what a quality of life factor it provides. 
Arizona may be known as the Grand Canyon State but we're actually defined by the scenic diversity and rich history of our state parks. You'll find everything from tall cactus desert to craggy mountains to red rock canyons to pine forests to rolling grasslands to a playground of rivers and lakes. Every chapter of Arizona history from Native American culture to Spanish Colonial times to the Civil War to the Wild West are preserved by our state parks. 
And of course the recreational possibilities are endless. This is some of the best hiking, swimming, fishing, camping, wildlife viewing, wildflower chasing, and stargazing you'll find in Arizona. These are bite-sized, educational family friendly adventures, and they're right on our doorstep.
2.) What do you hope people take away from reading Arizona State Parks?
I want them to feel like jumping in the car and going. I want them to yearn to explore new corners of Arizona, to discover new wonders. These are our parks. They belong to us. The state parks will be less crowded than national parks, and less expensive. Plus, the money you do spend stays in the local community.   
That's a crucial aspect of the book, a story that I wanted to tell—the relationship between the parks and the towns where you find them. I know what Dead Horse Ranch means to my town of Cottonwood, what Kartchner Caverns means to Benson, what Tonto Natural Bridge means to Payson, and what the Territorial Prison and Colorado River Historic State Park means to Yuma.  
In each park chapter I included nearby attractions, activities, and events. If you're going to come to Cottonwood to spend a couple of nights in the cabins at Dead Horse Ranch, I want to make sure you know about Tuzigoot National Monument, the Verde Valley Wine Trail, Old Town Cottonwood, the Verde Canyon Railroad, and the Clemenceau Museum, all just a couple of miles from the park. So this book is very much a road trip guide and planner for Arizona residents and visitors. 
3.) Can you tell us a little bit about your journey to becoming a travel writer?
I knew I was going to be a writer when I was 13 and first read Mark Twain. Up to that point I had devoured books just for the stories they told, but Twain had a command of the language that was unlike anything I had experienced. He was able to move me with his words and that's what I wanted to be able to do. For many years, I was primarily a humor writer covering a wide range of topics. I enjoyed that and was pretty good at it. 
Meanwhile, I was living this amazing life in Arizona. I was rambling all over the state, hiking, eating and exploring, and it occurred to me, this is what I truly wanted to write about. So I pitched a couple of stories to Arizona Highways and lo and behold, they bought them. I wrote for Highways for several years, then I started writing for the Arizona Republic, and that really took off. 
For the past dozen years, I've been the primary freelancer for the Arizona Republic covering the entire state. Those assignments took me everywhere, and led to additional work. I provide content for the Arizona Visitor Guide each year, and many of the other guides around the state. I write about Arizona for newspapers and magazines all over the world and I'm the author of several books. So I've been extremely fortunate that I was able to combine two great passions in my life, writing and Arizona.   
I always say I'm a travel writer who hates to travel, and that's true. I never go anywhere outside of Arizona. I've been exploring this state for over 40 years and it still enchants and captivates me. 
4.) Do you have any plans (besides the book reading) for your upcoming trip to Yuma?
While I've taken just about all of the food and agricultural tours, I haven't done the history tours offered through the Sanguinetti House. I never seem to be in town at the right time. I'd love to take one of the Ghost Trolley or Historic Trolley tours, or the Historic Walking Tour. I really want to learn more details about the town because it fascinates me. If I have an extra day, I'll visit Castle Dome Mines Museum. That's always a favorite getaway of mine, and one of the most under-appreciated destinations in Arizona. It's the very definition of a hidden gem.
5.) Do you have a favorite hiking spot in the Yuma area? If so, why do you favor it?
Telegraph Pass is certainly the classic Yuma hike, a good workout with great views right on the edge of town. That's why I made it one of my featured trails in my book, Boots & Burgers: An Arizona Handbook for Hungry Hikers. 
My favorite in the area would be Painted Desert Trail in the Imperial National Wildlife Refuge. It's a gentle loop but traversing a terrain that's drenched in color. Erosion has carved additional pinnacles and hoodoos for more visual interest. But it's the rich palette of hues that stays with me. I love the mosaic of desert patterns and the wet knife of the Colorado River carving a verdant slice in the distance.   
6.) Do you have a favorite restaurant in the Yuma area? What do you like about it?
Chile Pepper (and Mr. G's) dishes up my favorite burritos in the state. The bean and rice burrito reminds us how delicious simplicity can be. The beans are plump and rich, and wrapped in a homemade tortilla that's fluffy as a pillow, lightly singed, and it just melts in your mouth. They're perfect dipped in that thin but delicious salsa. I'll eat a sackful of those while I'm in town. 
Overall, I think Yuma is an amazing foodie town that's just waiting to be discovered. Lutes Casino can't be missed. It's also featured in Boots & Burgers. With their gourmet take on street tacos, Takos & Beer has become one of my new favorites. The Patio Restaurant never fails to impress me. River City Grill is excellent. I love the pizza at Da Boyz, the giant breakfast burritos at Stan's Grocery, and there's so many more. The only trouble I have is making it to a restaurant without stopping at a food truck or two along the way.   
Naylor's work has appeared in Arizona Republic, USA Today, Arizona Highways, Go Escape, Route 66 Magazine, Las Vegas Review-Journal, Western Art and Architecture and dozens more.  He is a senior writer for The Bob and Tom Show, a nationally syndicated radio program airing in over 150 markets. He is the author of "Arizona Kicks on Route 66" and "Death Valley: Hottest Place on Earth, and his latest read "Ariona State Parks.  Follow him on FB at @RogerNaylorinAZ