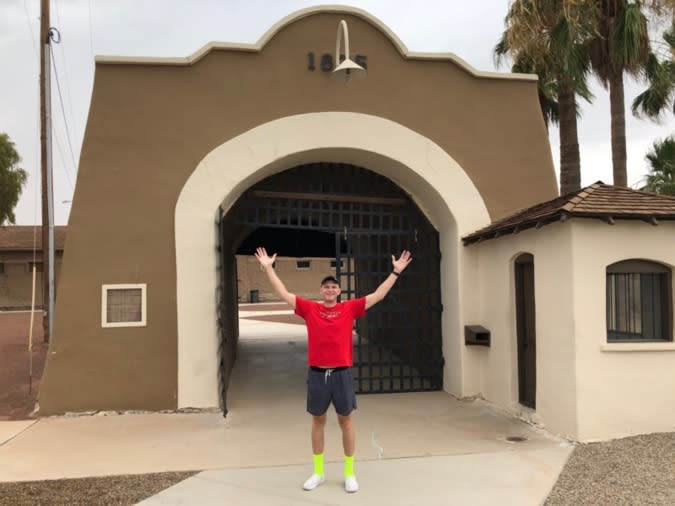 "How did I get this lucky, to get sent to YUMA, in JULY?"
...They thought they were sending him to a prison in the desert… Little did they know, the Yuma Territorial Prison has not had inmates since 1909. If there's one thing anyone knows about Yuma, they've usually heard about the infamous prison, and everyone darned well knows Yuma is HOT in the summer. 
A bunch of friends in Eastern Washington state have a fantasy football league where the loser gets a round-trip one-day vacation to a place of the choosing of those who didn't lose… The "loser," Bryce James arrived at the Spokane, Wash., airport at the appointed time, and his friends texted him his boarding pass: He was being shipped down to Yuma. Arizona. In the Sonoran Desert. In July.
A couple hours later, Bryce deplaned at Yuma International Airport and walked up to the rental car counter. While he was getting his car, he asked them about what to do in Yuma. They directed him to the Visitor Information Center (VIC) at the Colorado River State Historic Park. At the VIC, he met Visit Yuma VIC staff Jennifer Tobin and Leslie Fain. They asked him what he was interested in doing while he was in Yuma. He said he didn't know, and he didn't know anything about Yuma. He asked what they recommended for him to do for the day. Seven of his buddies had sent him to Yuma that morning, on a lark. Bryce had recently lost, with the fewest points, in their fantasy football league. "I was busy finishing up my Physicians Assistant program rotations, so I didn't make a single substitution throughout the season," said Bryce, "so I lost."
The deal in their league, six former college roommates and one other friend, was that the loser would be sent to a place chosen by those who didn't lose, for 24 hours in that location. James was a good sport. "I tried to pack for whatever I could possibly need…" Bryce said. He did bring shorts, but was he really prepared for 112 degrees in the desert in July?
Leslie Fain, Visit Yuma's office manager, started texting Visit Yuma staff, thinking this was a hoot, that this young man who seemed game for anything, had just shown up at the visitor center. Visit Yuma staff jumped at the opportunity and built an incredible itinerary for Bryce, to show off that even in the high temperatures of July in Yuma, visitors can still have a great time.
Marketing Specialist Karen Harris went to meet Bryce at Prison Hill Brewery for a couple cold ones, and to get to know him. Over King Hill Cherry Tart beers, they came up with a plan.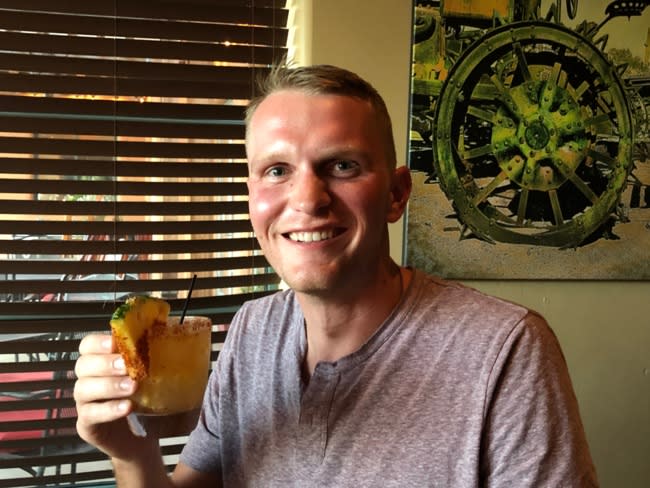 From there, they proceeded to apps at Takos & Beer. Bryce tried to get the manta ray taco (mantaraya), but they were fresh out of manta ray. Instead the Cameron Empanizado showcased giant, fresh breaded and fried tiger shrimp from the nearby Sea of Cortez in the Baja Mexico region. Bryce and Karen also sampled tender pork,  chilies and pineapple in the Al Pastor, shredded beef machaca tacos, and the best-selling Pac-Man Tako which features al pastor, carne asada and grilled chicken, all stacked on a homemade flour tortilla.
For the main course, they headed across town to The Patio Restaurant and Bar at The Hills to meet up with a friend of Karen's. Bryce tried the fresh pineapple margarita with Tajin on the rim, Karen's white sangria was refreshing, and Mario had a jalapeno cucumber margarita. Karen enjoyed a wedge salad while Bryce tried the grilled smoked chicken tacos being made outside on the patio.
Bryce turned in early at his Airbnb, since he'd gotten up at 3 a.m. to go to the Spokane airport. The next morning was an early one, too: Bryce and Karen met Reilly at Gateway Park beach. The three of them threw inflated innertubes in the water and caught a ride downstream on the Colorado River, getting out at the Centennial Park boat landing. Tubing on the river is popular throughout the summer. Spectacularly, the party got rained on, which made the tubing extra special, since fewer than ten days a year see any rain in Yuma!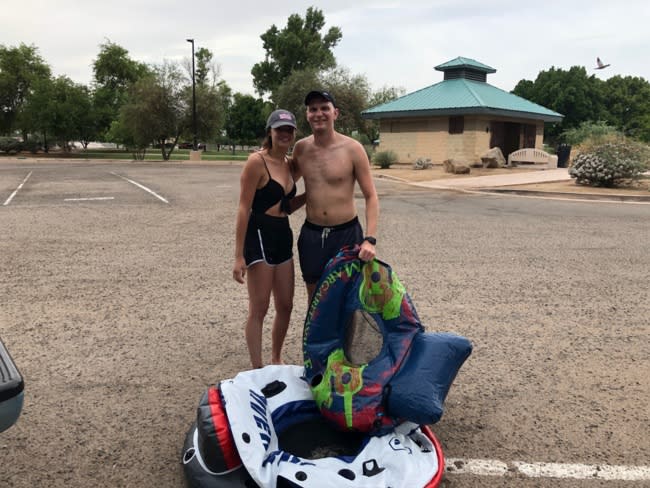 Still a little damp, Bryce and Karen hustled over to the Yuma Territorial Prison for a special VIP tour, hosted by Tina Clark, City Historian. The prison was closed last week for renovations, but special connections got Bryce an insider's view of the highlights of the prison!
Lunch had to be at Mr. G's. The lunchtime crowd packed the place and made it hard to see all of the facets of the incredible mural on the restaurant's wall, which tells the story of both the Gutierez family and Yuma's history. Bryce established that fresh rolled tacos are nothing like frozen taquitos from the grocery store—freshly fried and salted…Mmm!
Since it wasn't too many hours until Bryce's flight would depart, they poured on the hustle to drive to the neighboring Mexican border town of Los Algodones. Bryce had thought ahead and brought his passport. He made it back onto U.S. soil with a bevvy of presents, including a hat, a turquoise necklace for his mom, a t-shirt, and other gifts to remind him of his time in Yuma and on the U.S./Mexican border.
His quick whirlwind tour of Algodones gave Karen enough time to give him a windshield tour of Bard, Calif., date groves, and also the Cloud Museum. Bryce said he had never known what a date grew on, and to see the workers tying bags around the dates to keep the birds from them was something very new to Bryce!
Bryce asked a couple times, "Why are you all being so nice to me?" Karen laughed and said, "We wanted to show your friends that while this was the worst they could come up with, that there's so much fun to have in Yuma, in spite of the heat, with the heat, because of the heat…It's a unique place, and part of the experience is to see how people live in a desert environment and the great adventures you can have in Yuma!"
While Bryce's friends meant a July day in Yuma to be the opposite of a reward for the loser of their fantasy football league, Bryce's sense of adventure and willingness to try anything brought him new memories, new friends, and a whole lot of fun!