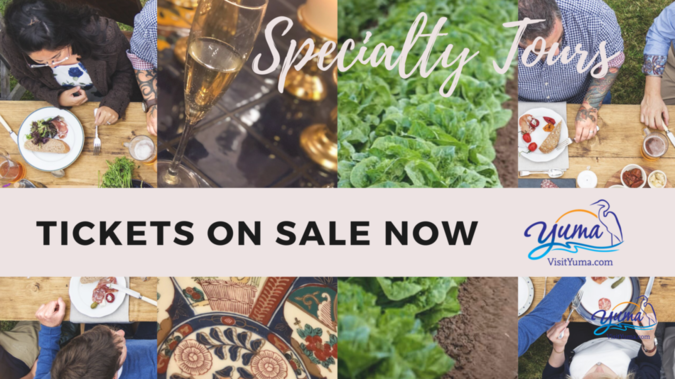 Imagine yourself walking through fields of leafy greens, dining with Yuma's farmers at sunset, feasting in a majestic date grove, or going behind the gates of military installations and seeing our active duty service members in action.  You have the opportunity to participate in each one of these intimate and unique experiences through Visit Yuma's specialty tours.  Tickets go on sale October 1, on www.visityuma.com at 9 a.m.  Date Night Dinners was named by Fordor's Travel as one of the world's 20 most unique dining experiences and sells out each year.  Make your plans now and don't miss out.  Check out the list of Visit Yuma's specialty tours for the 2019-2020 season.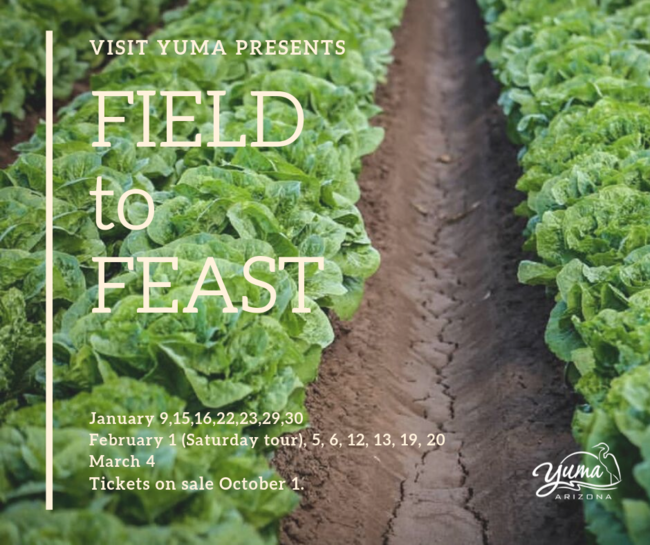 Field to Feast
Ever wonder what's growing in Yuma's lush fields? Our Field to Feast farm tours give you the answers - from the ground up. Get down - and a little dirty - with a hands-on farming lesson! Hop on a bus for this half-day tour led by a local grower and you'll get the first-hand low-down on topics ranging from food safety, current tech trends, labor, and water. This is your big chance to harvest a few things to take with you from a special field planted just for us at the University of Arizona research farm. The tour concludes with a tour of the Arizona Western College Land Lab led by students and a yummy fresh lunch featuring local produce, prepared by the AWC culinary students. A fresh and fun morning that'll send you home with a new appreciation of food from farm to fork. Tour departs the Yuma Visitor Information Center (201 N. 4th Avenue).
Tour Dates: January 9,15,16,22,23,29,30; February 1 (Saturday tour), 5, 6, 12, 13, 19,20; March 4
Price: $55 per person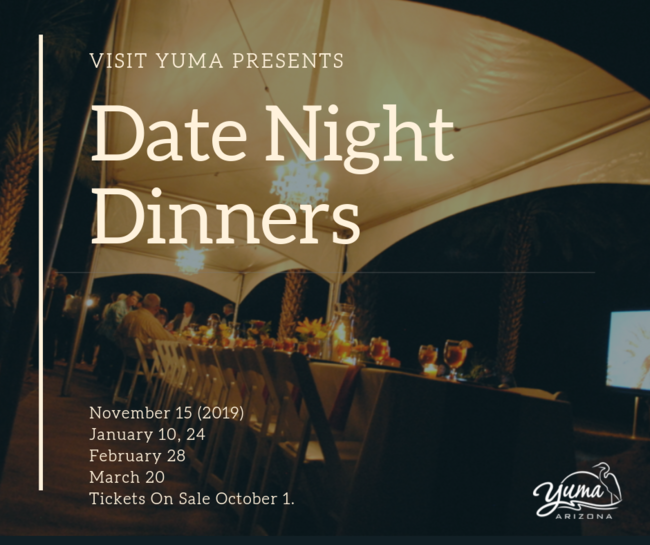 Date Night Dinners
Guests at a Date Night dinner savor a multi-course gourmet meal served under the stars in a lush Yuma date grove at Imperial Date Gardens. Every course from appetizer to dessert features a new twist on this oldest of cultivated fruits, showcasing one of Yuma's more unique crops, Medjool dates. Whether making it a true "date night" as a couple, coming with family or a group of friends, or come by yourself and make new friends at the shared table, you'll enjoy a night that was named by Fodor's as one of the "World's Most Unique Dining Experiences." Imperial Date Gardens is located at 1517 York Road in Winterhaven, California. Check in begins at 5 p.m (MST). On-site walking tour begins at 5:30, with dinner served at 6.
Dinner Dates: November 15 (2019); January 10, 24; February 28; March 20
Price: $80 per person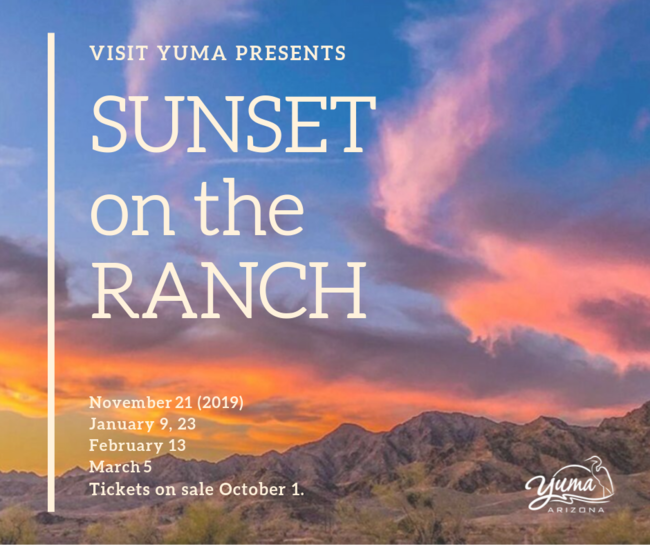 Sunset on the Ranch
This is Visit Yuma's newest event, created to introduce guests to what life on the ranch or farm is like, complete with a local Yuma farm family and tractor-pulled wagon ride. Come out to the land for a farm-style country dinner--It'll be an unforgettable evening of farm produce, cooked to perfection by a gourmet chef with a wine or beer pairing, lively company, around a shared table.
Dinner Dates: November 21 (2019); January 9, 23; February 13; March 5
Price: $80 per person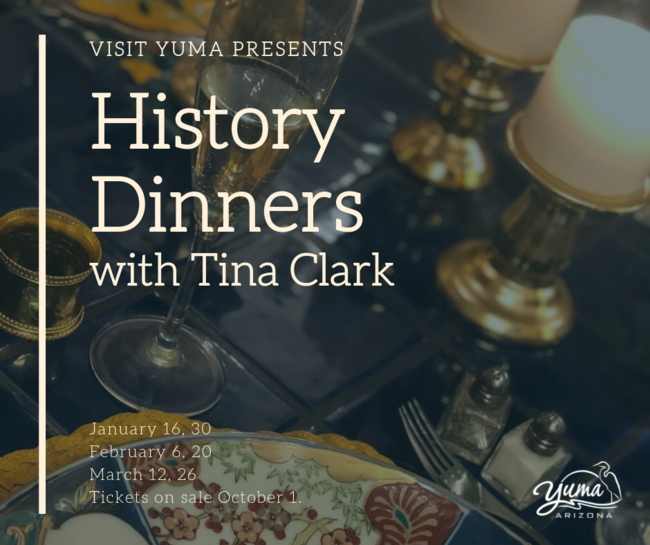 History Dinners with Tina Clark
City Historian Tina Clark and lifelong resident Cathy Reeves host the dinners which celebrate the best of local dishes and fresh farm produce, with Mexican flair. Tina and Cathy share stories, photos, music and more from Yuma's yesteryear, covering a different aspect of Yuma's past during each dinner. Each night will feature different program and dinner. Areas of topic - river, downtown, agriculture etc. Dinner will take place at the historic St. Paul Cultural Center (645 S 2nd Ave, Yuma, AZ 85364). Transportation not included.
Dinner Dates: January 16, 30; February 6, 20; March 12, 26
Price: $60 per person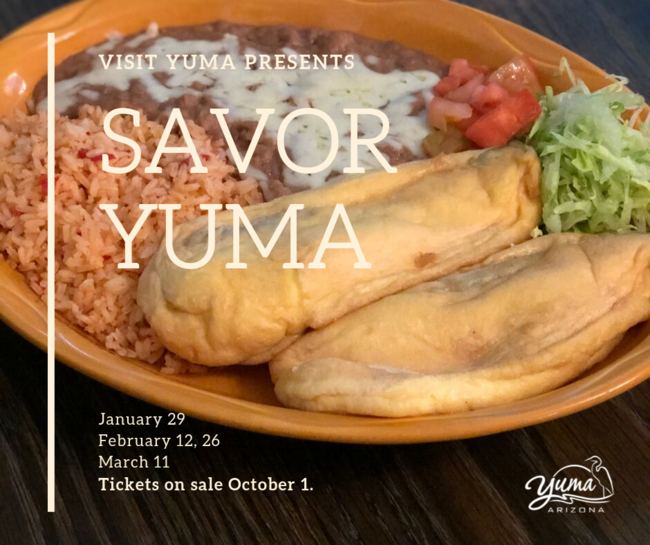 Savor Yuma
Experience an array of fresh local flavors with this progressive dinner adventure that stops at three local restaurants for appetizers, soup or salad, and an entrée. Includes transportation and drinks. Enjoy iconic Yuma restaurants, and possibly a few hidden gems,as we mix up the itinerary to ensure no two tours are the same. In addition to trying new tastes, Savor Yuma is great for learning about local culinary traditions while making friends with our hosts and other diners. Savor Yuma is perfect for large groups, and couples too. Tour departs from the Visit Yuma administrative office located at Old City Hall (180 W. 1st Street).
Tour Dates: January 29; February 12, 26; March 11
Price: $60 per person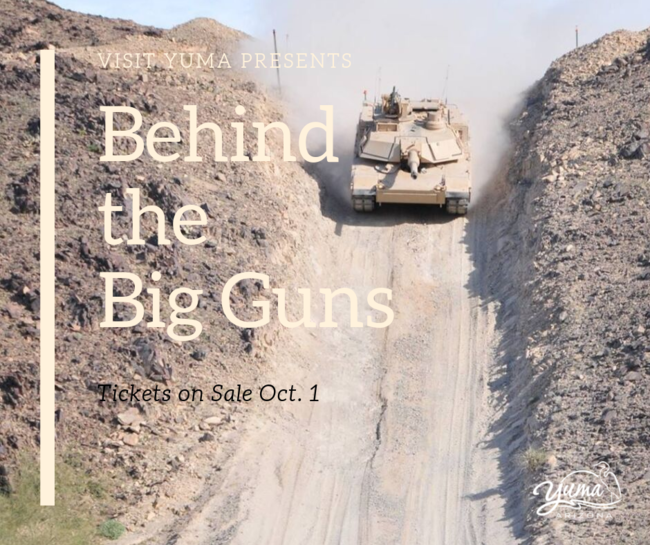 Behind the Big Guns
Here's a rare chance to get a behind-the-scenes look at the U. S. Army Yuma Proving Ground, one of the largest military facilities (by land area) in the world. Meet up at the Visitor Information Center (201 N. 4th Avenue) for a deluxe motor-coach trip to YPG with a special briefing en route. Your tour will include a stop at the fascinating Heritage Center museum, plus a look at other areas and activities most civilians don't get to see! Lunch at the Cactus Cafe, YPG's on-post restaurant, is included. Tour departs the Yuma Visitor Information Center (201 N. 4th Avenue).
Tour Dates (Behind the Big Guns): December 3 (2019); January 7; February 4, 18, March 3
Price: $55 per person
YPG: At Ease
YPG: At Ease goes behind the scenes, deep into areas not seen by the general public. U.S. Army Yuma Proving Ground extends over 1300 square miles of varied desert terrain -- wide sandy valleys, craggy peaks, open desert. The varied geography permits numerous test and training activities to take place at the same time, with an average of 60 to 90 military tests each week. See the sights at Yuma Proving Ground, such as the tanks and the meteorology station.
Tour Dates (YPG: At Ease): December 10 (2019); January 14
Price: $55 per person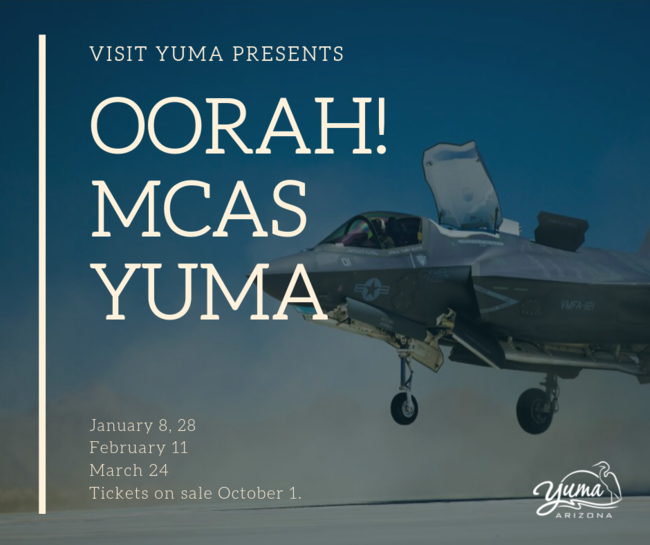 OORAH! MCAS YUMA
This tour is full of Jet Noise, with a behind-the-scenes look at Marine Corps Air Station Yuma, home to the F-35, AV-8B Harrier and unmanned aerial vehicles. The tour is hosted by knowledgeable base personnel. Popular features include the obstacle course and a working dog demonstration. There's also a narrated stop on the way back at the Armed Forces Park. It is the only park of its kind in Arizona and was constructed to honor those who have served in the Armed Forces, past or present. Tour departs the Yuma Visitor Information Center (201 N. 4th Avenue).
Tour Dates: January 8, 28; February 11; March 24
Price: $55 per person