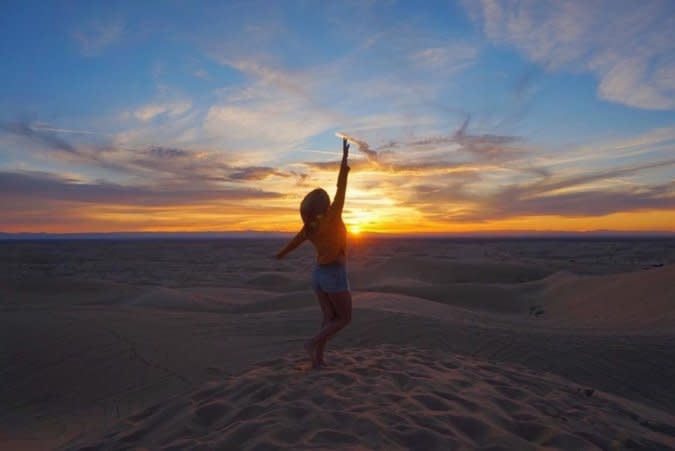 Summer is a very special time in the desert southwest. Summer is known for being the hottest season on the planet sandwiched between the milder Spring and Fall. Yuma is world famous for our SUNSHINE.  It is estimated we experience sunshine 90 percent of everyday between sunrise to sunset. Summer, which lasts for about 90 days each year, is our peak time for daylight and also provides shortened nights.  During this time Mother Nature puts on a show in Yuma to celebrate this spectacular season.   
Yuma's sunrises and sunsets are breathtaking this time of year. Really, they are so vibrant describing them in this blog doesn't do them justice.  They are the most beautiful sight I have ever seen and no two are the same. Mother Nature paints the sky with a pallet of red, purple, orange and yellow. Yuma sunsets are the inspiration for art pieces, a photographers dream and writers motivation. Don't miss tonight's scheduled for 7:50 p.m.  
The next best summer special provided by Mother Nature is much more unpredictable.  The monsoon season begins on June 15 and ends on September 30. On average, Yuma receives about half of its annual rainfall during this time according to the National Weather Service. The peak of the season is mid-July to mid-August. The Arizona Department of Transportation describes a monsoon as "higher humidity, which can lead to thunderstorms, heavy rain, lightning, hail, high winds, flash flooding, dust storms and extreme heat."  NWS sends cell phone alerts when a monsoon is approaching.The storms move fast and can be destructive, although it can be beautiful--Mother Nature puts on a lightening show before and after each monsoon storm.  The monsoon's downpour leaves a coolness in the air and a scent that brings back memories of the rare and celebrated rain in the desert.   
Waterways in Yuma are the essence of our summer season. Mother Nature provides an oasis to cool off in the warm summer months. Water temperatures in the Colorado River measure into the mid-eighties during the summer season.   In comparison, San Diego's ocean waters reach about 68 degrees in the summer months.  
And so, as we start Yuma's summer season let's all take some time to appreciate how Mother Nature spoils with these timeless gifts of sunrises & sunsets, monsoons and warm waterways each year.