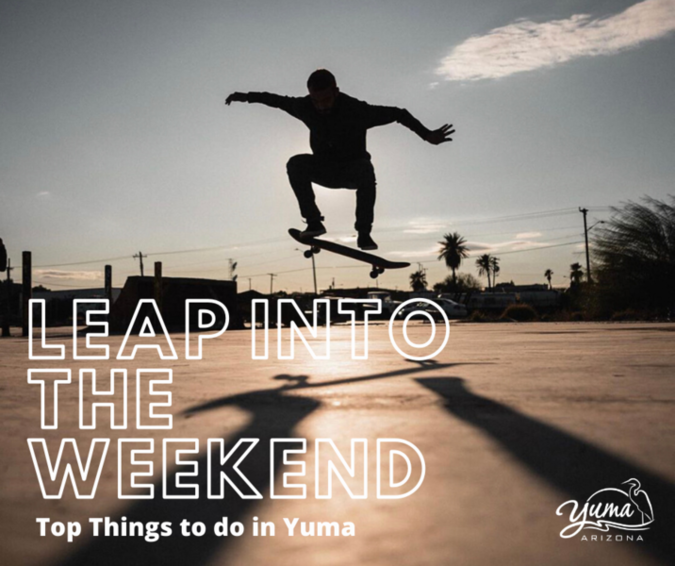 Leap into these Top Things to do in Yuma this weekend!!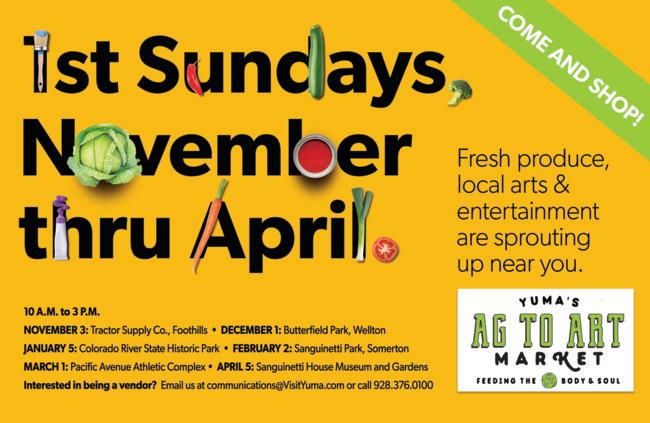 Ag to Art 
The Ag to Art Market: Feeding the Body and Soul returns this Sunday.  It is a fresh twist on a farmers market blending fresh farm foods with local art and artists. The market will take place at the Pacific Avenue Athletic Complex, from 10 a.m. to 3 p.m. The event is FREE and open to the public. Weld Like a Girl will be constructing a community art project.  You will have the chance to cut, weld, and create. All ages are welcome to participate, no experience necessary. Children must fit in safety gear and parental supervision is required. Brockett Farms is bringing many of their fresh offerings including Medjool dates, local honey and locally crafted chocolates. Mama Bella Hot Sauce will have locally made jars of hot sauces and pepper jellies, among other delicious treats. Fresh eggs, homemade bread, herbs, and homemade soap will also be on hand. Naked Dates will be on site. Gypsy Girl Henna by Drea will blend both ag and art at the market, with henna tattoos as well as organic lemons and home-grown succulent plants for sale. There will be music and entertainment provided by BMC Productions.  The Ag to Art market is the perfect place to spend your Sunday.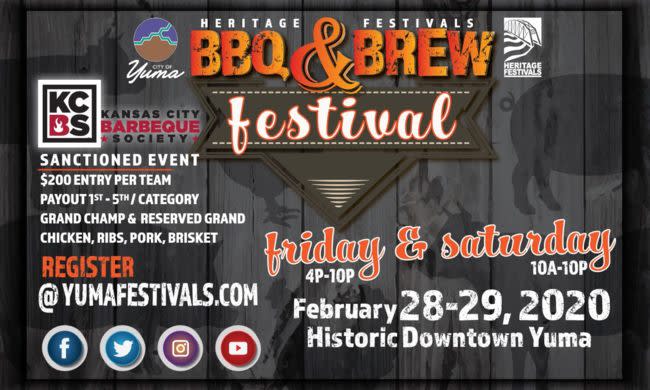 BBQ & Brew Festival 
 Get your taste buds ready for Yuma's 'Best in the Desert Southwest' BBQ & Brew Festival. This two-day festival will pack Main Street with mouthwatering BBQ, a country music concert, and ice cold brew. The festival includes people's Choice BBQ Tasting, Outdoor Yard Games, Mechanical Bull Riding, and a Kids Corner featuring NEW attractions, face painting, games, a rock wall, train ride, and more! Competitors travel from all over the United States to compete in this Kansas City Barbeque Society Sanctioned event.  Tonight's concert features Mile Post 30 at 8 p.m. The festival starts at 4 p.m. on Friday night and wraps up at 10:00 p.m.  Saturday it kicks off at 10:00 a.m. until 10:00 p.m.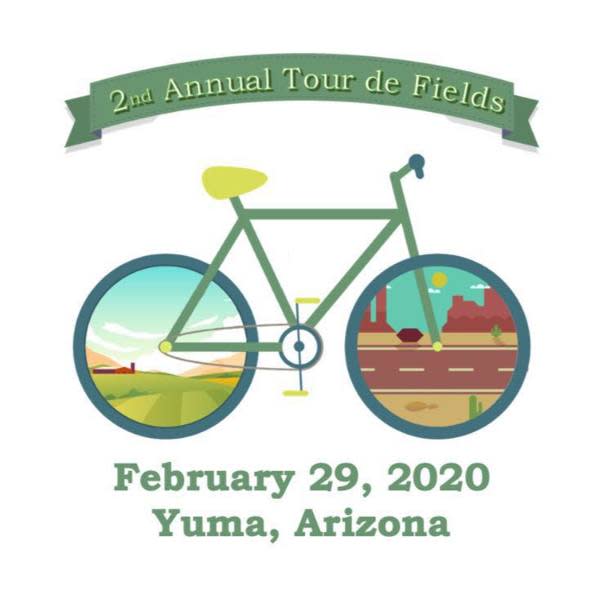 Ride the  second annual Tour de Fields on Saturday.  The tour will start off at the beautiful Gateway Park at 7:30 a.m. and proceed to your 10, 30, or 60-mile route through some of the best agricultural lands Yuma has to offer! Routes are posted in the "Discussion" tab of the the event facebook page, https://www.facebook.com/events/469905300321618/
All proceeds benefit the University of Arizona Agricultural Scholarship program and the YRMC Cancer Resource Center.  You must wear a helmet to ride.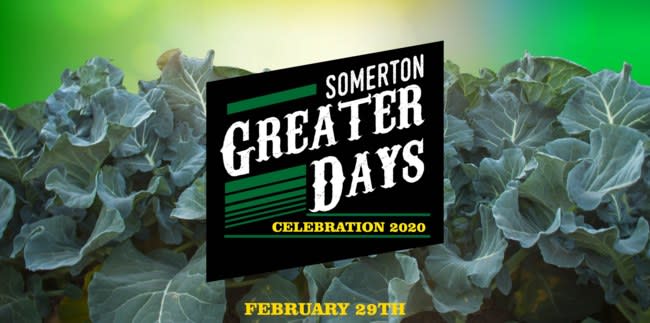 Greater days 2020 
The City of Somerton will be hosting its 40th Annual Somerton Greater Days Parade & Celebration this weekend.   The celebrate is designed to celebrate Somerton's history and heritage. This event will be Saturday, February 29th, 2020 at Council Avenue Park from 3 p.m. - midnight.  Enjoy live entertainment, fun zone games for kids, tasty food Vendors, beer gardens and much more!

Toast a Ghost 
Enjoy an evening of haunted history, with a cherry and swizzle stick.  Follow the spirits as you traverse from pub to pub through Yuma's historic downtown with ghost host, Jonathan Close.  Adults 21 and older are welcome. This tour begins at the Sanguinetti House Museum and Gardens Friday evening at 7:00 p.m..  Purchase tickets here or call 928-782-1841 for more information.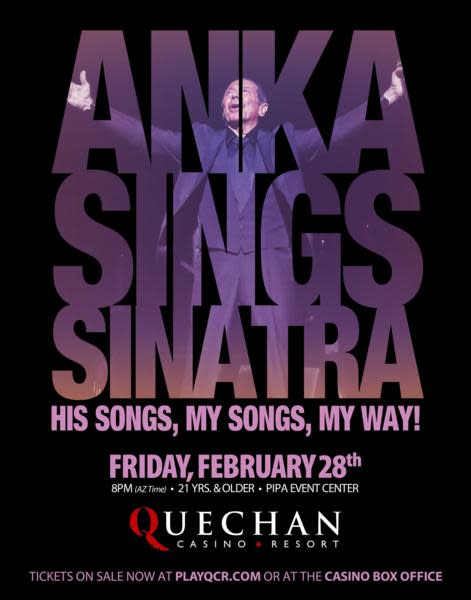 See Paul Anka Sing
Anka Sings Sinatra: His Songs, My Songs, My Way at the Pipa Event Center on Friday night.    Paul Anka says, "The Anka Sings Sinatra tour will honor a great artist who has influenced me more than anyone else throughout my career, Frank Sinatra.  It will also feature the hits that have spanned my career. It will be a night filled with his songs, my songs, my way!" Purchase tickets here.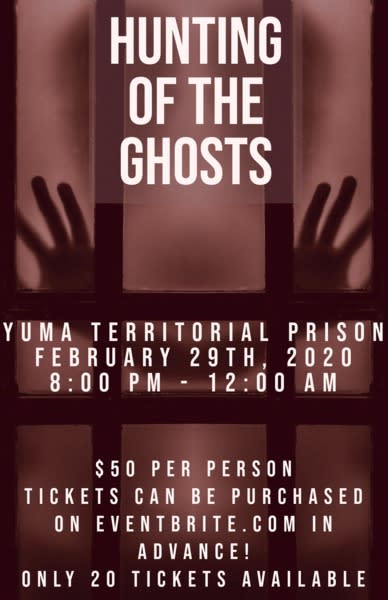 Hunting of the ghosts 
Experience the Yuma Territorial Prison after hours during the Hunting of the Ghosts.   The hunt starts Saturday night at 8:00 p.m. until midnight.  Bring your paranormal devices and find out who is truly haunting the grounds.  Paranormal professionals will be there to assist. Yuma's Territorial Prison was named the most Haunted Destination in America by the USA Today.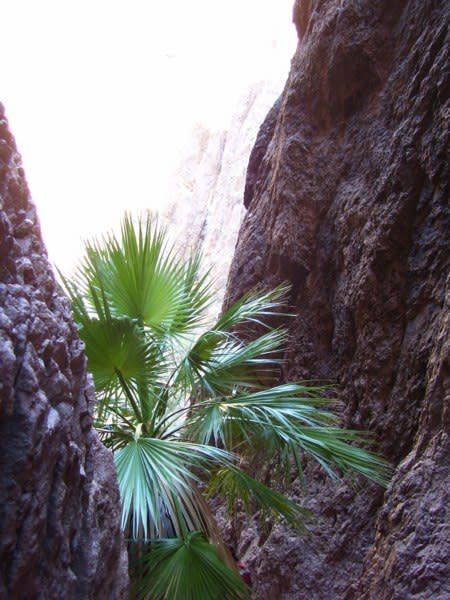 Explore Palm Canyon 
Enjoy the beauty of the Southwest Arizona desert on the Kofa National Wildlife Refuge. On this guided hike, you will learn about the Sonoran Desert as you hike the moderately strenuous 0.5 mile (one way) Palm Canyon trail. The guided hike will last roughly two hours.  Please call Kofa NWR (928-783-7861) for more information about this free guided hike. Bring sturdy footwear, water, snacks, and depending on the weather, sun protection or warm clothing.
Directions - To reach the trail, take Highway 95 to Milepost 85. Turn right onto the dirt road located just past the brown Palm Canyon sign. Follow the road east for seven miles to a parking area. This dirt road is passable in a two wheel drive passenger vehicle. The drive time is roughly an hour and a half from the east side of Yuma, AZ   
The hike starts at 10:00 a.m. Saturday morning.  
Decorate a Cake at Dandy - SOLD OUT 
Dandy Home & Ranch is the place to learn how to frost and decorate your very own individual 4 inch cake!  The class is taught by Natasha McMullen and you will learn how to fill, crumb coat, and frost a cake with the rosette pattern.  You can choose one color or the ombre' look! Materials provided: vanilla cake, buttercream frosting, piping bags/tips, spatula, cake board, etc.  The event is sold out. Check out www.dandyhomeandranch.com for upcoming workshops.