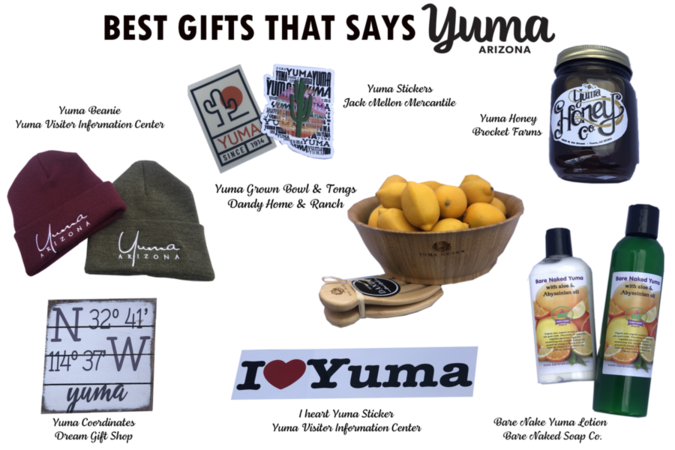 Make your list and check it twice.  We've gathered a list of items designed represent the "sunniest city."  No matter who is on your list, big or small, there is something fun for everyone.  Each item on the list is under $40!  Spend small business Saturday finding treasures at Yuma's locally owned stores.   
The Yuma Beanie is perfect for the upcoming cool winter months.  They are available in Maroon, Cream, beige and denim green at the Visitors Information Center.    $18.00 each.
Yuma Stickers from Jack Mellon Mercantile will jazz up any water bottle, school folder, or even the back window of your car.  The stickers are available in several styles and will stuff nicely in a stocking.  We can't enough of the "since 1914" edition.  $3.50 
Yuma Honey from Brocket farms makes everything sweeter!   The jars of goodness are unfiltered, raw honey from Yuma bees. Thick and spreadable makes it great on toast or muffins. If you want it pourable, just set the jar in warm water for a few minutes.   Sm. $8.99, Lg. $13.99
Yuma Coordinates are located at Dream Gift Shop.  The Sincere Surroundings® wooden pallet sign details the latitude & longitude of Yuma.  It will add a little Yuma pride to any room in your home. The sign is available in two sizes, 6"x 6" and 8"x 8."   sm. $16, lg. $19 
Yuma Grown Bowl & Tongs are found exclusively at Dandy Home & Ranch.  The pieces were designed to celebrate Yuma Grown pride.  Dandy curated a collection of bamboo salad bowls and salad servers that will grace your table for years to come.  This is the perfect gift paired with their custom salad dressing combinations from Desert Olive Farms!  Dandy is located at 2500 E 16th Street.   Bowl $36, salad servers $14
I Heart Yuma Sticker is available at the Visitor Information Center.  It's a classic saying and a true feeling for locals and visitors alike.  The VIC is located at 201 N. 4th Avenue.  Shop there from 9 a.m. - 5 p.m. daily.  Or check out www.yumaninterest.com  The stickers won't break your budget at all, $1 each!
Bare Naked Yuma lotion & soap is available at the Bare Naked Soap Co., located in historic downtown Yuma.  The refreshing scent is a combination of lemon, grapefruit, and orange with a small hint of lime. It contains loads of aloe, almond, avocado, abyssinian and coconut oils. Perfect for men & women.   4 oz. $5.95, 8 oz. $11.50