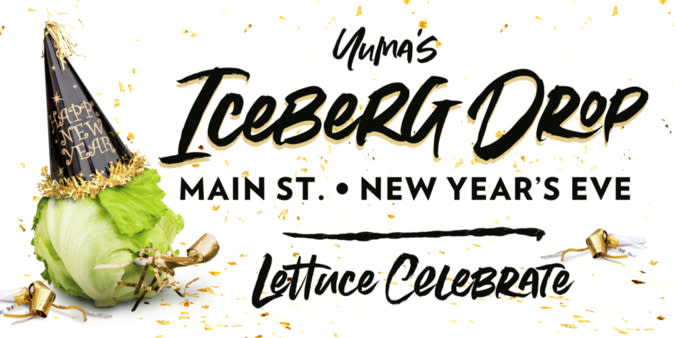 Visit Yuma's Steven Hennig puts the word out about something brand new coming to Yuma – it's an event, it's big, and it happens on New Year's Eve.
Yuma's Iceberg Drop Celebration will be a fun, festive, community party in our Historic Downtown to ring in the new year.  It will culminate in the dropping of an iceberg - a giant, fabricated head of iceberg lettuce, illuminated from the inside.
This inaugural event will kick off at 8:00 p.m. and the large lighted lettuce will drop at 10:00 to coincide with New York City's Ball Drop, and again at midnight to officially ring in Yuma's new year.
Lots of food and drinks will be easily accessible on Main Street from 251 Twisted Kitchen, Da Boys, Jimmy Dees, Lutes Casino, The Pint House and Prison Hill Brewing Company.  Oh, and part of the proceeds will go to benefit the Yuma Community Food Bank AND the Humane Society of Yuma.
There's also going to be music the whole time with the Gwynn Sisters and Jason & Elle live on stage and tunes throughout the evening provided by BMC Productions & Entertainment. 
But why jumbo iceberg lettuce?  It was chosen as a symbol for the celebration because of the community's close ties to and the national importance of our local agriculture industry.  The fabricated head of lettuce, BTW, will be 8' by 8' and brightly lit from the inside. Quite a site. You need to be there and see it.
The official countdown clock will also be a focus of the December 31 happening, but you can check out the ongoing countdown right now at VisitYuma.com.
The Iceberg Drop is organized by Visit Yuma in cooperation with the City of Yuma, and is sponsored by Barkley Company of Arizona, Pasquinelli Produce, Regional Center for Border Health, Duda Farm Fresh Foods, 1st Bank Yuma and Yuma International Airport.
Counting down – can't wait to see you there!