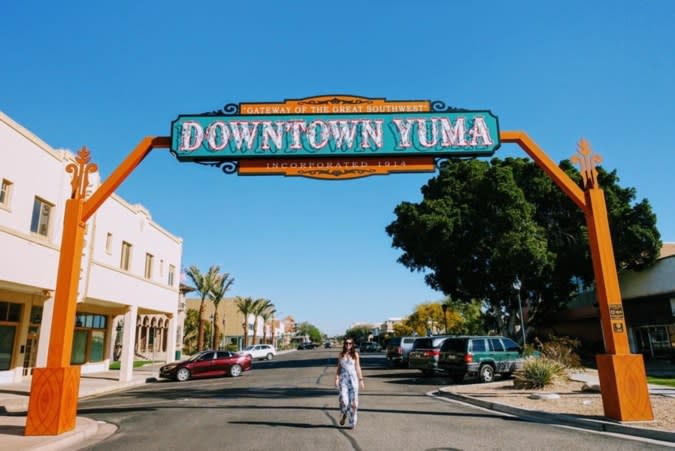 Originally published on JackAndGabExplore.com 
As far as charming western towns go, Yuma should be #1 on your list of places to visit. Located in Southwest Arizona, Yuma has a great small town feel (think cute downtown with very friendly people). Plus, there's lots of art, culture, history, and–of course–fun things to do.  As an added bonus, Yuma has a thriving Mexican food scene since it is so close to the Mexican border.
Yuma is the "sunniest place on earth," boasting over 4,000 hours of sunshine every year. This makes it the perfect place for outdoor activities like kayaking, biking or just taking a leisurely stroll. Make sure to plan your visit outside of summer months, because the average temperature during summer months is over 100 degrees.
We spent a sunny weekend in March exploring Yuma and all that is has to offer. Here are 17 of our favorite things to do:
1. RENT A BIKE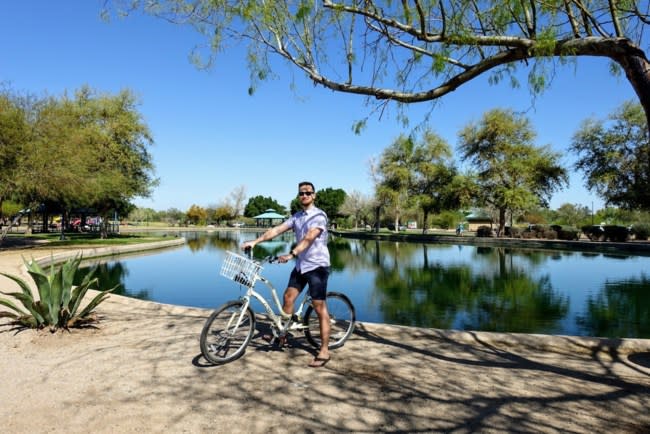 Yuma is a bike-friendly city, with tons of gorgeous paths to bike along. Check out Mr. B's Bicycles to get your bike rental, then get ready for a fun and active way to explore a new city. We loved biking along the riverwalk alongside the Colorado River. It was a great environmentally-friendly way to see Yuma.
2. TAKE A WALK ON MAIN STREET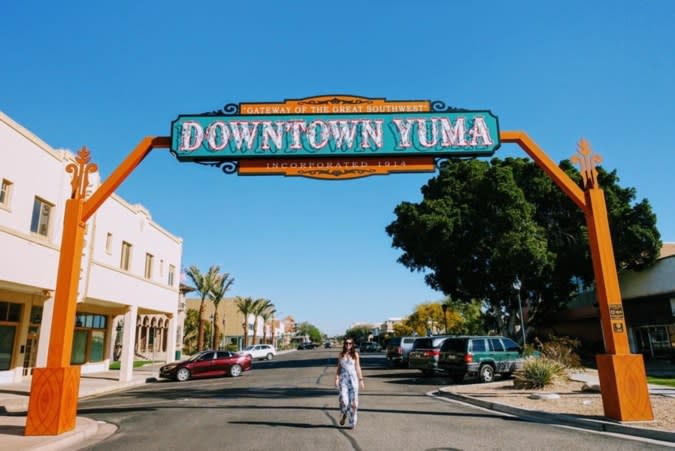 Main Street is the central area in downtown Yuma. There are restaurants, bars, shops, galleries, and more. Taking a walk in this central area will give you a good feel for what Yuma is like. Plus, there's a great "Downtown Yuma" sign at the end of Main Street that makes a great photo opp.
3. VISIT THE ART CENTER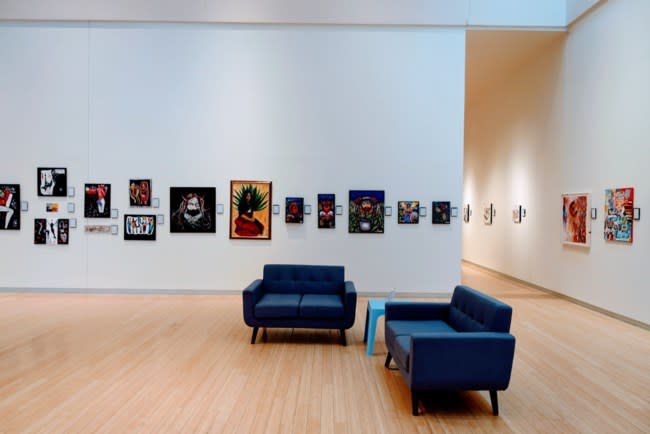 If you love modern art, then you'll love the Yuma Art Center. Everything from the architecture to the art displayed is modern and vibrant, creating an awesome art viewing experience. Visiting the Art Center is free, and there are events going on all the time so be sure to check the website before you go.
4. TRY THE MEXICAN FOOD
We're big fans of trying Mexican food in cities near the Mexican border. With such close proximity, often the authentic tastes and flavors from Mexico make their way across the border. Yuma's Mexican food scene didn't disappoint, with numerous delicious yet authentic options. We ate at La Fonda and absolutely love the food and the casual atmosphere. Plus, they serve up some truly delicious freshly made tortillas.
5. VISIT THE IMPERIAL SAND DUNES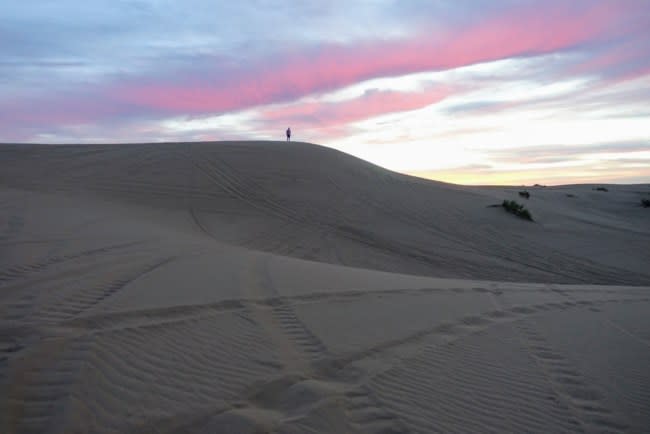 The Imperial Sand Dunes are about an hour outside of Yuma, but they are well worth the drive. Spanning the course of miles are massive sand dunes, surrounded by mountains far in the distance. We got up very early to watch the sunrise over the sand dunes. The incredible views that we got made rising at an early hour totally worth it.
6. YUMA TERRITORIAL PRISON STATE HISTORIC PARK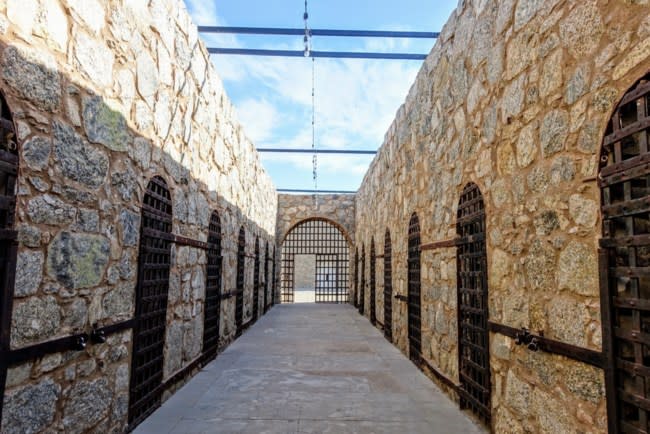 Ever wondered what a prison from the 1800s looked like? Yuma's Territorial Prison State Historic Park will give you a glimpse. Seeing the old holding cells was pretty cool, but our favorite part was the creepy dark cell. It makes us glad we weren't a criminal in the 1800s!
7. TRY THE IMPORTED COFFEE FROM NORTH END COFFEEHOUSE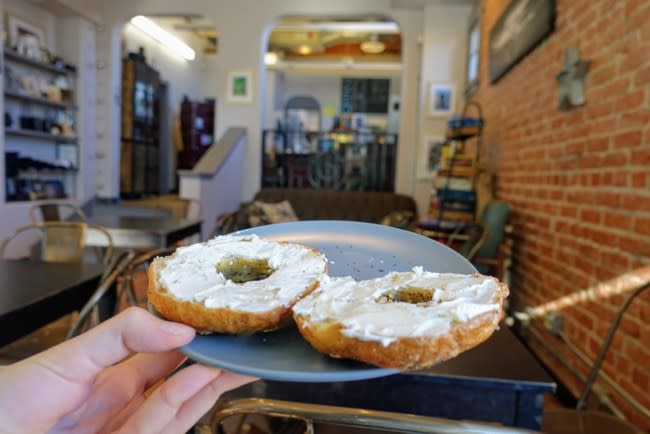 North End Coffeehouse has "cool" written all over it. Housed in an old firehouse turned theater, you'll love the relaxed atmosphere. You'll love the coffee even more, imported from all over the world. Coffee from Africa, anyone? (The bagels are pretty good, too!)
8. VISIT THE OCEAN TO OCEAN BRIDGE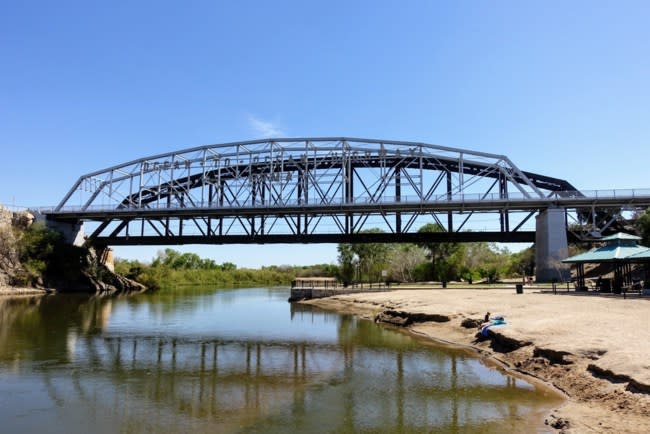 This bridge was built in 1914 and spans both sides of the Colorado River. It's best viewed from the Gateway Park along the riverwalk.
9. CHECK OUT THE FARMER'S MARKET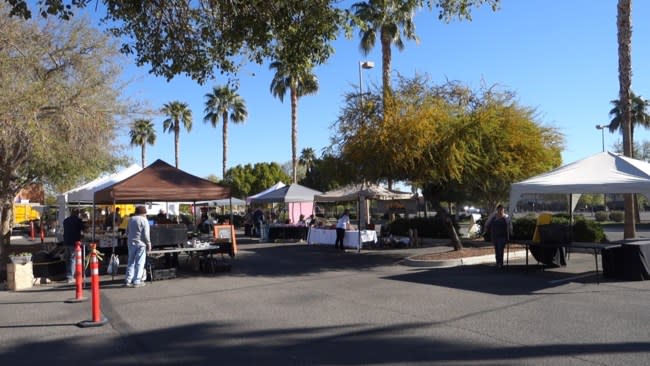 Yuma's Farmer's Market is Saturdays from 9:30 – 2:30 and is located at the Yuma Palms Shopping Center (1305 Yuma Palms Pkwy). What we loved about this Farmer's Market is that it was small, yet the stands there sold quality stuff. There's fresh produce, a homemade pasta stand, a jewelry shop, and so much more.
10. CHECK IN AT THE VISITOR CENTER FOR ADDITIONAL INFO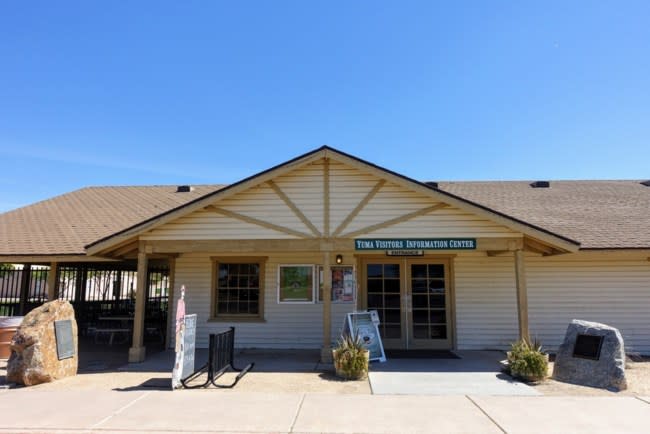 Yuma's Visitor Center was very helpful for getting additional information about the town. The team was extremely friendly—always a plus! They also have guidebooks and souvenirs for sale. The Visitor Center is located at 201 N Fourth Ave, and there is a big parking lot out front.
11. WALK ALONG THE RIVERWALK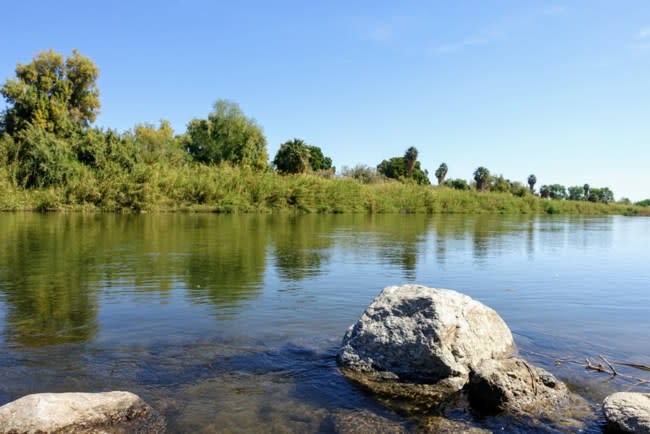 The Riverwalk was one of our favorite parts about visiting Yuma. It follows alongside the Colorado River and has beautiful views of nature and historical monuments.
12. VISIT THE MORMON BATTALION MONUMENT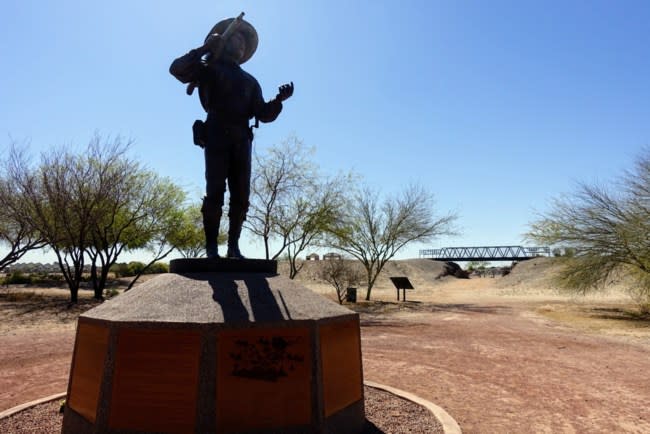 Back in the 1800s, the Mormon Battalion troop was tasked with finding a southern route to California. They came to Yuma because it was the easiest place to cross the Colorado River. In 2007, a beautiful bronze statue was erected to preserve this piece of history.
13. GRAB A BEER FROM PRISON HILL BREWING CO.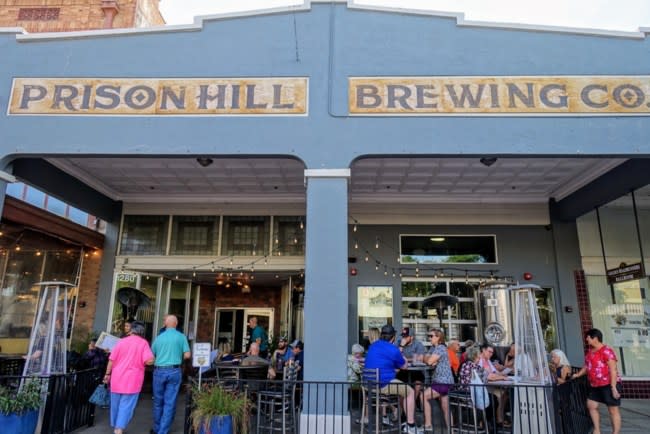 We love trying out a new brewery whenever we visit a new city. It's a great way to be social, plus it's always fun seeing the different types of beer each brewery has on tap.  Prison Hill Brewing Co. is a bustling brewery with a great outdoor patio. They have a great selection of beer on tap, including multiple Belgian beers which are always delicious.
14. CHECK OUT THE VARIOUS MURALS AROUND TOWN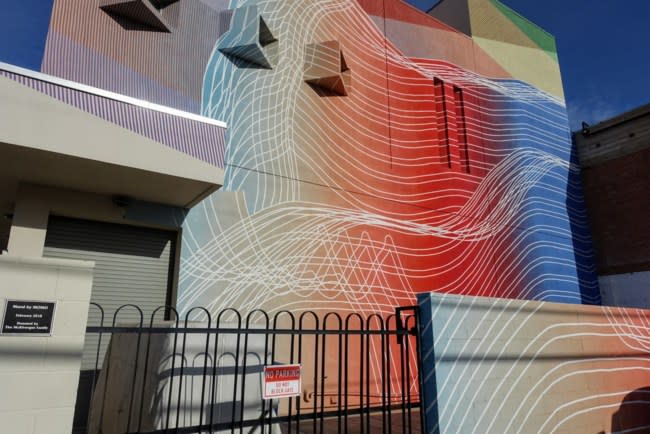 Turning blank walls into canvases is a specialty in Yuma. There are numerous beautiful murals around town, painted by artists such as Momo. We loved the murals behind the art center.
15. VISIT THE PIVOT POINT INTERPRETIVE PLAZA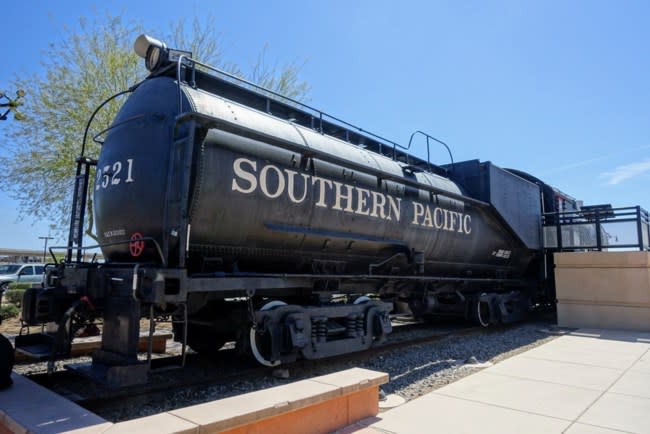 The steam locomotive that stands at Pivot Point was built to commemorate the first train that ever passed into Arizona. Plus, since Pivot Point is up on a hill, there are beautiful panoramic views of the river below. Fun fact: the train still sits on its original tracks!
16. GRAB A BITE TO EAT FROM LUTES CASINO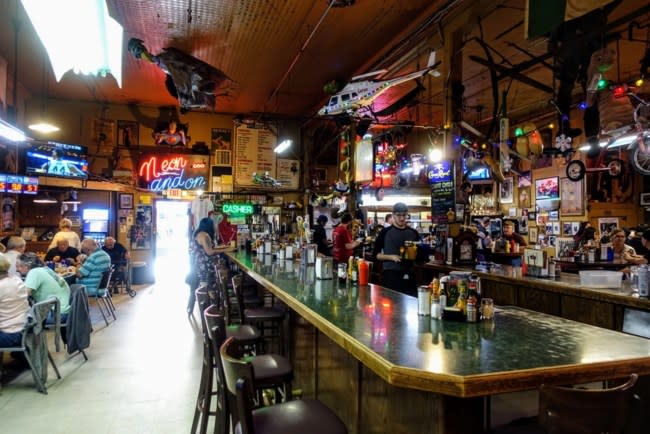 Lutes Casino is a total scene. There's really no better way to describe it. Assorted items dangle from the ceiling, and every inch of the walls are plastered with décor from past decades. The beer is cheap and the pub food is delicious, so stop by for a fun, casual meal.
17. STEWART VINCENT WOLFE IMAGINARY PLAYGROUND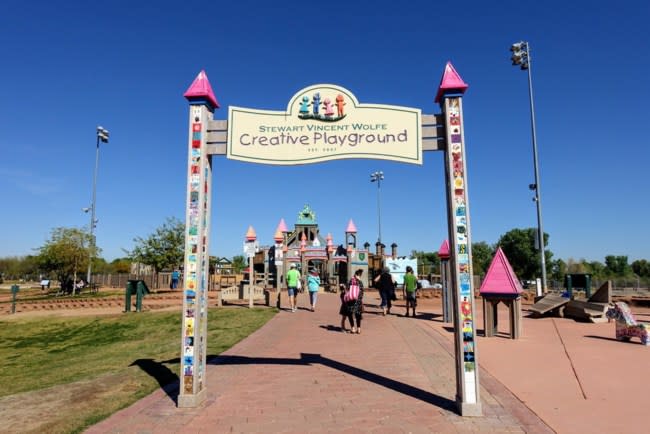 We wish they made playgrounds like this when we were kids! This beautiful playground also has an equally beautiful story. When someone burned it to the ground five years ago, the community rallied together to raise enough money to rebuild. Talk about a heart-warming story!
FINAL THOUGHTS
Yuma is a great city to visit if you love sunshine, the great outdoors, and friendly people. Just bring lots of sunscreens because it's almost never cloudy in Yuma! And don't forget to check out our video in Yuma if you are curious to see exactly what we did:
 Lastly, Yuma has a great app for discovering things to do. It's how we found out about the Farmer's Market! Download the Visit Yuma app if you are looking for additional events of things to do.
Follow JackAndGabExplore on Instagram, YouTube, Pinterest, and Twitter.